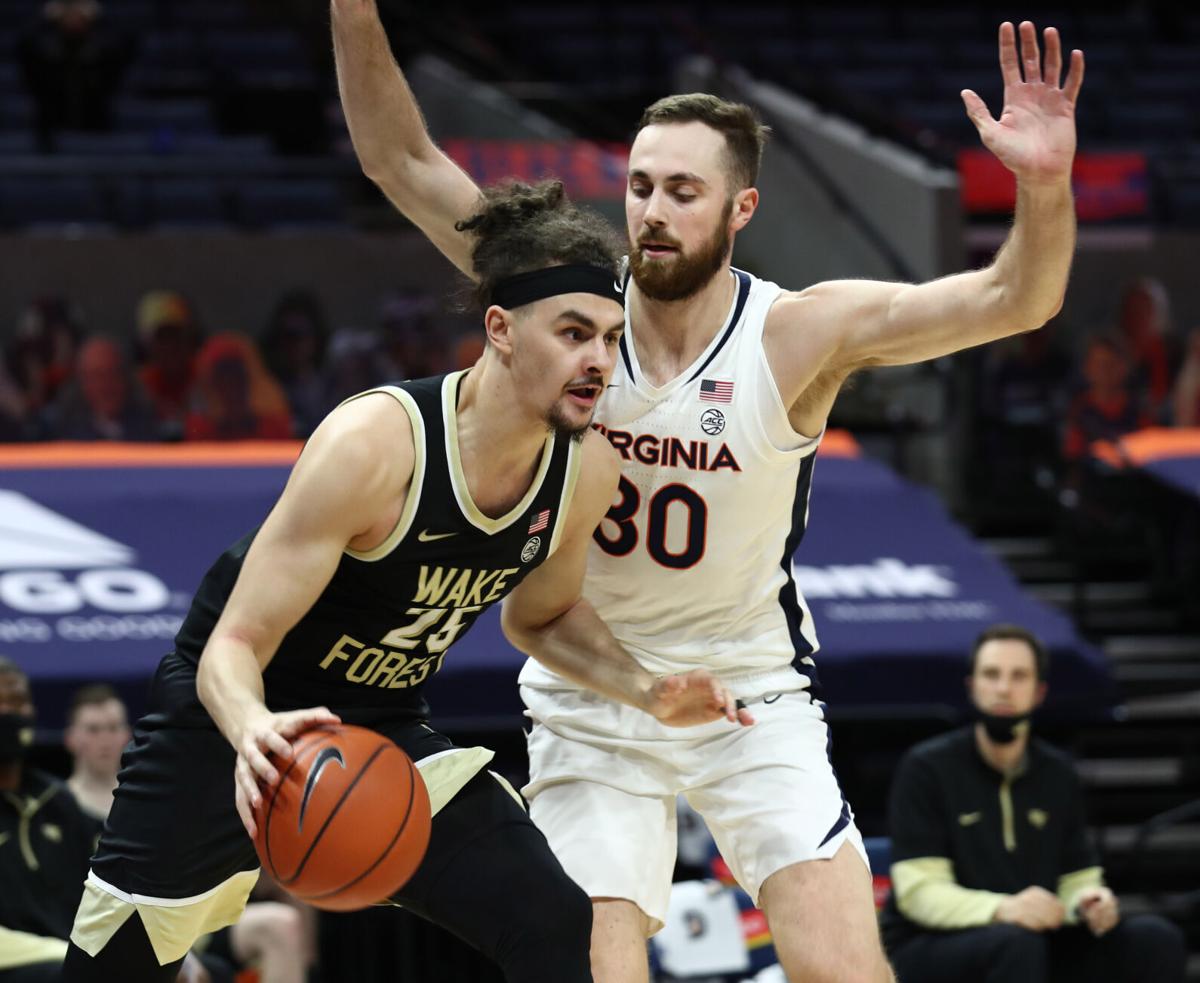 Steve Forbes will get his first coaching experience in Cameron Indoor Stadium on Saturday as he leads Wake Forest against No. 21 Duke.
The coach, speaking Wednesday night after a 70-61 loss to No. 22 Virginia, pointed to one of the few silver linings about the trip to Durham during a season in which his has had a 33-day break between games.
"I'm sure you watched the episode of me, Coach K and Leonard (Hamilton, Florida State's head coach)," Forbes said, recalling the ACC Network's preseason panel interviews. "They asked me that question — what I was looking forward to about playing in the ACC? — and I said 'Well, obviously playing in Cameron Indoor with no fans.'
"And I don't know if Coach appreciated that. I think he got a chuckle out of it. I was being kind of serious."
The Demon Deacons have lost both of their games this week, to Virginia and to Georgia Tech 70-54 Sunday.
What you need to know about the game against Duke:
Some similar stalls
With Wake Forest's month-long hiatus because of COVID-19 behind them, the Deacons have been able to play three games between their restart and the matchup with Duke.
The Blue Devils, however, are in the early stages of their attempt to find that on-court rhythm again. Duke went 20 days between its game Dec. 16 at Notre Dame and an 83-82 win against Boston College on Wednesday.
That stretch including the nixing of a game against Gardner-Webb, when Duke opted to not play the rest of its non-conference season, then the postponement of games against Pittsburgh on Dec. 29 and Florida State on Jan. 2 after COVID-19 issues arose for those programs.
Duke hasn't gone unbothered in its program, either. Coach Mike Krzyzewski missed the game in Chestnut Hill, Mass., after being contact-traced because of a family member who tested positive. On the ACC coaches teleconference Monday, he mentioned that the end of his quarantine would be close to the noon tipoff.
Their last game
Jon Scheyer, Duke's associate head coach, filled in for Krzyzewski as acting head coach, and the start was a bit rough.
The Eagles opened up early by taking a lead of seven points. Then after Duke closed that gap, Boston College rushed to a 16-point lead with a little more than two minutes left in the first half. Duke would tighten it again just before halftime to trail 43-35 in a game that would ultimately feature 10 ties.
The Blue Devils got through it thanks to Wendell Moore, whose 25 points helped to offset the hot-shooting night of Eagles' C.J. Felder. Felder scored 24, hitting 10 of his 13 shots and going 4-for-6 from three-point range.
Moore, the Charlotte native, has struggled this season. After a 13-point performance in Duke's opener against Coppin State, he'd scored four points or fewer in the last four games. That includes back-to-back outings with no made field goal.
"Wendell's always at his best when he's playing defense, talking and leading," Scheyer said. "At the start of the game, he did that. His offense came along as well. I can't tell you how proud we are of him. He saved us throughout the entire game."
Matchup(s) to watch
The world won't get to experience Jalen Johnson vs. Jalen Johnson. Duke freshman Jalen Johnson, who is out indefinitely with an injured foot. Wake Forest's Jalen Johnson, meanwhile, started the season's first four games before the graduate student came off the bench against Virginia.
But a couple of other matchups should be watched. First, the Deacons will have to deal with the stretch game of Matthew Hurt, one of the ACC's top scorers with 18.5 points per game. He's hit 40% of his 3-pointers (12 of 30), and he rarely turns the ball over — he has been forced into a turnover during only 7% of Duke's possessions, according to KenPom.com.
The interior combo of Isaiah Mucius and Ody Oguama will be charged to hang around him, and they both possess the skill to hang around wherever Hurt might lead. The junior Mucius could in turn continue his string of solid offensive performances — he scored 21 against Georgia Tech on Sunday and 14 versus Virginia.
And for good measure, keep an eye on the freshman point guard matchup between Wake Forest's Carter Whitt and Duke's Jeremy Roach. Whitt earned his first start on Wednesday, and only three games into his college career, he's been exposed to Georgia Tech's Jose Alvarado, projected to earn first-team All-ACC, and Virginia's Kihei Clark, probably the best all-around point guard in the league. Roach has started and played at least 32 minutes in the Blue Devils' last two games.