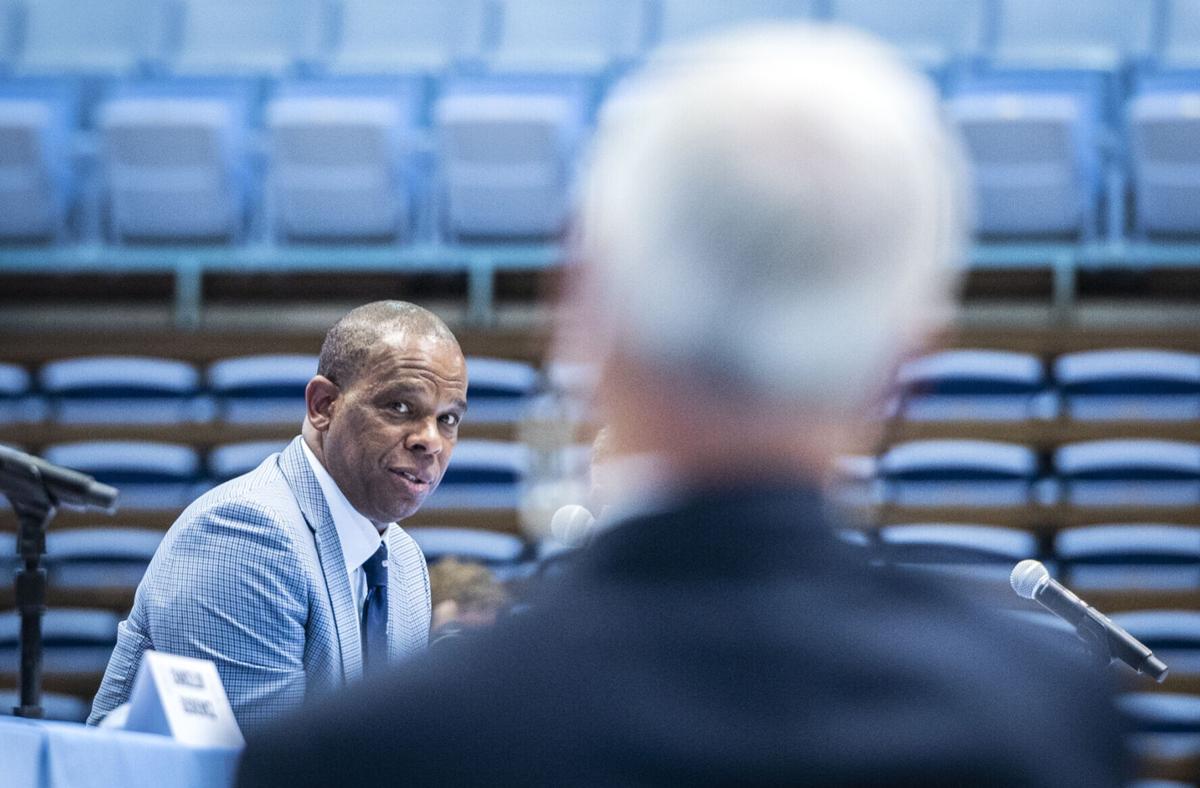 CHAPEL HILL — With a long glance, Hubert Davis gathered himself and stared at his mentor.
The new North Carolina men's basketball coach looked toward Roy Williams, the man he was replacing, to make it clear just what he meant.
As a player, both a former Tar Heels guard and 12-year NBA veteran, Davis would always run out of tunnels and look for his father. Because no matter how poorly he played, he knew where to find the person who would support him regardless. As his life progressed, he would later elevate Williams to that status of everlasting supporter, too.
"Every time that he walked through the office, I took a deep breath because I just felt settled," said Davis, a nine-year assistant under Williams. "Because everything was going to be OK because Coach Williams was there."
Davis' journey is now the same one taken by Dean Smith, Bill Guthridge and Williams, all the coaches he played for and mentioned Tuesday. His reverence for all of them, Williams most particularly, showed throughout his introductory news conference.
"I always wanted to walk the same road, the same path, as Coach Smith and Coach Guthridge and Coach Williams," he said. "And I'm so excited, humbled, thankful and appreciative … to be able to do it with my own personality and in my own shoes."
The man who convinced Smith as a 17-year-old to give him a scholarship had a big sales pitch to make over the weekend: that he was the right man to take over for Williams.
Whatever he said, it worked. He'll now be a first-time head coach as Smith and Guthridge were, and he's the next installment of the Carolina family tree much like Williams, the former Smith assistant, when he returned in 2003.
Davis, who played for UNC from 1988 to 1992, made it clear during roughly an hour of speaking that he didn't want to stray from the foundation established during Smith's tenure, 1961 to 1997, and carried forward during Williams' ultimate return, which ended after 18 seasons with his retirement on Thursday.
"The way that we will play will be the Carolina way," Davis said of a program that has won three national championships this century. "And it will be successful even now."
The 50-year-old made some points for the future. A program whose team finished 18-11 and got blown out in the first round of the NCAA Tournament needs to get better immediately. It also must learn to use the transfer portal properly and take advantage of the sport's premium brand. He wants to build a staff of UNC alumni that will bridge the Tar Heels' generations
"You can't do this job unless you're a Carolina guy. It's impossible," Davis said.
More frequently, though, he found his moments to thank his predecessor and show the impact Williams made.
It was a conversation with Williams in 2012 that prompted Davis to leave a job at ESPN and join Williams' staff. Before Davis spoke, UNC athletics director Bubba Cunningham introduced Davis, mentioning the coach's personality and passion "have been obscured because of a legendary head coach."
As Cunningham spoke those words, Davis shook his head ever so slightly. Mainly because he didn't want to be anywhere else. He ran through the list of his life events that happened in Chapel Hill as proof later on as he spoke.
Davis went on to share disbelief that Williams was there at his news conference to begin with, sitting on the front row to Davis' right. Like Williams wanted to be anywhere else, either.
Later, in a video published through UNC athletics, Williams pointed out that Davis pieced together an All-ACC senior year and a long NBA career by constantly overachieving.
"Hubert Davis will not be an overachiever as a coach to me because I think he's going to be great," Williams said. "Hubert, welcome to that seat as the head basketball coach at North Carolina. You will love it. I will love you sitting there. I will be here cheering."
Davis joked the two had a "disagreement" early Tuesday morning. Davis heard Williams was in his old office, and he ran through some interviews quickly to go see him. Davis told his former boss not to move anything. Leave the pictures up, Davis told him, this is your office. When Williams and family attend UNC games, Davis wants them to be able to still use it.
That way, Davis said, it will still feel like his mentor is around the building, too. He has no issue staying in the office he's used the last nine seasons.
"Everything that I need is supplied there," Davis said. "And another thing that I need is the presence of Coach Williams around. It's just something that I want. It's just something that I need."
He made the same point more succinctly as he was asked about the pressure of taking over UNC basketball and following a Hall of Famer. As he did, he sounded just like Williams anytime he speaks about Smith.
"Coach Williams is the greatest," Davis said. "I'm Hubert."