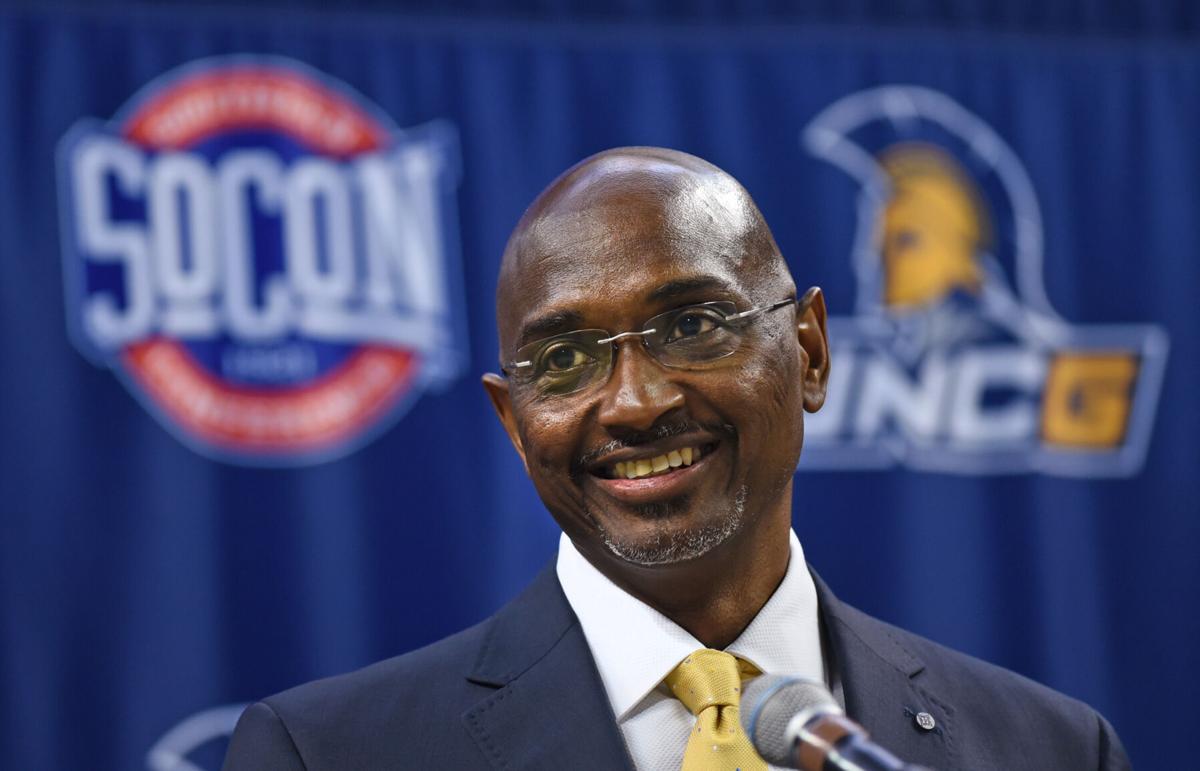 As coaching hires go, UNCG got out on the fast break.
A long weekend but a short process produced Radford's Mike Jones, 55, as the Spartans' new basketball coach, replacing Wes Miller, who agreed to take the Cincinnati job on Wednesday and was introduced Friday.
"The running joke is it took us 36 hours to hire a basketball coach. I think I'm in my third month of trying to hire a provost," Dr. Franklin Gilliam, UNCG's chancellor, said in introducing Jones on Monday at the Greensboro Coliseum.
Jones, who will earn $400,000 annually in a five-year deal, becomes UNCG's first Black men's basketball coach. Jones took his 2018 Highlanders to the NCAA Tournament and a First Four victory and is a two-time Big South Conference coach of the year.
"It's just how intelligent he is. He's not a guy who beats his chest about that, but he's very, very bright," said Marquette coach Shaka Smart, who led the Virginia Commonwealth staff on which Jones was an assistant in 2009-11. "His dad (Jimmy) was one of the best players in the ABA. He was some player, and that's pretty cool, but Mike's pretty understated about that kind of stuff even though he has a real basketball background going back to his childhood."
Jones called UNCG's interest "divine intervention."
"Our minds connected somewhere along the way and we were able to have that conversation," he said. "I was approached after ... Wes got the job (Wednesday), and I got a call Friday. The process started from there."
Record had known that the right opportunity might lure Miller, although she thought she was in the clear after North Carolina hired Hubert Davis to replace the retired Roy Williams.
Eight to 10 candidates drew consideration, Record said.
"The plan originally was to bring two or three to campus," she said. "But clearly after that set of interviews, the chancellor and I were both in agreement that this is the guy. You don't know if they are going to accept."
Jones did, about midnight Sunday night, though she had expected to need a week to make the hire.
"We said, 'Let's get it done,'" Record said.
Record was concerned for players on both teams that information would begin to leak, so they agreed to make the announcement Monday.
"He accepted without coming on campus," Record said.
Other things to know about the transition for Jones and UNCG:
Financials
When the five-year contract is approved by UNCG's Board of Trustees, Jones will earn a base salary of $325,000 annually and an incentives package that will guarantee him $400,000 annually, which Record said should make him the highest-paid coach in the Southern Conference. Miller earned a base salary of $301,150.
Incentives for athletes' academic performance are not part of the contract.
"Academics is why we're here," Record said. "That's expected. That's a given."
Record said she wasn't clear what might be required on a contract buyout because Jones had recently signed a two-year extension at Radford. She said she would work out an agreement with Radford athletics director Robert Lineburg.
Jones also should enjoy a bit more resources for his program. UNCG reported spending $2.3 million on basketball in 2018-19, according to the U.S. Department of Education' Equity in Athletics database. In the same time period, Radford reported expenses of $1.7 million.
Coaching staff
It's not clear what will happen with assistant coaches from Jones' Radford staff or the staff Miller has left behind. Andre Gray, Kyle Bankhead and Chris LePore assisted Miller, with Tom Tankelewicz as director of basketball operations and Asad Lamot as director of player development. Miller has not announced any staff hires at Cincinnati.
Jones' staff includes assistants Ron Jirsa, David Boyden and Donny Lind; director of basketball operations Jaren Marino with assistant director Dayshawn Wells; and player developement director Brett Gilbert.
Informing players
Jones met with the team he was leaving behind Monday morning in Radford, about 135 miles northwest of Greensboro. Record arranged a video conference with Jones and the UNCG players Monday, and he spoke with some players and their families by phone on his way to UNCG.
"The next step is for me to get here and meet with them all individually in person," he added. "I'm a people person. I like to meet face-to-face. I like to see reactions. I like for them to see my reactions. I like to feel that relationship."
What they're saying
"Mike's a proven winner. As Kim Record knows, I said, 'We have to do one thing, we have to get a winner.' And Mike's won. He's a leader of young men, knows how to run a program." – Gilliam.
"We want to win. We like rings. We're going to do it the right way. We're going to do it with integrity. We're going to have great students. They had the best semester during COVID that they've had. And we also wanted a person who was going to fit our culture and be a part of our family." – Record.
"I've grown to respect him over the years. He and I both got the jobs at the same time 10 years ago. ... The job that he has done along with his staff over the 10 years that he has been here, particularly over the last five, has been remarkable. He's built something that I admire and is admired around the country." – Jones on Miller.
"Obviously hate to see him go. He has done a phenomenal job for us at Radford in all facets – coaching, recruiting, being a wonderful mentor to our-student athletes. I wish him the best at UNCG." – Lineburg, a former assistant coach at UNCG under Mike Dement.