GREENSBORO — So long, Aggie Stadium. Hello, BB&T Stadium.
N.C. A&T has sold the naming rights to its 37-year-old football stadium to the bank based in Winston-Salem for $1.5 million, a gift that amounts to $100,000 per year for 15 years.
The name change, which will include new signage, should take place after July 1, athletics director Earl Hilton said today.
The naming-rights agreement is the first of its kind in the 12-member MEAC, and money from the deal will go toward improving A&T's sports facilities.
"It's about resources," Hilton said. "The direct piece, obviously, is it provides some additional resources for the athletics department so we don't have to tap into existing coffers or put more on the backs of our students (with fees) to maintain our facilities."
The dollar amount isn't huge as naming-rights deals go, but Hilton said it's fair considering the Aggies play only four or five football home games per season. The stadium also hosts a number of track and field events in the spring and summer, including the New Balance Nationals high school meet Friday through Sunday.
"We also hope it provides some benefits as it puts our name out the community in a different way," Hilton said. "We think that there will be some spin-off offers, some ancillary opportunities developed, as we take this step — it's a first for us — into this type of naming-rights agreement with a corporation."
It's not a first for BB&T. Far from it.
In April, the bank announced that it would pay $7.5 million, or $500,000 a year over 15 years, for the naming rights to BB&T Point, the multi-use sports stadium now under construction in downtown High Point. The stadium is scheduled to open in 2019 and be home to a pro baseball team in the independent Atlantic League.
"We think it's a good partnership for us and for BB&T," Hilton said. "We expect it to a be a win-win, and … frankly, we expect to grow that relationship. We look forward to additional opportunities to interact and partner with not only BB&T, but other businesses in the community."
Aggie Stadium opened in 1981 and cost $2.5 million to build. It was expanded to seat 21,500 in 1995. A $4.5 million renovation in 2011 added the 10,000 square-foot Act-1 Skybox.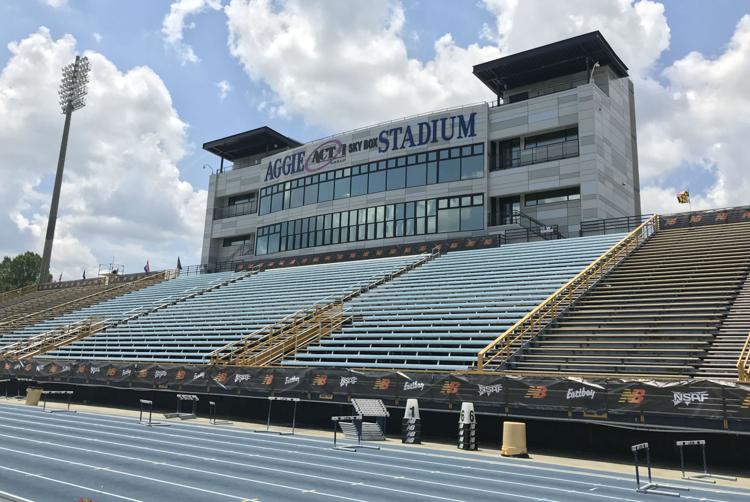 A&T is coming off the most successful athletics year in its history. Aggies teams won seven MEAC championships in 2017-18, including the football team going 12-0 with its second Celebration Bowl victory in three years.
That sort of success isn't cheap.
"Make no mistake: Facilities are the key piece," Hilton said. "It's a cycle. … As you begin to recruit and succeed, then you begin to win. As you win, you have to spin that success into fundraising dollars, which go into facilities. As those facilities improve, you're able to recruit a different brand of student-athlete who's more successful in the classroom and on the court. It's a cycle that feeds itself.
"We're in that place in the cycle where we have to make an investment in our facilities. Certainly, the quality of your facilities drives much more of the decisions of prospective student-athletes than it used to. Where they play, where they dress, where they live, where they sleep. It's not just athletics venues. It's residence halls and cafeterias. It's the whole package."
A&T has a list of building or renovation projects that stretches over the next several years.
"We're going to have to replace our track surface within the next year," Hilton said.
"Memorial Stadium, as that finally transitions from the city to A&T, that will need some love to get it up to a Division I level, and … we need to make that investment quickly. The football stadium itself, the support structures for equipment and training and meeting space — all of those presently are inadequate for our needs."
The deal with BB&T likely won't be the last, Hilton said. Naming-rights agreements could be struck with other businesses or private individuals for smaller projects.
Staff writer John Newsom contributed to this report.
Contact Jeff Mills at (336) 373-7024, and follow @JeffMillsNR on Twitter
Be the first to know
Get local news delivered to your inbox!