GREENSBORO — It's the first week of classes, and Mac McCain two-straps his backpack while he walks the N.C. A&T campus.
He moves easily as he approaches, no hint of a limp or hitch in his gait. His hair is a little longer, his shoulders a little broader. But it's the same firm grip in his handshake. Same friendly grin. Same answer to the stock question.
Who's the fastest guy on the team?
"Me," McCain says. "Absolutely. Always me."
It's been a running joke on this Aggies football team going back to 2011. Every year, eight to 10 players will answer that question the same way.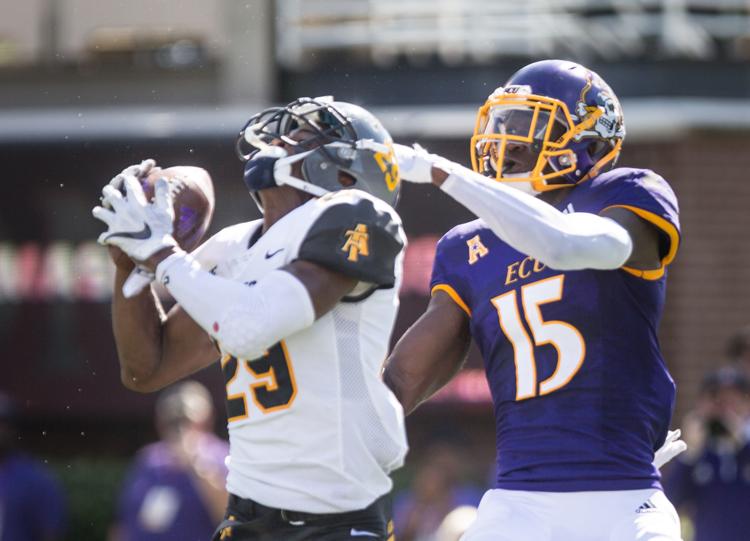 McCain showed his speed often during his first two years. The cornerback who was born and raised in Greensboro has eight career interceptions, returning four for touchdowns, including a game-changing 100-yarder last year at East Carolina.
But something else is new, too.
The injury
A 4-inch vertical scar runs down the center of his left kneecap, a permanent reminder of OrthoCarolina Dr. Patrick Connor's scalpel and the surgery to repair a torn anterior cruciate ligament, using a strip of McCain's own patellar tendon.
McCain suffered the injury in A&T's eighth game last season, falling to the artificial turf at Bethune-Cookman's stadium without being hit, lost for the rest of the season.
"A guy was running a hitch (route), and I opened up," McCain says. "When I stopped and planted, the knee kind of just went out on me. It hurt, but at first, I didn't think it was a big deal. My knee was just a little sore. I thought, 'I'll be back next week.' But then I found out it was an ACL. I was shocked. The pain wasn't that bad, so I didn't think it was anything big like that."
But it was big. The Aggies' FCS All-America defensive back, already an NFL prospect with elite speed, could only watch from the sidelines for the rest of his sophomore season.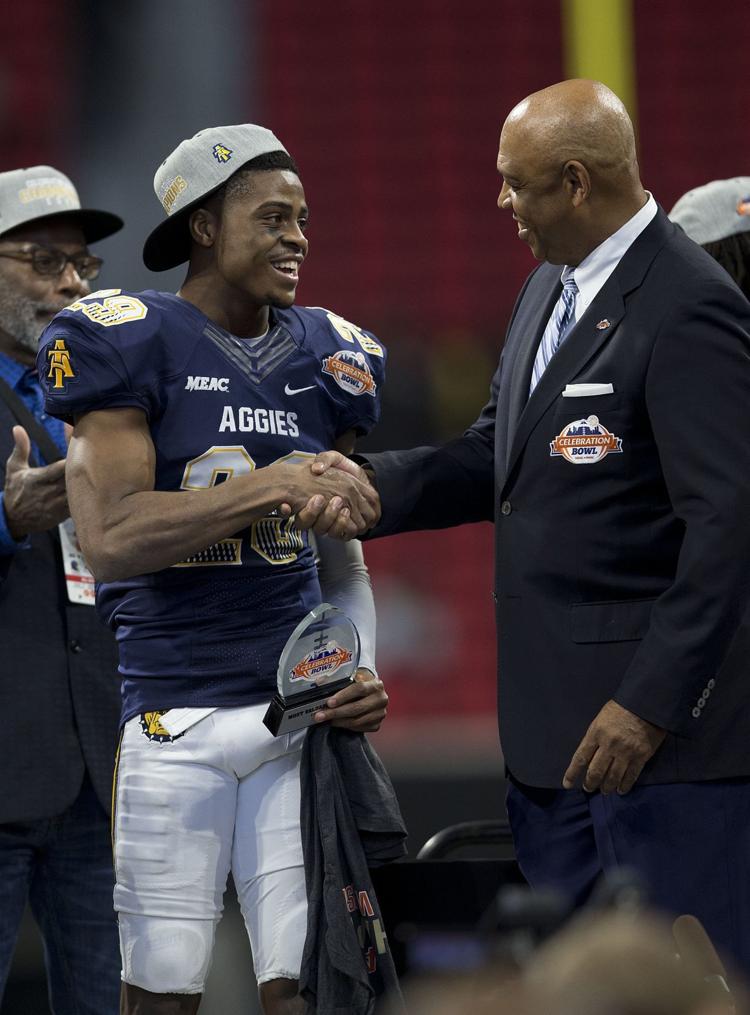 McCain was the defensive MVP of the 2017 Celebration Bowl. He couldn't play in the 2018 game when A&T won and finished off back-to-back black college national championship seasons.
"It was rough sitting out that game," McCain says. "That was a dark time. I'm a competitor, and I wanted to be out there. I've seen both sides of it. I was at the top two years ago, and I hit bottom last year."
But through it all, McCain stayed positive. And driven. He started physical therapy the day after his surgery in Charlotte.
"I went home that night, and the next day the doctor's got you moving it, bending the knee," he says. "I had a machine they gave me. I'd put my leg in it and bend the knee over and over. They wanted me to get it to 90 degrees in three days. It was hard. I'd lay in the bed eight hours a day, bending my leg in that machine for all eight hours."
Then came follow-up sessions with A&T's trainers, as well as staff from Guilford Orthopedics, Proehlific Park and High Point's Full Time Fitness.
McCain worked to make his quadriceps and hamstrings stronger and to get back his full range of motion in the injured knee.
"It's been a grind. A torn ACL is a bad injury," McCain says. "… You know, it seems like I've always heard it from people saying, 'What happens if you blow your knee out?' Stuff like that. But I've been through a lot of other stuff in my life. I wasn't going to let this be the worst thing. I knew if I stayed true, I could get through this with help from God and my family. I'm a believer, and I know God has a plan for me."
Still fast
A&T has a plan, too. McCain is listed as the starter at boundary cornerback on the Aggies' depth chart.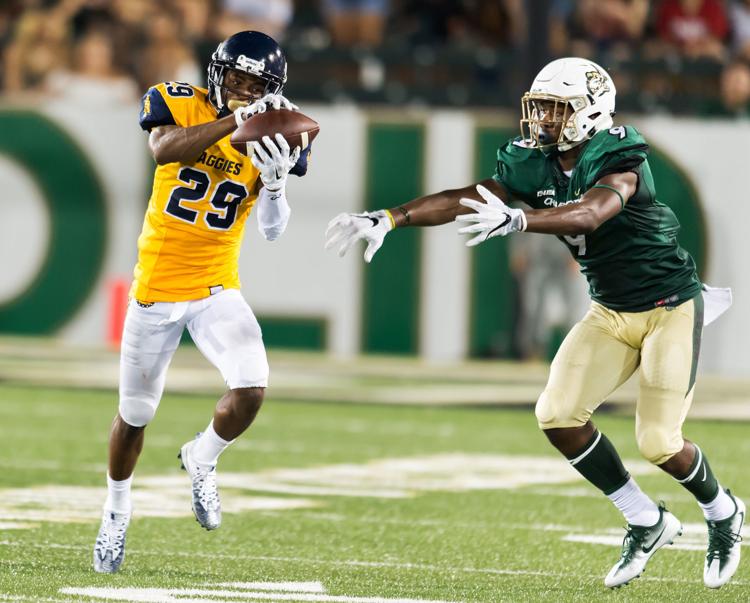 But he's not rushing his comeback. He wants to play in A&T's opener against Elon, but realistically it's probably 50-50 whether he suits up or gets held out.
"I've been dipping in and out of drills, getting a little contact," McCain says. "… I'm going to come back healthy. I'm not going to come back at 80 or 90 percent. I'll come back when I'm 100 percent."
The speed has come back, McCain says. Officially, he has run the 40-yard dash in 4.3 seconds. Unofficially, he insists he's faster than that.
"When I first got back on the field, I wondered if my feet were still going to be there," McCain says. "Footwork is so important. But it was like riding a bike. My feet, they ain't never going to leave me. My feet and my speed are still there. … I might even be faster after this surgery, with all the work I've done on my legs."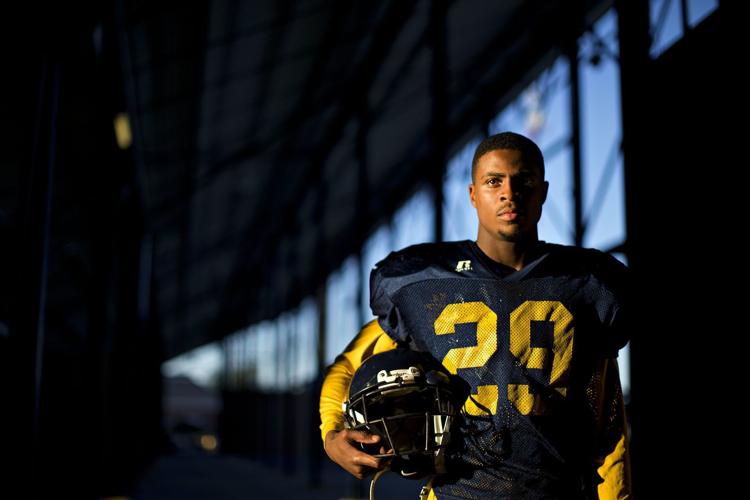 He's even fast off the field.
Like a lot of college athletes, he goes to school year-round. With the extra semesters, he finished his bachelor's degree in agricultural business this summer.
So McCain is still a junior in terms of football eligibility, but he's started graduate school this semester, pursuing a master's degree in agribusiness.
"Hopefully I can start my Ph.D. before I'm done here," McCain says. "The master's I'm working on can be a one-year program if I work it right (in three semesters), and after I get that I can try for a Ph.D. I'm trying to do it all, man, do it all."