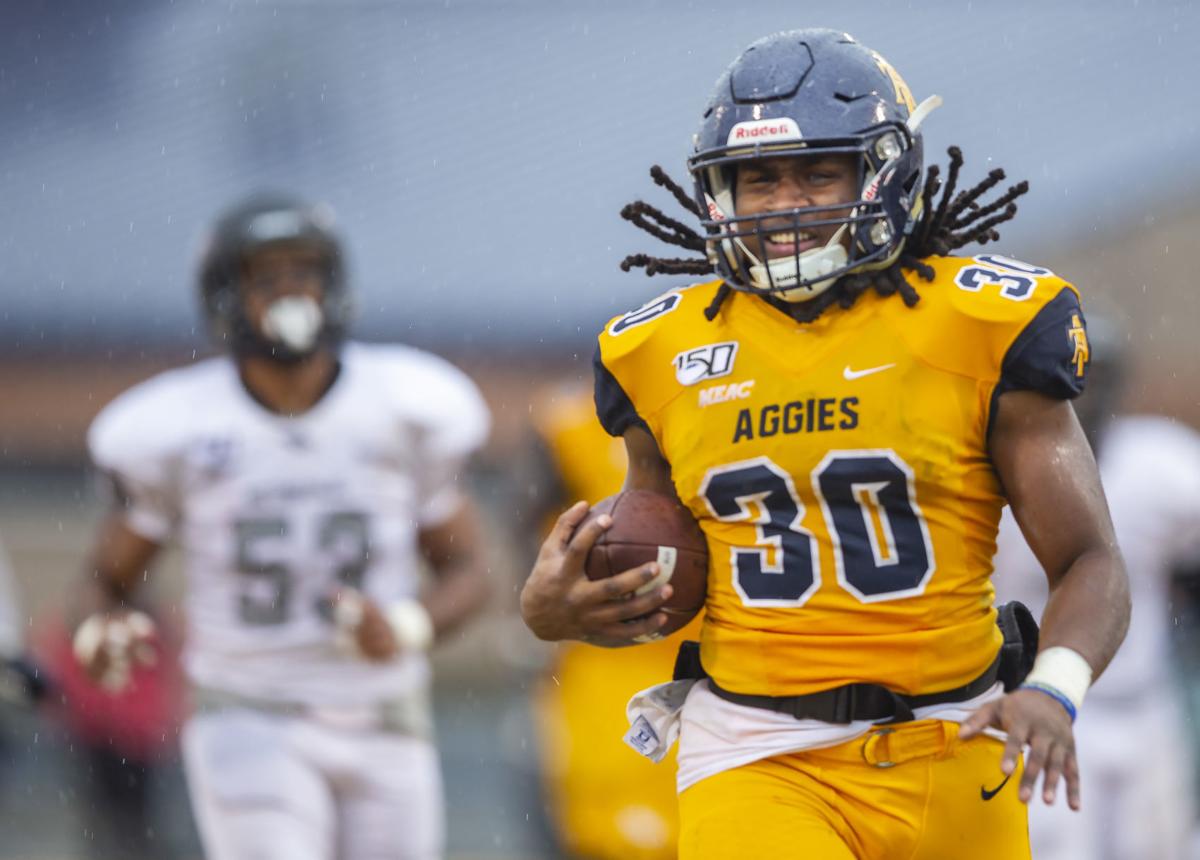 A preview of the N.C. A&T football program going into its season-opening game at 2 p.m. on Saturday at Furman.
2019 record
Coach
Sam Washington (19-5 in two seasons at N.C. A&T).
Last postseason appearance
2019, beat Alcorn State 64-44 in Celebration Bowl.
Strengths
Running back and offensive line feature veterans who are accustomed to winning conference titles and bowl games.
Weaknesses
An unproven quarterback will have to be addressed early.
Key losses
QB Kylil Carter, WR Elijah Bell, LB Antoine Wilder, CB Mac McCain III, OL Marcus Pettiford, DT Justin Cates
Keys to the season
Adjusting to a new conference in the Big South will be priority No. 1 after the Aggies left the MEAC. The offense will also need wide receivers to produce, but that could be easier because opponents will be focused on trying to stop running back Jah-Maine Martin.
They should beat ...
Furman, N.C. Central, Robert Morris, North Alabama, Hampton, Monmouth, Charleston Southern, S.C. State, Gardner-Webb
They'll likely lose to ...
Breaking down the roster Offense Skill positions
Stars of the group: RB Jah-Maine Martin, WR Zach Leslie
Player primed for a step forward: QB Jalen Fowler
Assessment: When Jah-Maine Martin is effective, the entire offense opens up more. So the Aggies will try to use the same formula this season. Fowler, a redshirt junior, has been in the background, but that will change.
Stars of the group: C Dacquari Wilson, RT Bilal Ali, RG Lawrence Lagrone
Player primed for a step forward: LT Ricky Lee, a transfer from N.C. Central
Assessment: Balance will be key but the line is established and ready to pick up where it left off from 2019. Lee gives the line a veteran presence that will help.
Defense Line
Stars of the group: Jermaine McDaniel, Devin Harrell
Player primed for a step forward: Karta Kaba
Assessment: The two defensive ends, McDaniel and Harrell, were very good in 2019 and will need to continue to get better. Several younger players are ready to assume bigger roles.
Linebackers
Stars of the group: Kyin Howard, Joseph Stuckey, Jacob Roberts
Player primed for a step forward: Roberts
Assessment: The three starting linebackers were the top three tacklers from 2019 and only McDaniel is a senior. The three also combined for seven sacks in 2019.
Secondary
Stars of the group: Najee Reams, Stephen Davis Jr.
Player primed for a step forward: D.J. Crossen
Assessment: Reams was in on nearly 40 tackles and had four pass breakups in 2019 so his experience will be valuable. Crossen, a sophomore from Greensboro, will also help that unit.
Special teams
Star of the group: P Michael Rivers
Player primed for a step forward: Freshman Andrew Brown
Assessment: The Aggies lost a good one in kicker Noel Ruiz (23 of 27 field goals made in 2019) so Brown, a freshman from Lexington who is a graduate of West Davidson, assumes the place-kicking duties. Rivers averaged 41 yards per punt in 2019 but had two punts blocked.
Schedule
Sept. 4: At Furman, 2 (ESPN+)
Sept. 10: At Duke, 8 (ACC)
Sept. 25: N.C. Central, 6 (ESPN+)
Oct. 2: Robert Morris, 1 (ESPN3)
Oct. 9: North Alabama, 1 (ESPN+)
Oct. 16: At Kennesaw State, 5 (ESPN+)
Oct. 23: At Hampton, 2 (ESPN+)
Oct. 30: Monmouth, 1 (ESPN+)
Nov. 6: At Charleston Southern, 1, (ESPN+)
Nov. 13: At South Carolina State, 1:30
Nov. 20: Gardner-Webb, 1 (ESPN3)