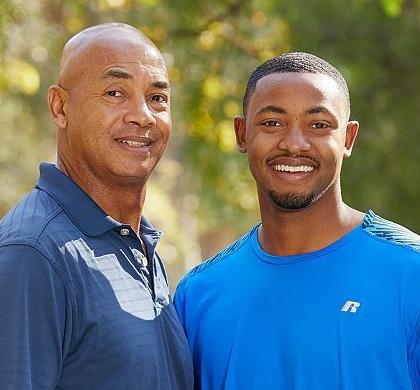 Jerry Eaves never had the chance to coach his son Frank on a college basketball court, but they were teammates as contestants in the 32nd season of CBS' "The Amazing Race."
Jerry, who coached the N.C. A&T men's basketball team from 2003 to '12, and Frank, who played at Page and at Appalachian State, are among 11 duos competing on the reality show this season. The first episode airs at 9 p.m. Oct. 14 on WFMY.
Jerry Eaves, 61, is a sports-talk radio host in his hometown of Louisville, Ky., and also serves as athletics director and men's basketball coach at Simmons College of Kentucky. Frank Eaves, 25, is in luxury car sales in Louisville.
On the CBS website for "The Amazing Race," Frank said he entered the competition "to strengthen an already tight bond with my father, as well as show him he has raised a great and capable young man. He is the best father I could have ever asked for, and I want to give back by showing him his work did not happen in vain or go unnoticed." Jerry said he entered because "this is a lifelong dream and (an opportunity for) bonding with my son." 
CBS' website describes the multi-Emmy Award-winning series, hosted by Phil Keoghan, as "a trek around the world. At every destination, each team must compete in a series of challenges, some mental and some physical, and only when the tasks are completed will they learn of their next location. Teams who are the farthest behind will gradually be eliminated as the contest progresses, with the first team to arrive at the final destination winning 'The Amazing Race' and the $1 million prize."
The 32nd season of the show actually began two years ago when the teams left the starting line at The Hollywood Bowl in Los Angeles. "The Amazing Race" was filmed before the COVID-19 pandemic impacted travel and took the teams, which included former NFL players, pro volleyball players, Olympians and reality TV stars to Trinidad and Tobago, France, Germany, Kazakhstan and Brazil among other locales.
Contact Joe Sirera at 336-373-7034, and follow @JoeSireraNR on Twitter.
Be the first to know
Get local news delivered to your inbox!