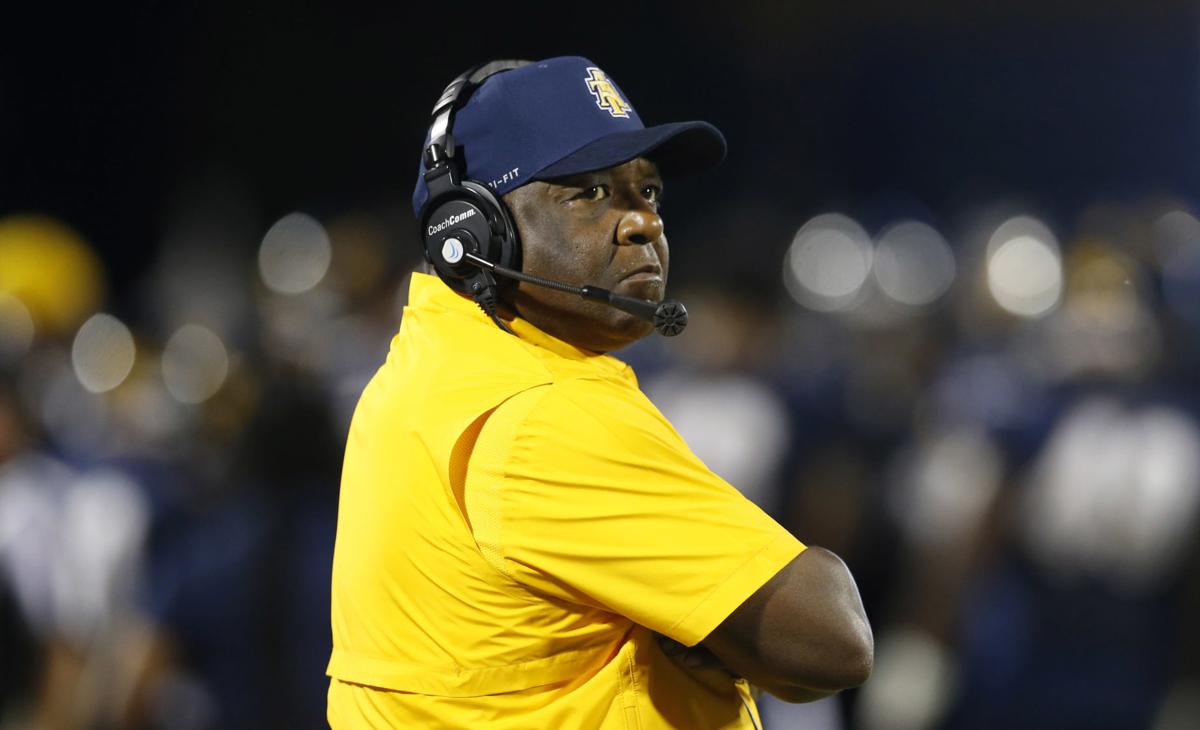 The cancellation of N.C. A&T's homecoming festivities doesn't affect the task Sam Washington has to complete that week.
The Aggies coach still has a football game to win Oct. 31 against South Carolina State. But he also realizes how disappointing it has to be for the thousands of alumni who flock to Greensboro every year for the Greatest Homecoming on Earth.
The school announced during an online trustees meeting today that it wouldn't hold any of its normal on-campus events, outside of the football game, in light of the ongoing COVID-19 pandemic.
"I hate it for the fans; now that's who I hate it for," Washington said by phone. "And the student body — they're going to miss out on an experience that's second to none.
"I really feel sorry for those (students), but hopefully they'll be blessed with many more."
While the football team doesn't take part in any of the off-field lead-up to game day, Washington said an already special atmosphere in BB&T Stadium revs even more. It was a notion echoed by current Las Vegas Raiders defensive tackle Brandon Parker, who played at the school from 2014 to 2017.
"As an alumni, I'm disappointed because GHOE is like Christmas to us Aggies," Parker said via text. "However, the realist side of me thinks that it is a good decision because they have the safety of everyone in mind, and the 60,000+ people that gather in close proximity on game day alone would definitely put a lot of people at risk.
"Especially, some of our older alumni at the tailgates. I'm just glad they will still be able to play the game during homecoming."
And right now, October seems light years away for Washington, who has led the Aggies in back-to-back Celebration Bowl wins and enters his third season as the program's head coach.
He's still worried about keeping his players and staff healthy as they all come back for the 2020 season.
"I'm still struggling with 'Are we going to have a season? What is it going to look like? How are we going to get these kids on campus and get them tested?'" Washington said. "There's so much going on right now. Homecoming is so far away, it's not even a thought, to be honest with you."
Washington said the football team has targeted July 5 for the players' return to school. They will be tested and then will be broken up into pods of eight to 10 people. As long as outbreaks are avoided, those groups will be allowed to merge as time passes and the novel coronavirus doesn't spread.
That timeline is also contingent on restrictions being lifted in North Carolina. The state is currently in Phase 2 of a three-phase plan, capping indoor gatherings at 10 people and outdoor gatherings at 25.
On Wednesday, the NCAA College Football Oversight Committee approved a six-week plan that allows official team workouts to start July 13, an increase in walk-throughs and team meetings July 24 and team practices to start Aug. 7.
The question remains about what fan presence might look like, whether it be venues at partial capacity or no attendance allowed at all. Washington called empty stadiums an unfamiliar territory in his life full of football.
"I've never been in a stadium with no fans, or minimal," Washington said. "So I'm not sure what that's like, and I've been doing this — man, to be honest, 1968. I've been around organized football that long, and I've never seen an empty stadium."
"I don't know what it will look like. I don't know what it feels like. But we're about to find out, aren't we?"
Be the first to know
Get local news delivered to your inbox!