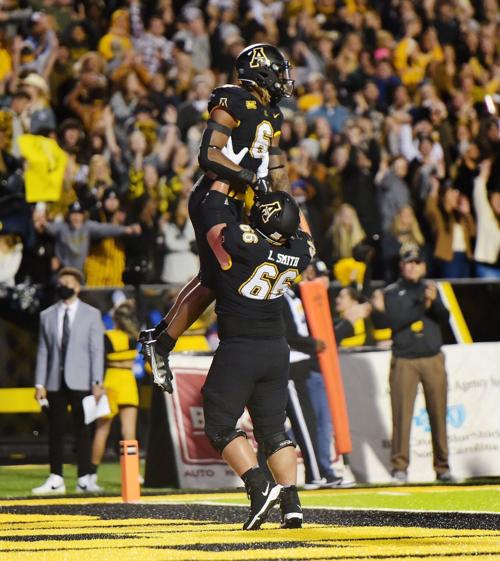 A preview of Appalachian State's football game:
What
No. 14 Coastal Carolina at Appalachian State
When
Where
Kidd Brewer Stadium, Boone
TV
Records
Coastal Carolina: 2-0 Sun Belt, 6-0 overall.
Appalachian State: 1-1, 4-2.
What to watch for
1. Most notably, can the Mountaineers take care of the football? Against Louisiana in a 41-13 loss last week, Appalachian had four turnovers — two via interception and two by fumbles.
That's become a recent flaw in the marque conference matchups. App State had three interceptions in a 2020 loss to Coastal Carolina, then had three more turnovers (two interceptions and another fumble) in the matchup with Louisiana. Those two games knocked the Mountaineers out of conference contention for the first time since 2015.
"It starts with the offense," App State coach Shawn Clark said, reflecting on the Louisiana game. "You can't turn the football over four times and win any time in college football. We went and did a study this week, and if you didn't win the turnover battle, you lost 82 percent of your games this past week in college football. So I think it starts there and with that."
2. Will the health of running back Camerun Peoples finally allow him to play a conference game?
The Mountaineers' bruising back dinged his ankle in the Marshall game, missing the last two matchups as gametime decisions. Clark said Peoples went through warm ups ahead of the Louisiana game and indicated he couldn't play. Clark also mentioned that Daetrich Harrington, who'd missed the start of the season with an injury before returning against the Ragin' Cajuns, felt fine after his first game action. He's primed for more carries going forward.
Peoples scored at least two touchdowns in three of the four games he's played in 2021.
3. Grayson McCall has stayed on his efficient clip this season. The sophomore quarterback has a combined 16 touchdowns (14 passing, two rushing) in the Chanticleers' option offense. He's connected on at least 70 percent of his passes in five of Coastal Carolina's six games this season — the lone outlier being the matchup with Buffalo, when he registered 68.4 on his passing accuracy while Coastal Carolina squeaked out a 28-25 victory. He scored three touchdowns against the Mountaineers last season, a 34-23 victory in Conway, S.C.
Tickets and information