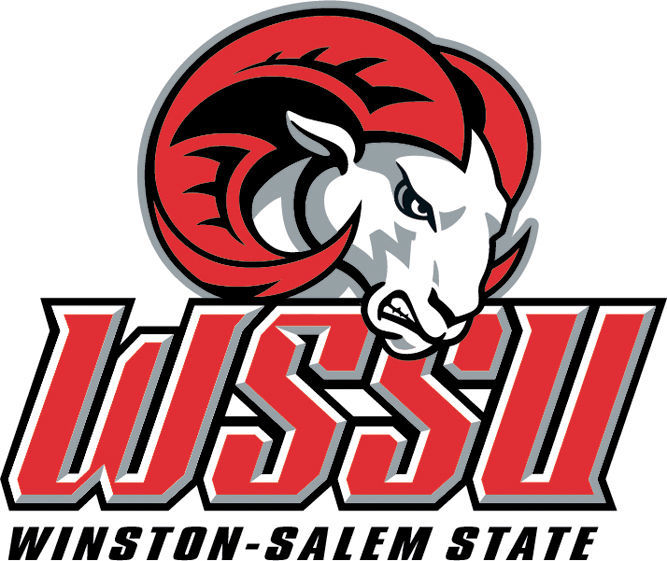 It's easy to see the three pillars in the Rankin family — faith, family and football.
The three sons of Delta and Stan Rankin learned early that football can open many doors with its life lessons, including making friends and getting along with others. Growing up in Reidsville the three sons learned the game from each other, played for Reidsville High School and all ended up at Winston-Salem State to further their football and academic careers.
Jayron, the oldest, graduated from WSSU in 2019 and is a state trooper, while Jashan is a junior cornerback and Jhaki is a freshman defensive lineman.
All have been on the field together this season, but not in a WSSU uniform. Because of his close ties with Robert Massey, Jayron has been at the Rams interim head coach's side in his state trooper uniform as security during games.
"I love it that they are here playing in the same red-and-white uniform that I played in," said Jayron, a linebacker who was part of the Rams' 2015 and '16 CIAA championships. "This is just a blessing to be this close to the field to watch them play."
Two weeks ago in a win over Johnson C. Smith in Charlotte, Jashan made an interception right in front of his older brother and the coach. Jayron admitted he wanted to go celebrate with his brother and the rest of the Rams on the field but thought better of it.
"On the inside I was so excited, but I just had to maintain my responsibilities and remember why I was there," Jayron said.
Jashan laughs when asked about the play.
"It's funny, but on film we watched it and I saw Jay just sort of clapping," Jashan said. "He later came over to congratulate me, but he had to keep a calm demeanor."
While the two younger brothers combined to be on four state championship teams during their time at Reidsville, Jayron never won a state championship but was on outstanding high school teams. Jayron joked that he was part of the foundation that has helped the Rams win four of the last five Class 2-A state championships.
Now, the younger brothers are chasing a CIAA title to do something Jayron, who was also All-CIAA linebacker, did at WSSU.
Massey said it's a shame there aren't more Rankins back in Reidsville.
"We could use a lot more of them," he said. "They all just are down-to-earth, good people. We obviously like what Jashan and Jhaki are doing for us now."
Reidsville Rams mainstays
Reidsville coach Jimmy Teague says his history with the Rankin family goes back a long way. Stanly, who is a die mechanic at TE Connectivity and a middle school wrestling coach, played for Teague at Reidsville, and Delta was a Rams cheerleader.
As Teague goes through this season, there isn't a Rankin to be found on his roster.
"It's an odd year not having one of them on the team because I think starting in 2009 or something Jayron was playing for me," Teague said, "and the other two came along."
Teague said it's no secret why the Rankins have done so well in the sport and in the classroom.
"It's their upbringing with Mom and Dad, and I know they are proud of the two playing together at Winston-Salem State and following in Jayron's footsteps," Teague said.
That Jayron has been right there in his state trooper uniform next to Massey isn't a surprise to Teague.
"That family is always together, so for Jayron to be that close to seeing his brothers play is great," Teague said.
Now they are WSSU Rams
Jashan is undersized at 5 feet 8 and 190 pounds, and Jhaki, who is 6 feet and about 230 pounds, is trying to find his footing in the college game. They both possess much knowledge of the game, and they've found more and more playing time as the season has gone on.
Jashan says following in his older brother's footsteps was easy because he set such a good example.
"We watched him growing up and people looked up to him and he stayed on the right path and never got in trouble so we've emulated him," Jashan said. "We've also competitors so we want to be better than him, but knowing he led the way is cool."
When asked about the pipeline from Reidsville to Winston-Salem State, Jhaki said it's all they've ever known.
"I knew I wanted to come here and play," Jhaki said. "I thank God to be able to play with my brother in high school and now here. Not a lot of people get to play with their brother in high school and in college."
The brothers have always been competitive with each other, and that led to a simple question. Who is the fastest?
"Me," said a confident Jashan, who is the youngest.
The special family bond
Soon after the Rams dispatched of St. Aug's 41-0 on Saturday it was Delta and Stan who came to meet their children on the field. They are in the Horns Club as donors to the WSSU athletics department, and they've loved what the school has done for their children.
As they arrived on the field, the three men were being interviewed. They all later posed for a picture.
"We've just extremely proud and blessed to have three great young men," said Delta, who works in the health-care field and also played volleyball, basketball and softball at Reidsville High School.
Stan said: "This is just surreal for us to be able to do this and see them play."
For years the family has been going to youth football games, high school games and now college games as their three children grew up.
"When Jayron played for WSSU, we would watch the other boys play on Friday night, then make the trip here to see Jayron on Saturdays," Delta said. "Now we are going to their games in college and they are teammates again, so it's great that we can do this as a family."
Jayron still setting the bar
Now that Jayron followed his dream to become a state trooper, his younger brothers are thinking that's what they might want to do.
Jasahn will be the next to graduate from WSSU, and he's thinking a little bigger than his older brother.
"I'm thinking that I would want to maybe be in the FBI," Jahan said. "And if that doesn't work out, I'll see what the future holds."
Both younger brothers say they've learned from Jayron less through advice he has offered and more through observing him.