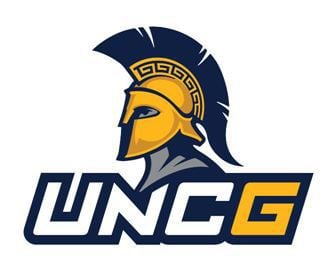 Takeaways from UNCG's 58-54 men's basketball victory against Wofford on Monday night at the Greensboro Coliseum:
• Just when everything could have turned crazy, the Spartans looked calm.
Trailing by one when Kaleb Hunter missed the front end of a 1-and-1, teammate De'Monte Buckingham secured the offensive rebound.
The Spartans had been in such end-of-game situations, and so they knew what to do. There was no panic. Then Kobe Langley ended up with the ball.
"I told my team, 'Give me the rock and get out of the way,' " Langley said.
He dribbled inside the arc, with defender Ryan Larson losing his balance. Langley stepped back and launched what became the winning three-pointer with 16.1 seconds to play.
For Langley, a junior guard out of Southwest Guilford, it ranks as the biggest shot of his career. In that category, this replaces his drive for a winning basket in a 60-58 victory against Green Bay in November.
"I made a move and (Larson) fell and I made the shot," Langley said of his latest clutch moment.
• The Spartans didn't make many shots, at least until the final 7½ minutes. That's when they scored 20 of their points.
What allowed the game to reach the late stages still within reach for UNCG was its defense.
Wofford shot 47.4 percent in the second half but only attempted 19 shots from the field. The Terriers committed 12 of their 19 turnovers after halftime.
"This is how UNCG plays and plays defense," Langley said.
The first-half defense might have been just as important.
"We still defended everything even when our offense wasn't very good," Coach Mike Jones said. "We generated more and more energy as the game went on."
The final defensive stand also put Langley in the spotlight. His steal of Max Klesmit's dribble resulted in two game-clinching free throws in the last second. Langley finished with a team-high 17 points.
• Langley's good deeds in the final minute aside, Buckingham's team-high sixth rebound ranked as one of the defining moments. He takes his work on the boards seriously. And he knew what to do when he gained possession.
"I tried to keep myself composed and relaxed when I got it," he said.
• How sluggish was the UNCG offense? The Spartans went almost 6½ minutes without a field goal, falling into a 21-13 hole in what became a 13-point deficit.
Only Langley's contested three at the first-half buzzer pulled the Spartans within 28-18. That boosted UNCG's field-goal percentage to 29.2 for the half.
"We wanted to show that we were better than that," Langley said. "And we did."
• There was a slight lineup change for the Spartans, with Keyshaun Langley making his first start of the season. Guard Dante Treacy, who was a reserve for the first time, missed Sunday's practice because of a death in the family.
Treacy ended up logging the third-most minutes of any UNCG player. He was vital to the comeback, particularly by causing disruptions defensively.
• The game was UNCG's third in six days. It began with a 58-54 (yes, same score) home loss to Furman. Four consecutive opponents have failed to reach the 60-point mark vs. the Spartans.
• The coaching matchup fell under the category of "We Meet Again." Wofford's Jay McAuley was a Georgia player when Jones was an assistant coach with the Bulldogs.
A Wofford-UNCG rematch is set for Jan. 29 in Spartanburg, S.C.
• The Spartans could use more of a homecourt advantage, something that grew in seasons before the pandemic. Student turnout was pretty much non-existent for Monday's night's game, albeit a make-up contest, despite classes beginning for the new semester this week. Attendance at the Greensboro Coliseum was announced at 1,320.
Stars
B.J. Mack: 18 points, seven rebounds.
Kobe Langley: 17 points (4-for-9 3FG), five rebounds, three assists.
Bas Leyte: 11 points, five rebounds.
Notable
The Spartans, down 13 in the first half, trailed 30-18 early in the second half after a jumper by the Terriers' B.J. Mack.
UNCG pulled even, 44-44, at the 5:32 mark on two Kaleb Hunter free throws.
UNCG shot 7-for-24 in the first half, including 3-for-16 from the three-point arc. The Spartans were 13-for-24, including 6-for-12 from three, after halftime.
Records
Wofford: 1-3 Southern, 9-7 overall.
Up next
Wofford: Samford, 7 p.m. Wednesday (ESPN+).
UNCG: At The Citadel, 7 p.m. Thursday (ESPN+).