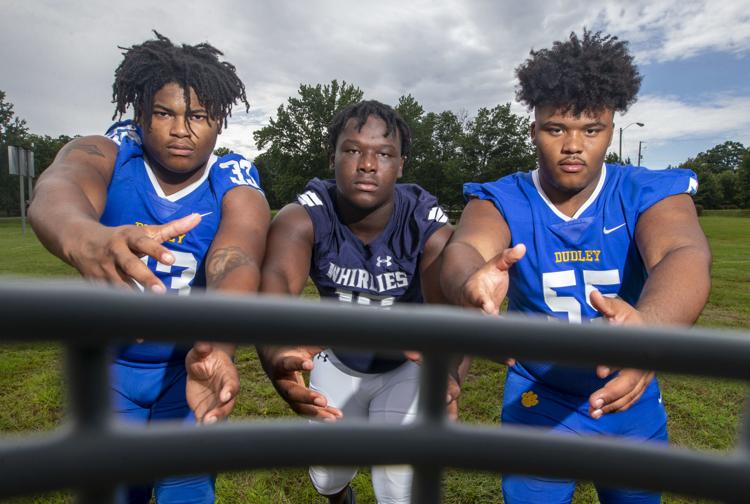 GREENSBORO — The current group of high school defensive linemen in Greensboro may be the best in the city's long football history. Dudley senior Myles Murphy and junior Payton Page and Grimsley sophomore Travis Shaw are consensus four-star recruits who stand 6 feet 4 or taller and weigh at least 280 pounds.
"There are some big boys in the city, with Travis, Myles and Payton," says Dudley defensive line coach and coordinator Brandon Anderson. "They're all ranked in the country. We're finally getting some recognition in North Carolina in terms of rankings, and not just with defensive linemen. It's athletes, period. … And they all know each other and they work out with each other. They have a bond in the 336."
As high school football kicks off in earnest tonight in the 336, here's a look at how each of these three dominating defensive linemen became who they are and how Guilford County shaped them.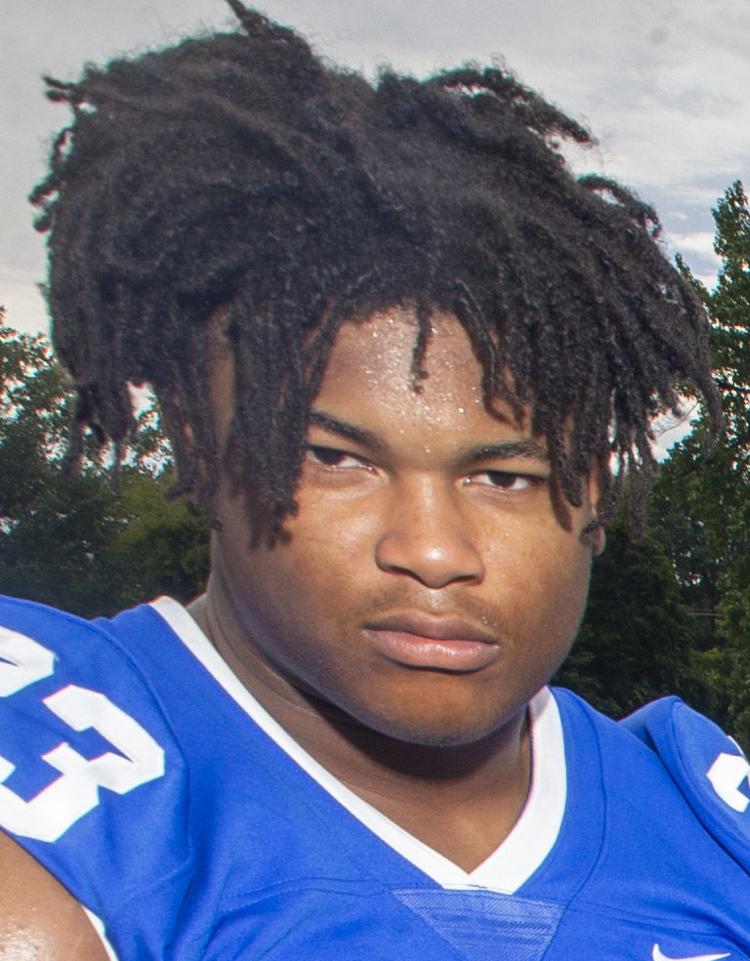 MYLES MURPHY
What Myles Murphy remembers about the early days of his football career is that he was quick. That part hasn't changed, but nearly everything else has for the Dudley senior.
A few months after transferring from Southwest Guilford as a four-star recruit, Murphy committed to North Carolina over schools such as Alabama, Notre Dame and Ohio State.
Murphy was a running back from the days he began playing at the Windsor Recreation Center until high school but has grown into a 6-foot-4, 280-pound defensive end.
The major transition began during Murphy's freshman year at Southwest, when then-sophomore John Oxce took his younger defensive line mate under his wing.
"John Oxce is my man," Murphy says. "He got me right. I didn't know what I was doing, was too used to playing skill positions. He showed me the ropes. Seeing him play, he was a dog tearing everybody up."
Oxce went on to Catawba after earning HSXtra.com All-Area honors twice as a defensive lineman, something Murphy will try to do this season.
Murphy began to attract college recruiting interest at the end of his sophomore year with the Cowboys, when first Western Carolina and then UNC offered scholarships.
"That first one, Western Carolina, they came to see somebody else and I just happened to be in the mix," Murphy says. His father, Todd Murphy, and mother, Angela King, "were so surprised. I told them it was going to happen."
As a junior, Murphy had a team-leading 53 tackles — including 18 for losses — and 10 sacks as Southwest Guilford went 8-4. After transferring to Dudley before the end of the school year, he committed to North Carolina.
The recruiting process was an enlightening one for Murphy, especially campus visits.
"You can tell when they're telling you the truth," he says. "When you talk to the players away from the coaches, some players tell you straight up, 'Don't come here.' … Sometimes it's not that they want you, it's that they don't want to be playing against you at another school."
North Carolina's opponents will have to face Murphy in the coming years.
"They're getting a great talent, a guy with the size, speed and strength to play on that level," Dudley coach Steven Davis said. "Once he gets there and understands the level he's at, I can see him going beyond that."
But before he gets to Chapel Hill, Murphy wants to reshape his body to mold his game after that of Houston Texans defensive linemen J.J. Watt and Jadeveon Clowney. He'll never be a running back again, but his goal is to enroll at 270-275 pounds.
"I want to drop a little bit more weight and come into college as a good-size D-end," Murphy says.
His ultimate goal is to play in the NFL so that he can make his mother's life a little bit easier.
"My mom is my motivation," Murphy says. "Seeing her work crazy hours as a nurse, 7 to 7 every day, I don't want her to be doing that for the rest of her life."
But first, he will team up with fellow four-star recruit Payton Page, as well as Christian Lane and Darius McLendon, this year on the top-ranked Panthers' defensive line. The move from Southwest to Dudley, the high school he originally was supposed to attend, has been easy.
"I grew up playing with most of these guys at Windsor," Murphy says.
He's grown a lot since then.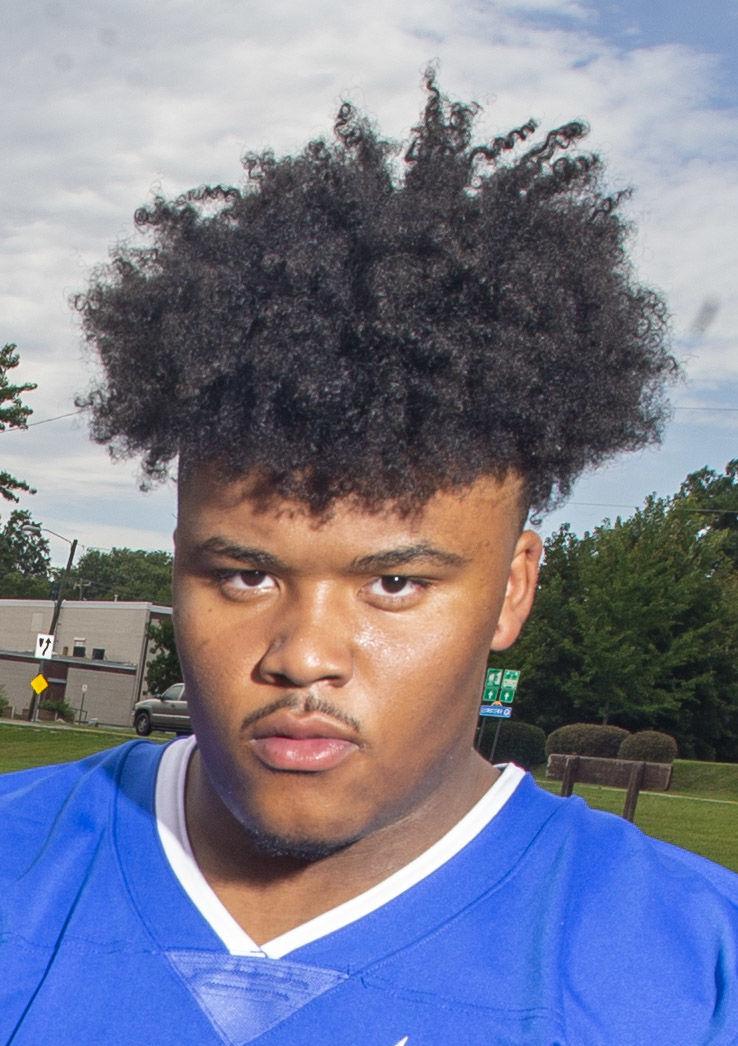 PAYTON PAGE
The field across from Lewis Recreation Center on Gate City Boulevard is where a lot of high school football careers have begun. The small area just beyond the outfield fence of the baseball field is where youngsters are coached up on summer and fall evenings by volunteers, many of whom started playing football there themselves.
That field is also where Payton Page's football career nearly ended.
"Somebody hit me so hard I was done for a good five years," the Dudley junior says. "I was so soft back then."
"Soft" is no longer a word associated with the 6-foot-4, 325-pound defensive tackle, who holds scholarship offers from Alabama, Clemson and a virtual who's who of elite college football programs.
Page had toughened up by the time he resumed playing football as a freshman at Dudley. He barely saw the field for the first two games of the 2017 season, but injuries forced him into Coach Steven Davis' lineup. Then his toughness was tested again.
"The first play I got pancaked," Page says. "I was getting pushed back all over the place. (Later in the season) Southwest Guilford's Drew Smith pushed me back about to the goal post. I was 14, but I was getting cursed out, people saying all this crap."
But he turned a deaf ear and "just went out and played."
"When people talk down, that's my motivation," Page says. "Hell, yeah. Give me that."
The defining moment that first season for Page came during a one-on-one drill in practice. "I put this move on one of the offensive linemen, (Keshaun) Bradley — I think it was a swim move — and put him on his butt, smacked him so hard."
Page played well enough that he caught the eyes of college coaches during a freshman season in which he had 40 tackles. His size and the footwork he had developed playing basketball as a youngster made him an elite prospect.
When the scholarship offers started coming in, Dudley's coaches "didn't even tell me because they didn't want my head to get big," Page says. "I got three in a day. Like a week after, my dad (Eric) told me I had UNC, and the others were Tennessee and Texas A&M. I about lost my mind."
Tennessee was the big one in that group, he says. Page "was excited at first. I was chasing offers for a while, but by about my 15th one I was like, 'This isn't funny anymore. They're not even talking to me. They're just throwing the bag.'"
As a sophomore last year, Page was part of every opponent's game plan, but he was ready.
"They would try to double-team me and it just wouldn't work," Page says of a season in which he had 80 tackles, including 26 for losses, with 10 sacks and 21 hurries. Former Dudley assistant coach Marvin Lamberth, who now works with High Point Central's defensive line, "made me do this double-team move and it worked every time," Page says. "They did not stop me."
It's going to be even harder to stop Page this year. He'll be joined on the Panthers' defensive line by fellow four-star recruit Myles Murphy, who transferred from Southwest Guilford for his senior year, and rising junior Christian Lane (18.5 tackles for losses, three sacks as a sophomore) and 6-2, 265-pound sophomore Darius McLendon.
It's a group that will be the envy of just about every high school coach in North Carolina this season, but the one who gets to play with all of these cool toys is Dudley defensive coordinator Brandon Anderson.
"It helps me a lot and allows me to play a lot of man because I know I'm going to get pressure on the quarterback," says Anderson, who also has taken over as the Panthers' defensive line coach. "They're going to demand some double teams. We're going to put Payton and Myles on opposite sides so they can't run away from both of them … You have to choose your poison with our defense."
"It's going to be something to watch," Murphy says. "I bring speed. He brings strength, speed, agility."
"I bring everything!" Page adds with a laugh.
He's come a long way since those early days at Lewis Rec.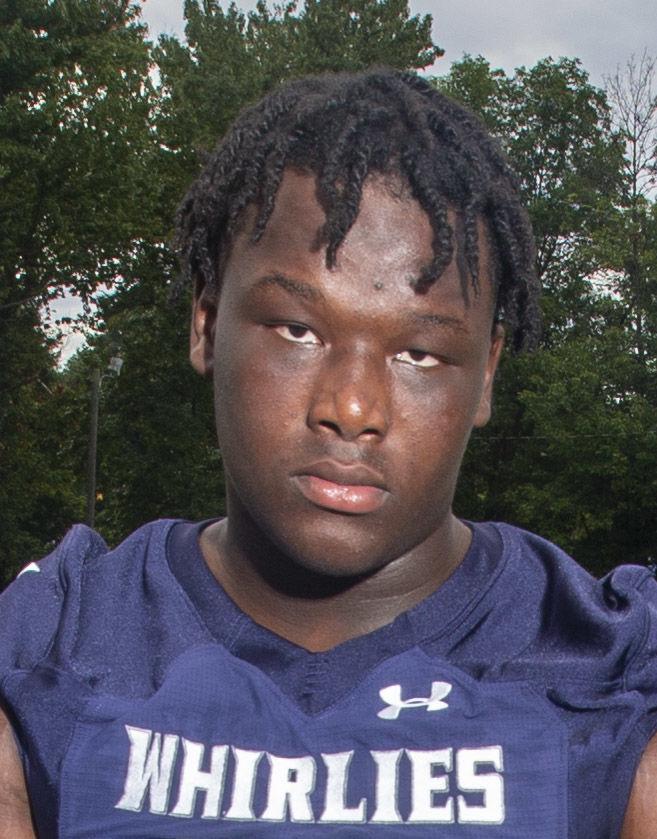 TRAVIS SHAW
At 6 feet 5, 325 pounds, Travis Shaw is already bigger than many NFL players at his position. As the Grimsley defensive tackle enters the room, he sticks out his tattooed right arm and extends a paw for a gentleman's handshake. As the two mitts interlock, one disappears as if Harry Houdini is in the room.
The high school sophomore smiles, revealing his braces-covered teeth, pauses, then chuckles. He knows his initial appearance is intimidating, when in reality he's a 15-year-old teddy bear.
The defensive line is a proper habitat for this massive human, though it took some time for Shaw to face his destiny. Before he was a highly sought-after recruit, he was a quarterback in youth football and middle school.
"It was pretty fun playing quarterback," Shaw says. "It was like being on the playground. I always had to be gang-tackled."
Now it's Shaw who is doing the tackling, often without the aid of others.
Shaw isn't the first major-college football prospect Darryl Brown has coached. At Grimsley, Brown had current Charlotte 49ers linebacker Brelin Faison-Walden in his program for his senior season before Faison-Walden signed with Penn State. While at Southern Guilford, former N.C. State Wolfpack running back Reggie Gallaspy was tutored by Brown for four seasons.
But Shaw's trajectory is different.
"The recruiting process has started faster than any of the other guys I've coached," says Brown, who is in his fourth season as head coach at Grimsley. "A lot of it, though, is his physical appearance. When you're as big and fast as Travis is, the potential is extremely high, so guys are on him early."
Shaw's towering appearance and shifty footwork captivated Power Five college football coaches across the nation. Though the Whirlies' defensive anchor didn't grow up with a favorite team, one phone conversation and scholarship offer made him realize the recruiting process was in full swing.
"The most shocking call was Nick Saban calling," Shaw says of the Alabama head coach. "This was the moment I knew I was here and I could really do something with football. He said to me that he knew I had opportunities, but that they wanted to extend another one to me and offer me a scholarship to the University of Alabama. They have national championships. It's just really crazy to me."
Houston Texans defensive lineman D.J. Reader starred at Grimsley before playing his college football at Clemson. Shaw, who has his sights set on an NFL career, tries to lean on Reader for advice as he learns the ins and outs of his hulking physique and how he can leverage that advantage on the football field.
"I'd like to keep the trend of Grimsley players making it to the NFL, because we are often overlooked," Shaw says. "D.J. and I talk. He gives me some tips, watches my film. We communicate over Instagram and FaceTime. This year he's been on me about getting stronger and faster."
Though expectations are high, Shaw still is learning how to play on the defensive line. Last year, most teams tried to block him one-on-one. This year, that won't be the case. Shaw will be seeing double and even triple teams.
"He's really going to be able to help our team," Brown says. "Travis commands so much attention that he's going to free up a lot of our other players on the field to make some plays. We just expect him to do what he's asked, which is work hard every day and play for his teammates, which we believe he will."
To date, the spotlight hasn't bothered Shaw. He has embraced the challenge of balancing schoolwork, football and recruiting, but he's ready for the lights to come on Friday night at Jamieson Stadium so he can continue to show why he is considered one of the top high school football prospects in the country.
"I'm very fortunate to be in this position," Shaw says. "I'm just taking it all in while it lasts and living in the moment as best as I can."