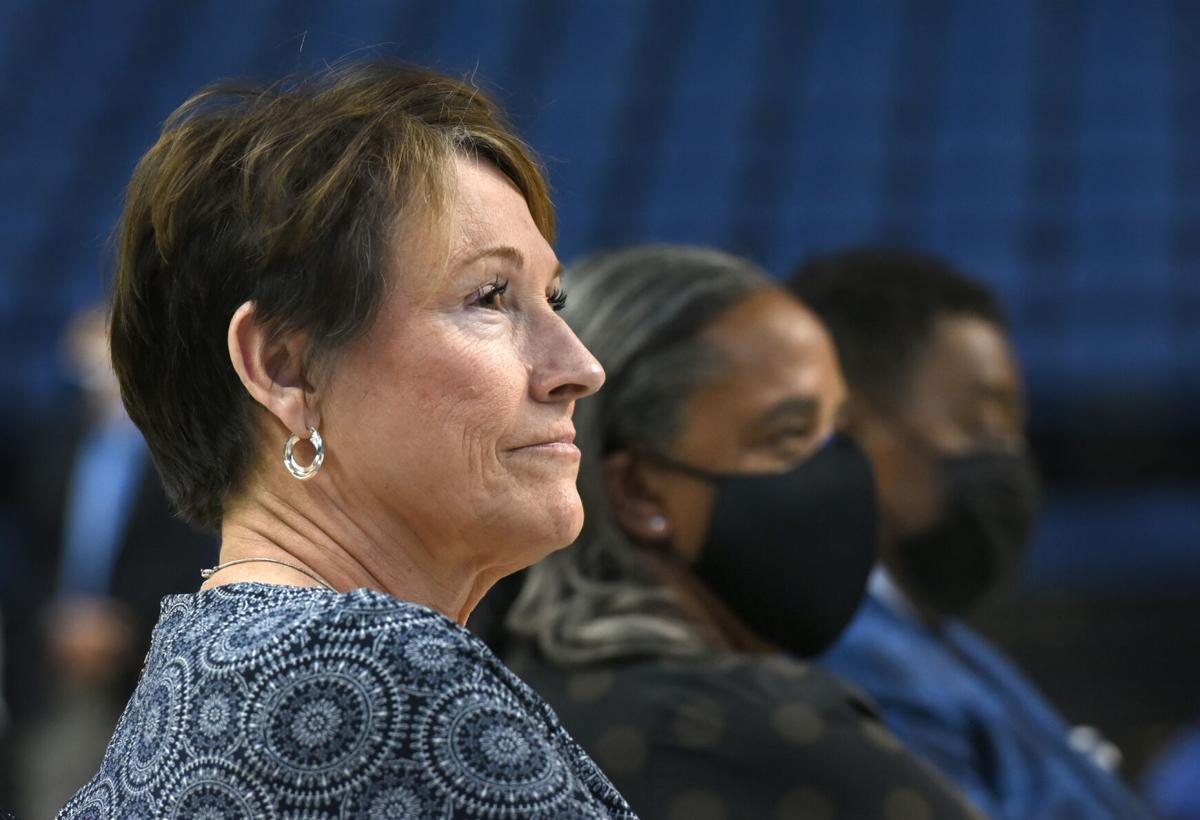 Questions regarding the exit of former UNCG athletics director Kim Record continue to be raised.
Answers don't appear to be forthcoming.
Within a span of 48 hours, on the weekend before Labor Day and a mere two weeks into a new athletics year, Record found herself unexpectedly out of a job at UNCG after 12 years.
"I was shocked it was effective two days later," Record says of a meeting Sept. 1 with UNCG chancellor Franklin D. Gilliam Jr. in advance of her final day of work on Sept. 3.
Record is less shocked, considering it a chancellor's prerogative, that her contract, which paid $202,300 annually, had not been extended past June 30, 2022. The remainder of Record's contract is UNCG's obligation to pay.
Gilliam, through a university spokesman, doesn't "have anything further to provide beyond the original statement" and declined to answer questions from a News & Record journalist, including those about the short notice for Record and the timing. The university has responded to a public-records request by the News & Record regarding coaches' contracts, but another request submitted on Record's final day continues to be processed, the university says.
A message from Gilliam posted at UNCGSpartans.com on Sept. 3 said Record was "stepping down," replaced on an interim basis by Kevin Bostian, though she isn't quoted and no explanation for the end of her duties is offered.
A university spokesperson, on Record's last day, said there was nothing "nefarious" that led to the departure, nothing involving NCAA rules violations or finances.
Record earns praise from the leader of UNCG's biggest success story in its Division I athletics history. Wes Miller, elevated by Record from an assistant coach's role to replace Mike Dement as men's basketball head coach in December 2011 after the season had begun, led UNCG to Southern Conference Tournament championships and NCAA Tournament appearances in 2018 and 2021. He accepted the head coaching job at Cincinnati in April after 10 seasons in Greensboro, and Mike Jones, formerly of Radford, is the Spartans' new coach.
"I can't imagine a relationship between a coach and AD being stronger than Kim and I's relationship," Miller said last week. "We communicated daily. Kim had a lot of strengths as a leader, she made it very clear that she was in charge and she made decisions. But at the same time, she was always completely open to being challenged and to listening to the things that you wanted to do different or the things that we thought that the department needed to do different from a coaching perspective."
Miller said that Record would not budge in upholding the university's values, "and I had so much respect for her for that."
Record oversaw an athletics department budgeted that generated $18.4 million in revenue in 2019-20, according to the U.S. Department of Education. By comparison, fellow University of North Carolina system schools North Carolina ($107.8 million) and N.C. State ($88.6 million) generate and spend big dollars as high-profile members of the ACC.
The wins for Miller, his players and, by extension, Record also validated the hopes of civic leaders who in the 1970s wanted to see UNCG move from Division III to Division I in sports but would need to work years to make it happen.
"You, with the support of Kim Record, have fulfilled our dream of 24 years ago," former Greensboro major Jim Melvin wrote in a letter to Miller in March. "You have done it with class! You recruit good students who represent the University in good fashion."
Besides men's basketball success, UNCG's softball and men's soccer teams also made NCAA Tournament appearances in the last athletics year, two of 15 Southern Conference championship teams during Record's 12 years. And as Gilliam's message pointed out, a record 174 UNCG athletes made the Southern Conference's academic honor roll.
"She understood how to build something sustainable," Miller said, "and how to build something that operated higher than a mid-major level. We were operating as a department like a high major athletics department with low- to mid-major resources. To me, that is solely due to Kim Record and her persistence and work ethic and understanding of what it takes to be successful."
Others saw that success, too. Record, 59, led an organization of Division I programs that do not sponsor football and served as the second vice president of the nation's athletics directors association. She was in line to lead the group and to follow in the footsteps of retired Duke AD Kevin White, who led it while he was at Notre Dame; Carolina's Bubba Cunningham; Debbie Yow, the retired State AD from her Maryland tenure; new ACC commissioner Jim Phillips, formerly of Northwestern; and retired ACC commissioner John Swofford, a president during his Carolina career. Record has resigned from those positions, which brought UNCG additional attention.
In any athletics program, not every game is a win. The men's soccer success, led by Chris Rich, comes on the heels of the hire-and-fire of EJ O'Keeffe before he ever coached a Spartans game in 2019. UNCG self-reported impermissible contact O'Keeffe had with 13 players he had coached, none of whom transferred to UNCG, and was fined $5,000 and is on probation through July 24, 2023.
The women's basketball program hasn't won the Southern Conference Tournament or reached the NCAA Tournament since 1998. And in 2015, UNCG was put on two years' probation and fined $5,000 by the NCAA because of certification issues involving 57 athletes, all of whom were eligible, in 13 sports, from 2007 before Record was hired to 2011.
But none of those events have been offered as reasons for the unexpected stop to Record's work, either.
Except for seeing a few staff members who were part of a video conference on Sept. 3, Record needed to pen her thoughts for the majority of the staff she oversaw and to the student-athletes who wear the university's uniforms in "our sports and athletics program." She chose to focus on their achievements together rather than the sting of being ousted from her job.
"That decision brings to a close an incredible 12 years of partnership and of service to our institution," Record wrote. "It truly has been the honor of a lifetime and – together – we were able to elevate our athletics program to unprecedented heights."
Record went on to highlight the start of "The Spartan Way," a strategic plan; the league championships won; the academic recognition for athletes; and a $3 million fundraising "Campaign for Champions."
"While it is always difficult to say goodbye," she wrote, "I am comforted by my confidence in the foundation we laid, and by what I know is the key to even greater success for our athletics program – our people. These are our talented and dedicated department staff and coaches; our loyal and passionate supporters and donors who help us achieve our goals; and, most importantly, the incredible young women and men who choose to call UNCG home. The future has no limits, and I will be cheering you on from afar."