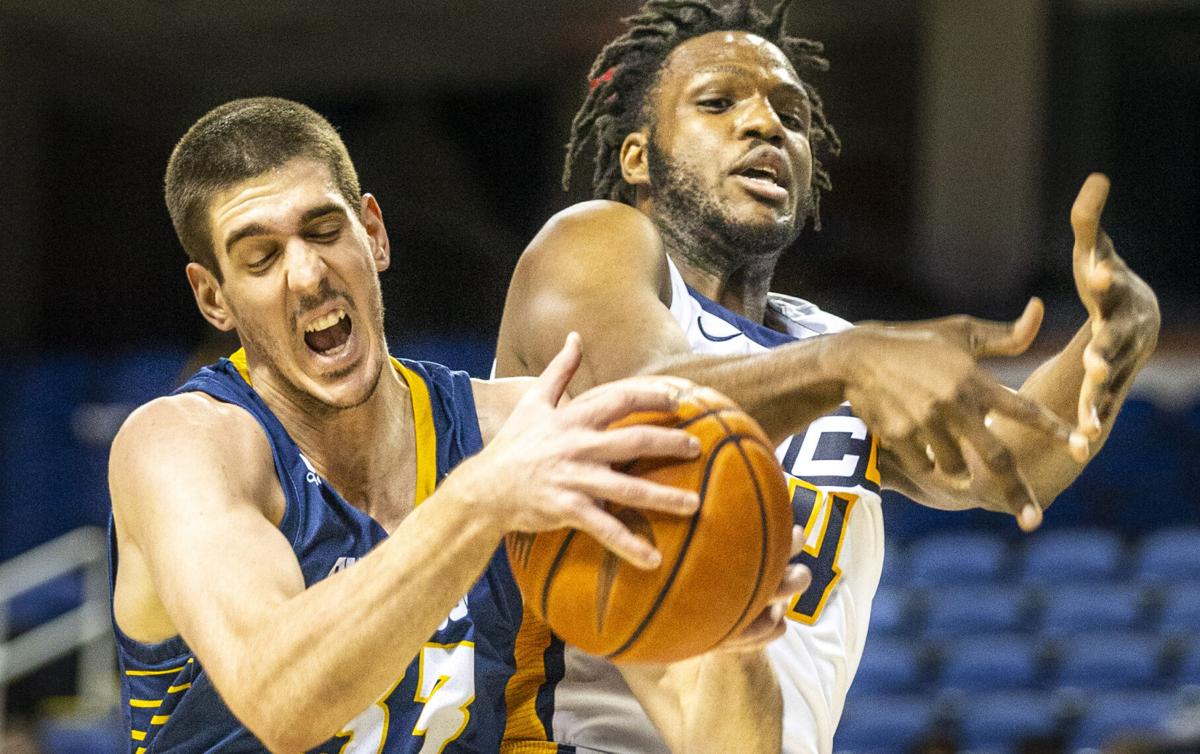 The UNCG men's basketball team rallied from an eight-point halftime deficit at the Greensboro Coliseum, clamping down on defense to beat Chattanooga 60-55 on Saturday night and end the Mocs' six-game winning streak.
What it means
With one week left in the regular season, the Spartans remain in first place in the Southern Conference. The Spartans (11-4 Southern), who have won nine of their last 11 games, remained one game ahead of Furman (9-4) and Wofford (10-5) in the Southern Conference. Wofford beat Western Carolina and Furman beat Mercer on Saturday, but Wofford's game at Samford on Monday has been canceled because of positive COVID tests and quarantine requirements within Samford's program.
Stars
KC Hankton: 13 points, six rebounds.
David Jean-Baptiste: 11 points, three rebounds.
Malachi Smith: 16 points, eight rebounds, three assists.
Isaiah Miller: 12 points, 11 rebounds, five assists, one steal.
Keyshaun Langley: 11 points.
Hayden Koval: Nine points, 4 rebounds.
Mohammed Abdulsalam: 15 points (6-for-7 FG), seven rebounds.
Three observations
• UNCG is having trouble defending the three-point shot, especially in the last two games. It hurt the Spartans in a big way Wednesday night in a loss at VMI last week. The Mocs made eight of their first 13 three-point attempts in the first half on the way to a 34-26 lead. VMI was 14-of-29 on three-point attempts on Wednesday night. The Spartans were 1-for-10 on three-pointers in the first half, but the Mocs struggled in the second half from three-point range.
• You've got to give credit to the Spartans' Mohammed Abdulsalam, who rebounded from a poor first half of just six minutes because of foul trouble. Abdulsalam helped the Spartans battle back from an eight-point deficit, and his three-point play with 10 minutes left in the game gave the Spartans a 41-40 lead. He went on a 7-0 run himself to give the Spartans a five-point lead that was a key stretch in the second half.
• The box score doesn't have a column for first downs, but maybe it should have. The Spartans and Mocs played one of the most physical games of the season in the Southern Conference. The three game officials let them play, and then some. Neither team got into the bonus in the first half, and in the second half the physical play continued. To both teams' credit, they adjusted to the way the game was being called – no ambulance, no foul.
Notable
• Isaiah Miller moved into second place in Southern Conference history for steals in a career. Miller passed D.J. Thompson, a former Appalachian State star, to get into second place. Miller, who has 294 career steals, is chasing Keith "Mister" Jennings, who played at East Tennessee State from 1988 to '91 and had 334 career steals.
• Saturday's game, which was scheduled to be on ESPN+, was not available until about seven minutes remained because of unspecified technical difficulties. 
What they're saying
• "We have 104 wins in four seasons. It makes me think of a number of our former players that stuck with us through the tough times here. Now we have a senior class that has built upon the groundwork that those guys laid before them. With Isaiah Miller, Kaleb Hunter, and a young core of talented players, the future is bright for UNCG basketball." – UNCG coach Wes Miller, who is in his 10th season in Greensboro.
• "He was in foul trouble in the first half but I thought he (Abdulsalam) set a tone on the offensive boards, not just in the second half but in the first half. I thought just putting his chest on the ball and drawing those charges and carrying our defense he was phenomenal in the second half." – Miller.
• "I think our defense, and the effort (in the second half) was the difference. We got a couple of rebounds to get us our second chance points and that was big also." – UNCG's Keyshaun Langley.
• "We just have Western (Carolina) on Monday and we can only think about this next game. We have just one practice (on Sunday) and one game on Monday and that's what we have to do, go one day at a time. We can't look ahead at all." – Abdulsalam on chasing the regular-season title. 
Records
Chattanooga: 9-6 Southern, 18-6 overall.
Chattanooga: At Mercer, 7 p.m. Wednesday (ESPN+).
UNCG: At Western Carolina, 5 p.m. Monday (ESPN+).