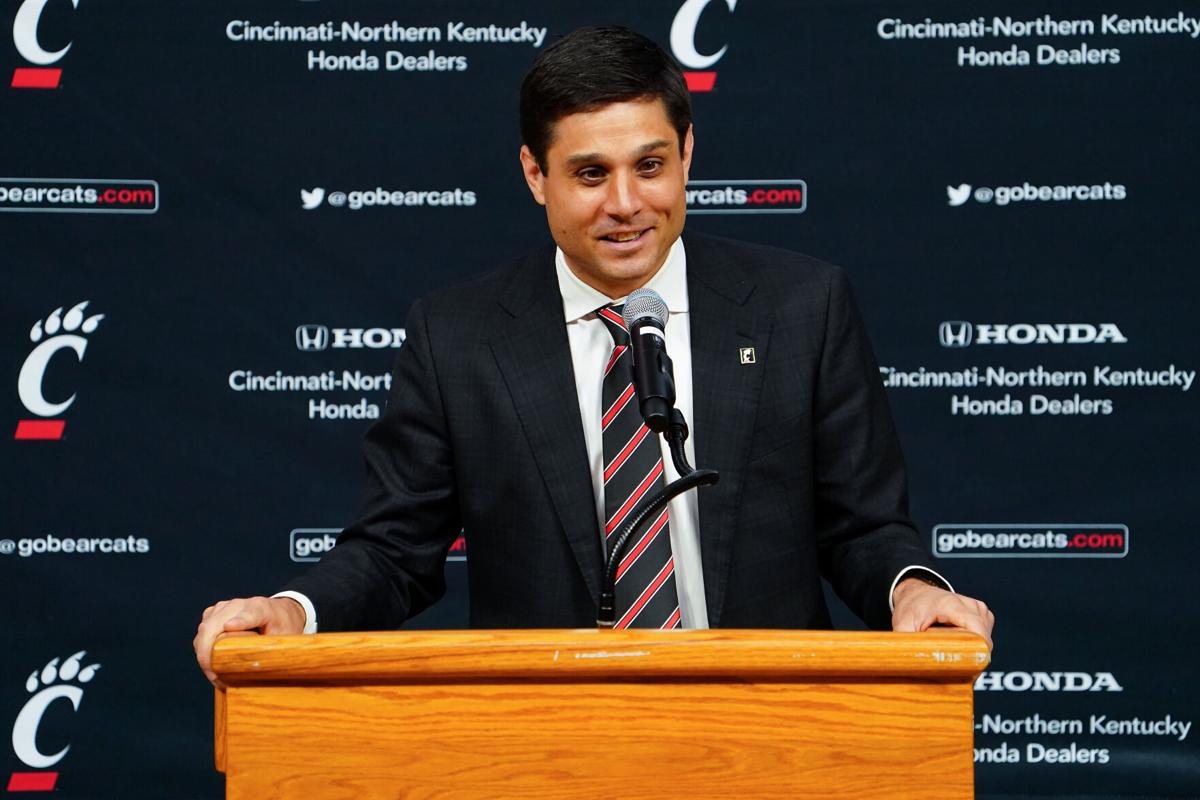 Wes Miller, the former UNCG men's basketball coach, says he is "fired up" to be Cincinnati's new coach, but he also discussed his appreciation for the chance he was given at UNCG during his introductory news conference as the Bearcats' new leader.
A socially distant gathering of journalists and program supporters at the University of Cincinnati's home basketball arena, Fifth Third Arena, heard the new coach's opening statements Friday about his plans to build on the Bearcats' winning ways of the last three decades.
"I am fired up to be the head basketball coach at Cincinnati. Fired up," said Miller, wearing a dark suit and a black tied with red-and-white stripes.
Miller agreed to take the job Wednesday, leading a program that has made 23 NCAA Tournament appearances since 1992. He replaces John Brannen, who was fired April 9.
Highlights of what Miller had to say:
On taking the job
"Since I can remember, I've always wanted to be a college basketball coach. I've dreamed about it my entire life. But I've also dreamed about being a college basketball coach somewhere where there was history, there was tradition, there was pride, where you could compete at the highest possible level of college basketball to cut down nets and hang banners. And Cincinnati is that kind of place. I felt like when the job came open that this is the type of place that would move me, that would make me feel it on the inside. When I walked into this arena for the first time a couple of nights ago, my interview, and I looked at this place and I thought about it being full and I looked into the rafters at the banners that are hanging and the success that's been here, I felt it. I'm thrilled to be a Bearcat, and I'm thrilled about the future of Cincinnati basketball."
On UNCG
"I would never have been a head coach if Chancellor Linda Brady at UNCG and our athletics director, Kim Record, didn't give me a chance to be a head coach. I will forever be in debt. Frank Gilliam came as chancellor five years later and allowed me to continue to be the head coach and to push our program forward. I am forever in debt.
"I am proud, deeply proud, of what we built at UNCG over the last 10 years. It's been difficult every single day, grind-it-out work. We were not in a good place when we started, and I am proud that we built something there over 10 years that was sustainable. As great as this place is, it was not easy to leave, and the reason that it wasn't easy to leave was because of the people. To my former players, I love you guys, I wouldn't be standing up here without you guys. You will always be my guys. And I expect you to show up to Cincinnati in Bearcat gear and feel a part of what we're doing moving forward. ...
"I was just so fortunate at 28 to get a job. I didn't know what I was doing. I didn't have experience; certainly knew basketball, felt comfortable coaching basketball. But what it meant to be in charge and to lead young people and to lead a program; I was thrown into the fire. Those first three years at UNCG, after the interim coaching year (2011-12), were extremely difficult. We failed miserably. But as I look back on that experience, a lot of the things that we value and believe in terms of how we play, how we interact with people, how we build relationships, how we recruit, how we put the staff together – a lot of that we learned through failure. We learned through making mistakes. A lot of coaches in our profession don't get to make those kind of mistakes and learn from them and grow. I'm really fortunate that, at young of an age, I had leadership at UNCG that let me work through that. I really value the ups and the downs over the last 10 years, and we've been fortunate that the last five or six that we've had a lot more ups than downs."
On his UNCG start and the fanfare in Cincinnati
"There wasn't a ton of fanfare right away (at UNCG). I don't want to discount the handful of people that were there from the start, but it was a handful. They've been so important to me because they were loyal from Day One when there wasn't a big fan base. We grew the fan base over time. The Greensboro community, the UNCG community, really started to embrace basketball. To see that transformation over 10 years was really special. But make no mistake, it's nothing like what this is. I've always wanted to coach somewhere where it really mattered, where people really cared and were really invested.... This is a whole new ballgame."
On being in Cincinnati
"If everybody that's a Cincinnati Bearcat out there, and a member of this special Cincinnati community that I can feel has so much pride, if you can get over my Southern accent, I think you'll realize that I belong as well."
On style of play
"It's going to start defensively. What Cincinnati has meant over generations is what we've been about the last 10 years. And, shoot, what I was about when I played. ... I was tough, I could guard, I was competitive, and I worked my tail off every day to try to make the most of what I had. And we coached that way for the last 10 years. Our teams at UNCG – it started on the defensive end, it started on the backboards. We try to not let people play the way they want to play. We try to take people out of things. The other team has to feel us when they play against us. That fits directly with how I've viewed Cincinnati basketball during my lifetime. ... It's going to start with defense, it's going start with rebounding, it's going to start with toughness, it's going to start with those plays that give you an extra possession. ...
"Offensively we're going to let guys play. We're going to recruit guys and retain guys that we believe in, and we're going to let them go be themselves. We're going to play with pace. We're not going to walk the ball up the court every possession. We'd like to get out into the open floor and get easy baskets; hopefully our defense can lead to some of that. We're going to open up the floor. We're going to play the right way and share the ball. And we're going to let guys go be themselves."
On his assistant coaching staff
"I'll have some familiar people with me. ... I have some great relationships in this profession. ... I want to be able to hit the ground running. There's a little bit of work left to be done. I am going to look to hire a few positions from the outside and go through a process. ... But there will be a couple of positions that I try to hire quickly from some previous relationships."
Photos: Wes Miller introduced at Cincinnati
Wes Miller Cincinnati basketball coach, April 16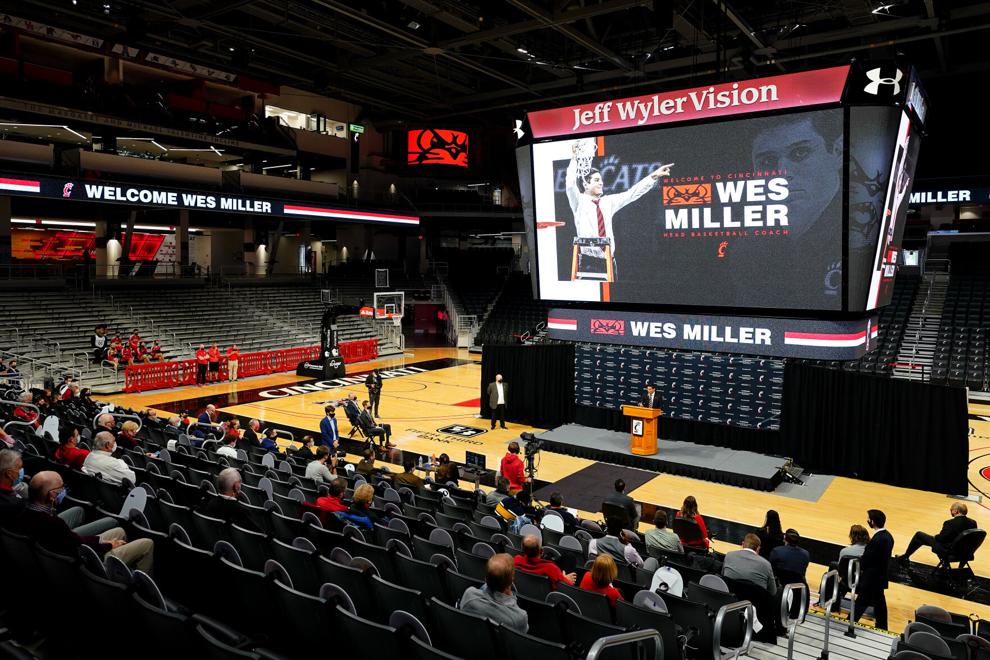 Wes Miller Cincinnati basketball coach, April 16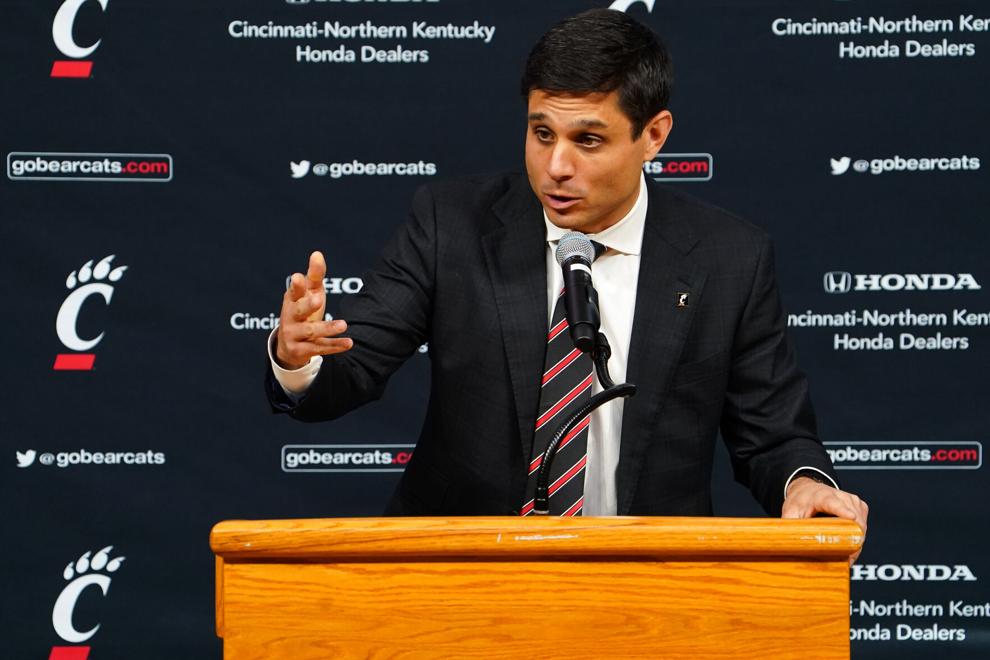 Wes Miller Cincinnati basketball coach, April 16
Wes Miller Cincinnati basketball coach, April 16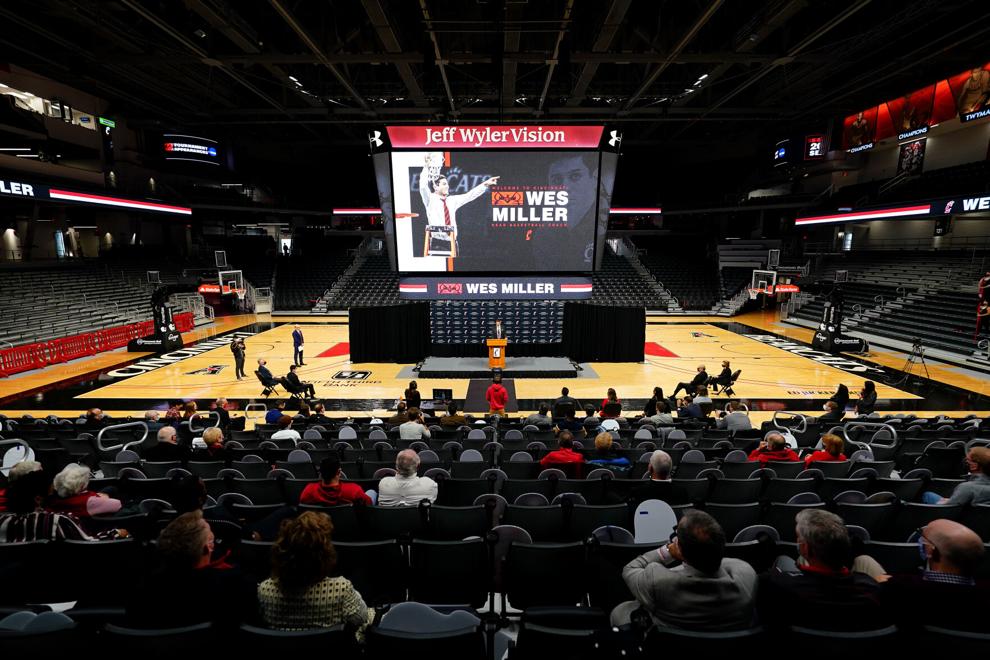 Wes Miller Cincinnati basketball coach, April 16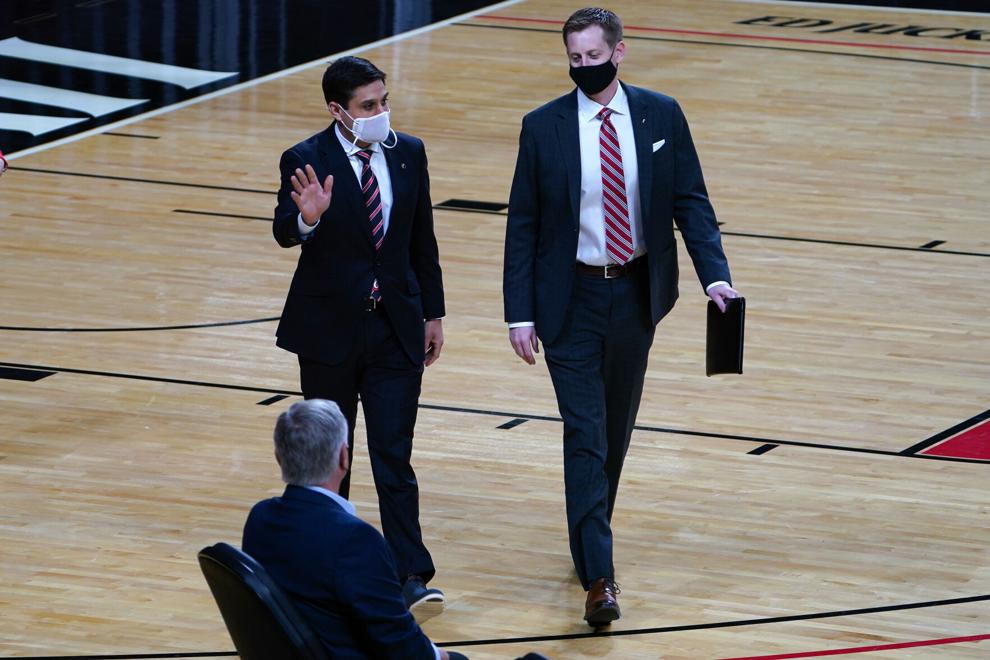 Wes Miller Cincinnati basketball coach, April 16
Wes Miller Cincinnati basketball coach, April 16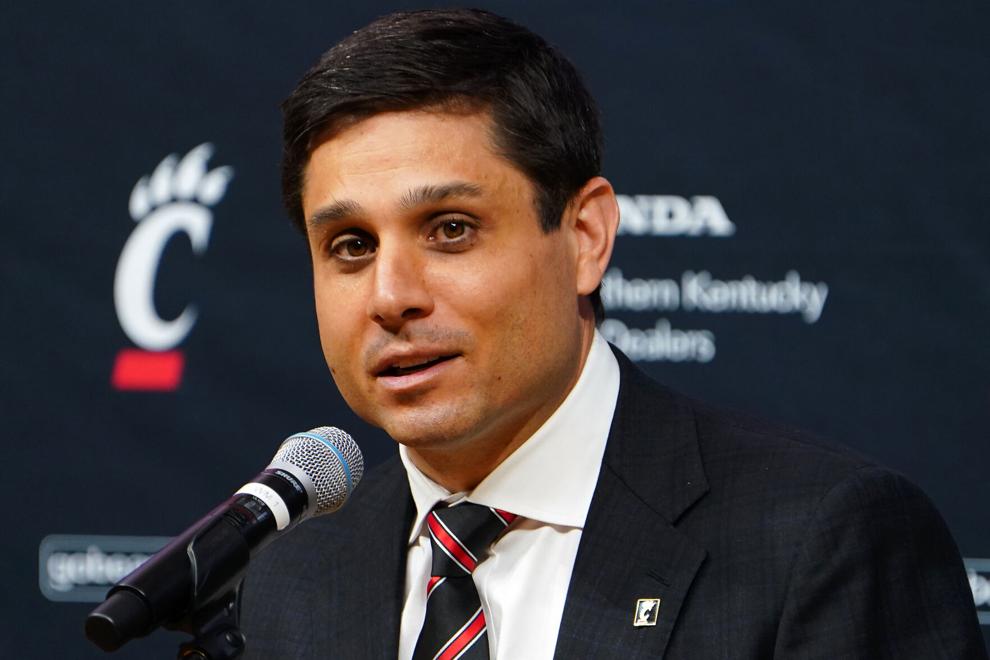 Wes Miller Cincinnati basketball coach, April 16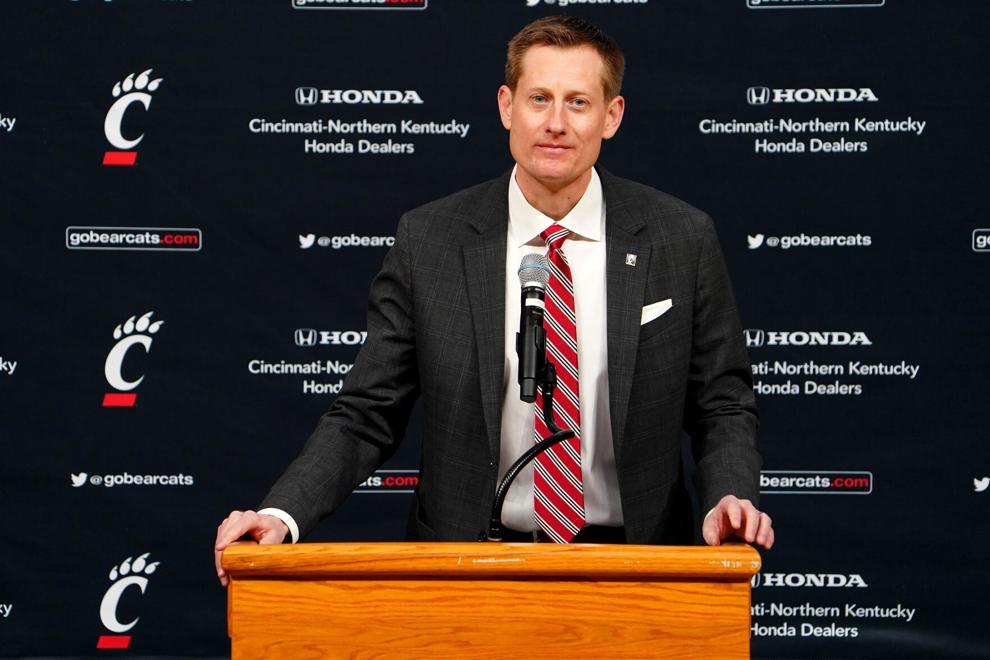 Wes Miller Cincinnati basketball coach, April 16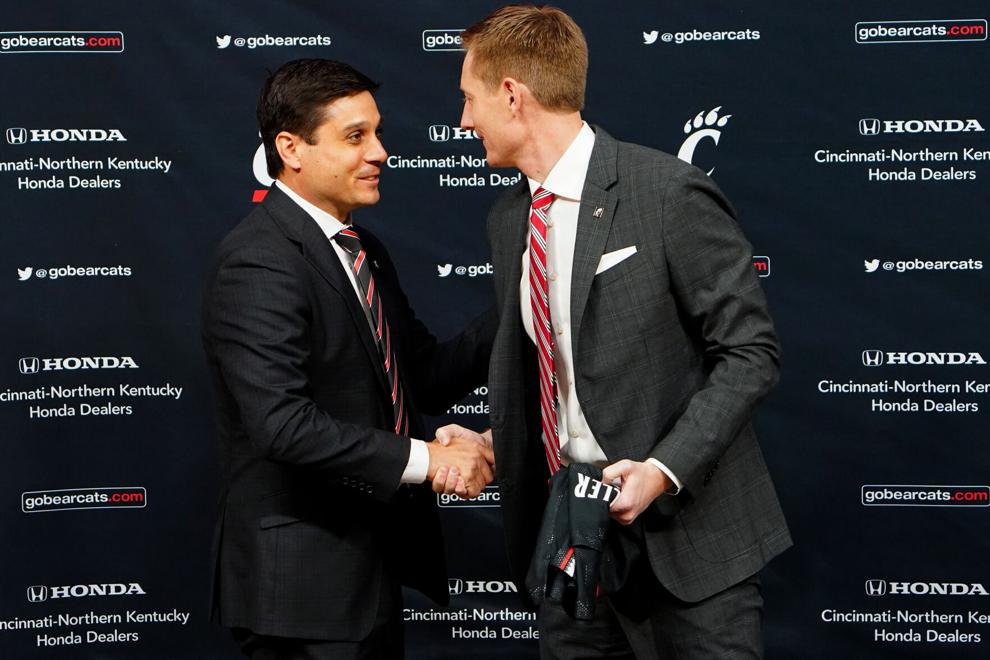 Wes Miller Cincinnati basketball coach, April 16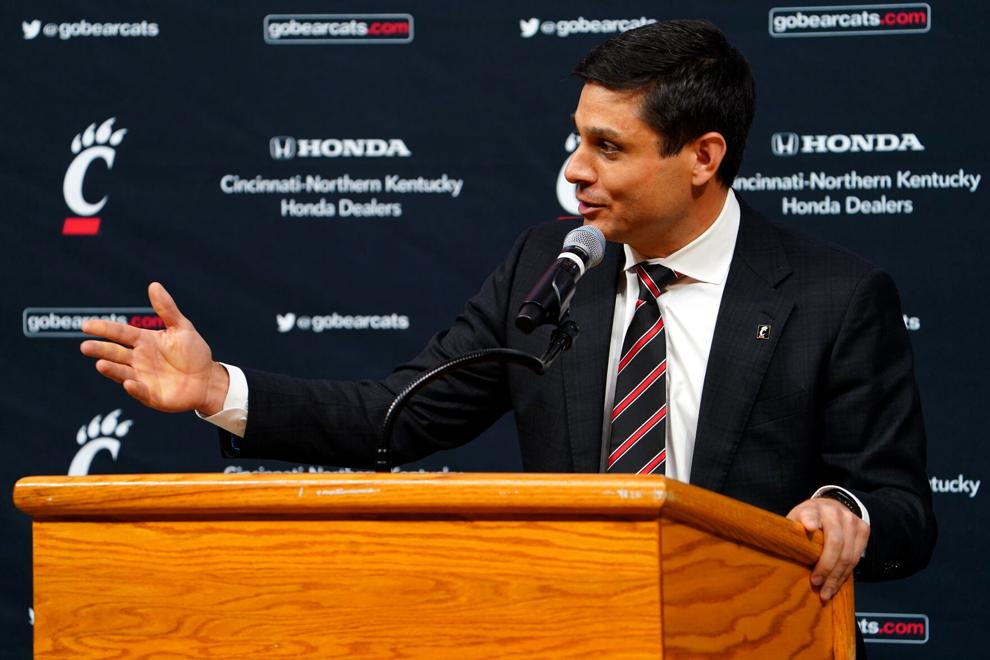 Wes Miller Cincinnati basketball coach, April 16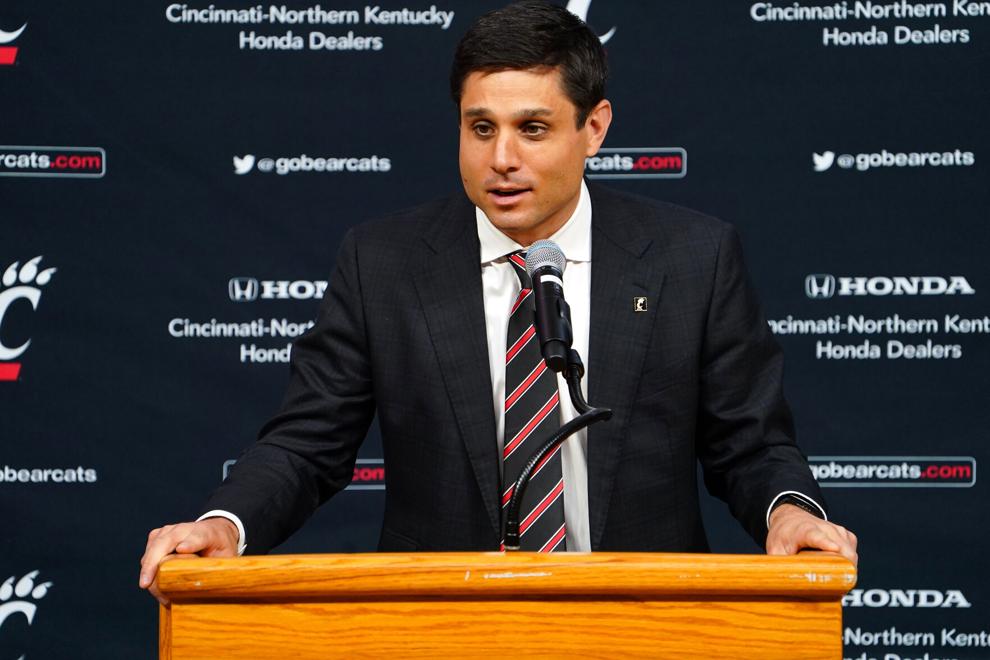 Wes Miller Cincinnati basketball coach, April 16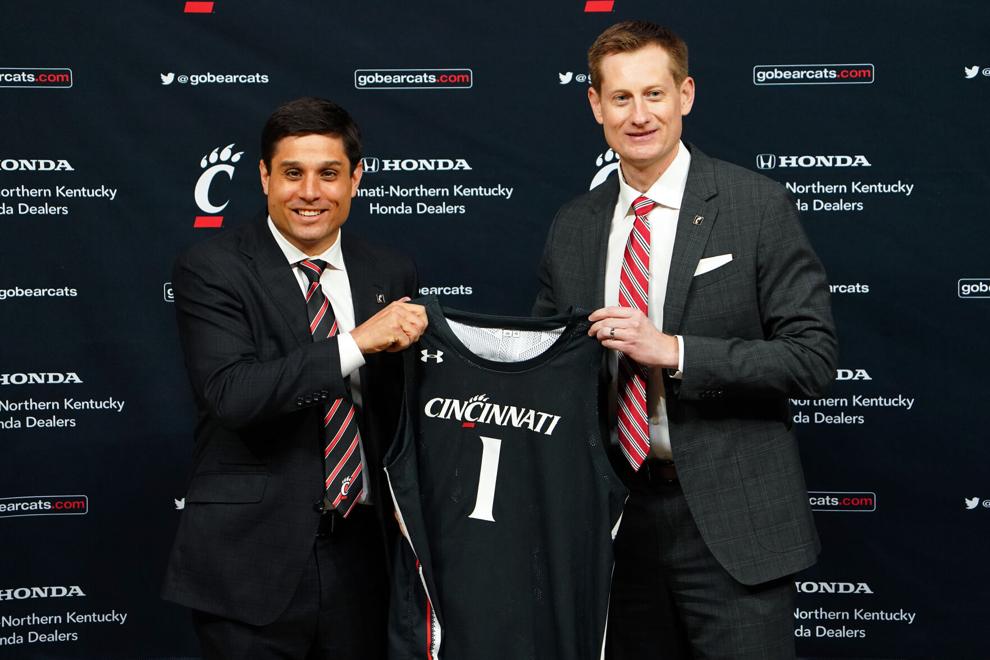 Wes Miller Cincinnati basketball coach, April 16