We used to have this sign out at the Winston-Salem Nationals field off Phillip Bridge Road. People would look at it and laugh, but it was real. And it was no joke.
"Games can be played without fans."
I drove out there this week to see if it was still there. I didn't see it, but that doesn't mean it's not packed away in the equipment room with all the leftover gloves and helmets and bats and broken dreams.
We used to make parents sign this form at old Central Y in Winston, a code of conduct that included the phrase "I will treat officials and coaches with respect."
I found a copy of it online this week, and it brought back a lot of memories of moms and dads in my face after games and practices, screaming at me about their son or daughter's future as a sports superstar, a ridiculous argument that always ended with me saying the same thing every time.
"Johnny is NEVER going to play in the NBA, and you need to get out of my face and go home and make him finish his homework."
OK, so coaches can spark incidents, too. But I meant what I said. And it was no joke.
These adults took over the field and began assaulting each other on 6/15 during a youth baseball game. We're looking for any info, in particular to ID the man in the white shirt/teal shorts. Several people have already been cited in this fight and injuries were reported. pic.twitter.com/ieenhwCrbU

— Lakewood Police (@LakewoodPDCO) June 18, 2019
I don't know specifically what went on in that youth baseball game in Colorado on June 15, but I have a pretty good idea.
And I don't know who started that brawl that was sparked by an umpire's call in a game involving 7-year-olds, but I have a pretty good idea.
In my 35 years coaching Y-league and travel basketball, Little League baseball and fast-pitch softball, the common denominator in most everything that went wrong was the parents.
Nothing I've seen or read about it lately has changed that.
If anything, it's worse now than it was 10 years ago.
And that's not just my opinion but also that of administrators and coaches from all across the country. It's a problem, and it's getting worse.
"It's not just baseball," Carson Fox, the media director for PONY Baseball said. "It's across the board. Basketball, football, soccer, hockey. I imagine even in the Scripps National Spelling Bee there were some issues behind the scenes."
We used to try to get parents more involved. We needed more coaches, more officials, more volunteers, more mentors. Now we need them to back off.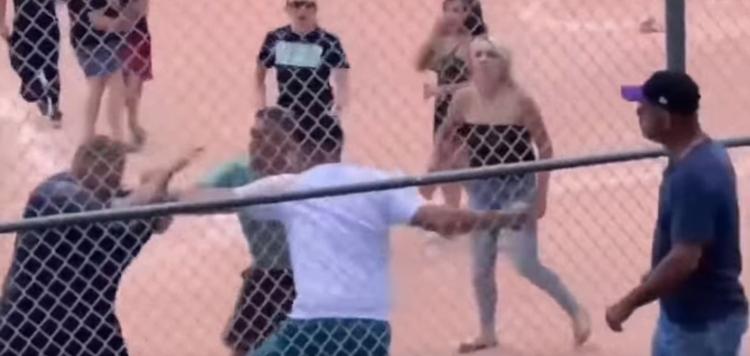 The brawl in Colorado that was captured on video and went viral shows a group of parents, moms and dads, in a free-for-all fight that erupted during a game in the Bear Creek Junior Sports Association, which ended the season for the two teams involved.
Police said more than 20 people were in the brawl that started over a call from an umpire. He's 13 years old.
Twelve people have been cited for disorderly conduct, and two Denver city workers have been placed on leave after their involvement in the fight, which left one person with serious injuries.
For several days, there was a manhunt organized to find one of the perpetrators.
Again, this was a game involving 7-year-olds.
"It's getting worse," said Vince Scanlon, the district administrator for Little League District 2 in North Carolina. "These are kids. They're only 8, 9, 10 years old. Parents are already thinking about the major leagues, I don't care how good your kid is. He's not going to play in the major leagues. He's probably not going to go to a major college."
Scanlon points to a trend in the past two decades where parents are sending their kids to "showcase" events and year-round travel leagues where they play against better competition, thus losing the point of youth sports.
"There's a lot of competitiveness out there, and it's not the good side of competition," Scanlon said. "It's the dark side."
There's more to it than just travel ball, and it indeed encompasses more than just sports. We're losing our moral balance in this country, and one of the places we could always go for clear rules and regulations was sports.
Fox said there's a code of ethics in PONY baseball, just as there is for most youth leagues, some written for coaches and players and some written for parents. But there's another code out there that parents don't have to sign. It's an understood reality.
And every kid is in play.
All travel leagues aren't bad. All AAU basketball coaches aren't criminals. All youth-league football coaches aren't flesh peddlers. And all PONY or Little League coaches aren't saints.
There's nothing new there.
What is new is the modern parent, the hovering helicopter parent being courted by for-profit organizations selling moms and dads on the promise that their kid will be noticed by college coaches and professional scouts.
That's an intoxicating elixir.
We had a league rule at one of the facilities I coached at a few years back that prohibited parents from leaning on the fence next to the field. One of my jobs as a coach was to keep them away from the kids during the games.
I'll never forget the sight of a row of dads standing a few inches behind the chalk line that kept them away from the fence. They all stood scowling, yelling at every call, red-faced and angry at the umpire, the opposing coach and the 11-year-old girls playing softball.
One of the dads had a Juggs gun measuring pitch speeds.
We've lost our minds. We're losing our sports to politics and parents.
There was a time when youth sports was all about fun and participation, every kid promised an opportunity to be a part of a team, to be part of something bigger than themselves.
We're losing that, too. And if we don't wake up soon, we're going to lose our kids.
That's real. That's no joke.