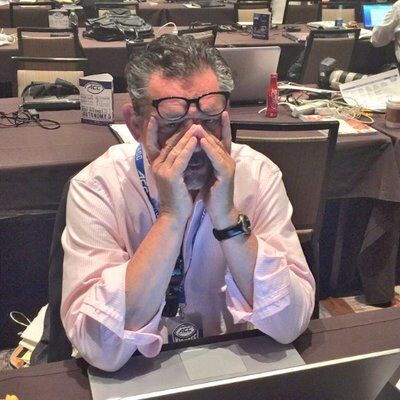 So I heard from a few of my readers this week. Seems not all of them are on the same page as the athletes across the country who are expressing their outrage, supporting their teammates and making history.
Sticking to sports got a lot harder the past few days, and judging from the comments from my peers and colleagues, sports columnists are now targets.
The news that spilled out of the NBA bubble on Wednesday swept across the sports spectrum like a tidal wave, even slipping into golf, sort of, and NASCAR, which has already had a season of introspection. I've been reading emails from race fans for months now. Almost none of them are signed.
Mr. Hardin, I've been reading your articles for years and I usually like what you have to say. But this Bubba Wallace stuff is too much for me. He owes me and ever (sic) race fan around an apology. THAT WAS NOT A NOOSE! - unsigned.
Stock-car fans have been feeling what many in America are just now coming to terms with. The world is changing around us, and it's for the good. Some people just won't accept that. They see the social movements across the country and equate them to attacks from foreign adversaries.
These are our neighbors who are in the streets. Granted, there are those coming out at night with ill intentions. But the movement is about being heard and respected. Everything on the periphery is garbage. And that includes my fan mail.
WOW, loved your article about the career criminal killed in Wisconsin by the police. The article stated he was walking to his car when he was shot. Uh, did you leave anything out? I guess if you wrote an article about a tragic day concerning our 16th President, you would say, 'President Lincoln and his wife went to the theater for the evening.' - fp
I didn't write an article about Jacob Blake, fp. But can you say his name?
The column was about how athletes are going to be empowered now to speak out and effect change, not just in sports but in all of society. Again, this is something some people simply cannot handle.
While some of the messages were just screeds from people with racist ideologies, others were well-thought-out and reasoned.
Hi Ed. I still think you're a good sports writer when you stick to sports, but when you venture into medicine and politics it's not something most sports fans want to hear, or that you are particularly well-qualified to write about. Nor do I think the political opinions of talented and wealthy, but self-centered and mostly uneducated athletes need to be forced on the rest of us, who simply do not care or, often, vehemently disagree. - Don. 
Thanks Don. I agree that this new world is going to be hard on some of us. I didn't wake up Wednesday thinking I was going to be writing about NBA players striking for political and societal change in America. I had already written a column about UNC football and was in my boat when I got a call from my editor.
Everything changed Wednesday.
Not writing about it with everything swirling around us would be to ignore what's right in front of us. No matter what you believe or how you were raised or the color of your skin, you have to agree that there's a segment of our society that has been treated unfairly, disgustingly so, for more than 400 years.
We are going to listen to them. That's only fair.
YOU ARE ENTITLED TO YOUR OPINION, BUT NOT YOUR OWN FACTS.  AND YOU ARE A REPORTER, NOT AN OPINION BOBBLE HEAD, CORRECT? WELL SOMETIMES YOUR COLUMNS ARE OPINION PIECES. SO DESIGNATE THEM AS SUCH.
When you see my mug attached to a newspaper story, that's an opinion column. And don't yell at me.
IN THE GOOD OLD DAYS ANYONE WHO REFUSED AN ORDER TO STOP BY A COP OR RESISTED ARREST, A FELONY, THE POLICE WERE ALLOWED TO USE LETHAL FORCE. SADLY THAT RULE IS NOW GONE.
Yeah, that's not true. In the "good old days," my best friend's mom was a police officer, my Little League coach was a police officer, and one of the men I coached basketball with was a police officer. They didn't shoot people. That's a recent phenomenon. That's what this is all about. You get that, don't you?
WE ARE SICK OF LIBERALS IN MEDIA AND ACADEMICS BEING CLUELESS HYPOCRITES AND LIARS AND BRAINWASHERS AND PANDERING WEASELS. SICK OF YOU ALL.   
WE ARE SICK OF SO CALLED TEACHERS BEING INDOCTRINATION NAZIS. SICK OF CONSERVATIVES BEING UNINVITED INTO TEACHING PROFESSION AND RUN OFF. SICK OF LIBERALISM. THE DISEASE OF THE MIND.
YOU WILL GET FASCISM. YOU WILL DESERVE FASCISM. - unsigned.
OK, I think your 15 seconds is up, whoever you are.
The sickness is real. It's pervasive and it's contagious. And in this new world of social media, everyone has a voice, some in uppercase.
Those of us in the so-called mainstream media, we are not your enemy. I've covered news during my career. I've covered politics. I was on the cop beat early on. Now I write sports columns. And you know what? It feels the same whether I'm in Cameron Indoor Stadium or in the Forsyth County Courthouse covering a trial. When I was covering news, we mostly talked about sports in our downtime. Now that I'm in sports, we mostly talk about the news.
Your (sic) pathetic Hardin. Nobody cares what you think. Your (sic) not a doctor. Your (sic) just a sports writer who hate (sic) sports. Stop writing about the so called virus and your politics. Your just bias. - unsigned.
Anyway, thanks for reading and thanks for reaching out. My family has just found out in recent days that my mom, my uncle and my aunt all have tested positive for coronavirus. I'll be checking out for a while.
Pray for them. Pray for all of us. And keep those cards and letters coming.
Contact Ed Hardin at 336-373-7069, and follow @Ed_Hardin on Twitter.
Be the first to know
Get local news delivered to your inbox!