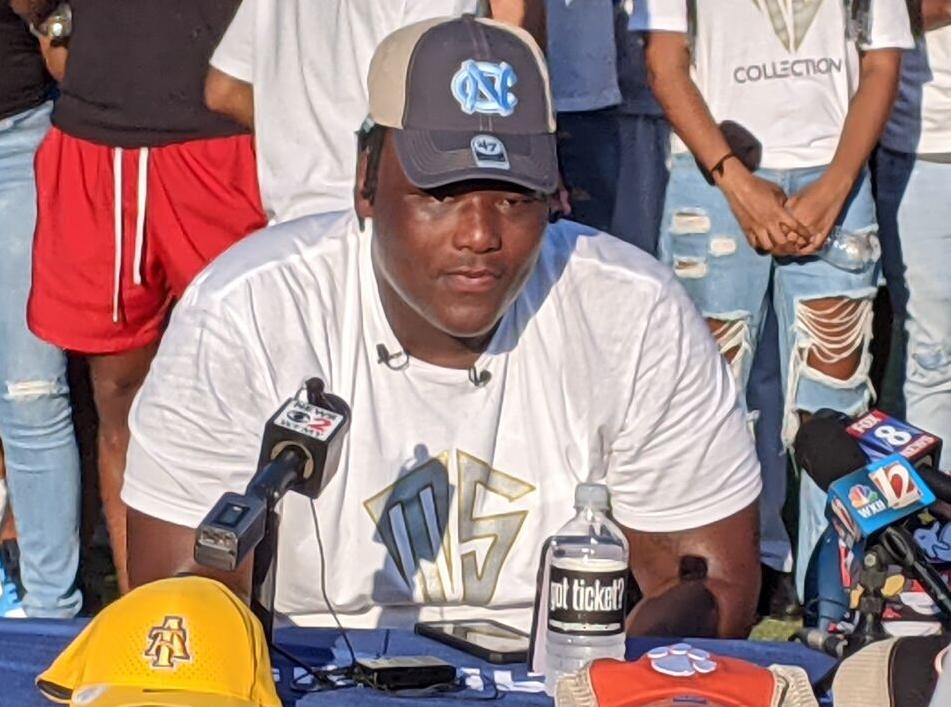 GREENSBORO — "The biggest dogs have feelings," Travis Shaw said Saturday evening, and he wasn't afraid to let them show.
With hundreds of supporters and family surrounding him on the field at Jamieson Stadium, the Grimsley football star shared tears and laughs in equal measure as he committed to North Carolina. The 6-foot-6, 325-pound defensive lineman chose the Tar Heels from among a group of finalists that also included Clemson, Georgia and N.C. A&T.
As he thanked family, coaches and teammates before announcing his choice live on Instagram and on CBS Sports HQ, Shaw couldn't help but become emotional and had to use a towel to dab at his eyes.
"It wasn't intentional," he said. "Probably only half (a tear) or two came down. The other ones got wiped before they came down. Being as big as I am, you hate to see me cry. I hate to see myself cry, but it's an emotional time with the position I'm in compared to the position I came from."
Shaw arrived at Grimsley after playing quarterback on the football team and point guard on the basketball team at 6-4, 290 and turned those athletic gifts into production. He is the No. 3 player in the Class of 2022, according to Rivals.com's rankings, and the No. 2 defensive tackle behind only Walter Nolen of Powell (Tenn.).
"It's the journey that I've been on," Shaw said when asked what prompted the tears he shed. "Dealing with multiple injuries, from having knee surgery back in sixth grade and not knowing how that was going to turn out and battling different adversity."
Even now, Shaw is dealing with adversity. He has not played for the Whirlies this season because of surgery he had in late May to repair a shoulder injury suffered in the spring NCHSAA Class 4-A championship game. But he is expected to be medically cleared to rejoin the team in the fall as Grimsley pursues another state title. When will that happen?
"If I gave that date, all the other high schools around here would be worried," Shaw said with a laugh. "Everybody can be happy for right now."
The UNC coaching staff certainly was happy. Shaw said Mack Brown cried when he told the Tar Heels' head coach earlier this month that he planned to head to Chapel Hill, and Shaw and Grimsley coach Darryl Brown FaceTimed with Shaw's giddy future coach from the Jamieson Stadium field after Saturday's announcement.
Darryl Brown said UNC is getting a special player.
"It's his sense of awareness on the field and understanding of what offenses are trying to do to us defensively," the Whirlies' coach said. "If you've ever watched him play basketball, he plays like a point guard and has a unique knack about him. ... He's big and strong and dominant physically, but he has the mental side of the game as well.
"They're also getting a dynamic personality," Brown added. "He has fun and just enjoys his teammates. He's a great team guy and he's been a great leader for us the last two or three years. He's really grown and evolved, and that's the thing I'm most proud of is who he's become as a person."
It's a responsibility Shaw takes seriously.
"I go out every Friday night to make a name for myself," he said. "But once you make a name for yourself, you have to live up to it every time. You also have to carry yourself a certain way."
But you're allowed to shed a few tears.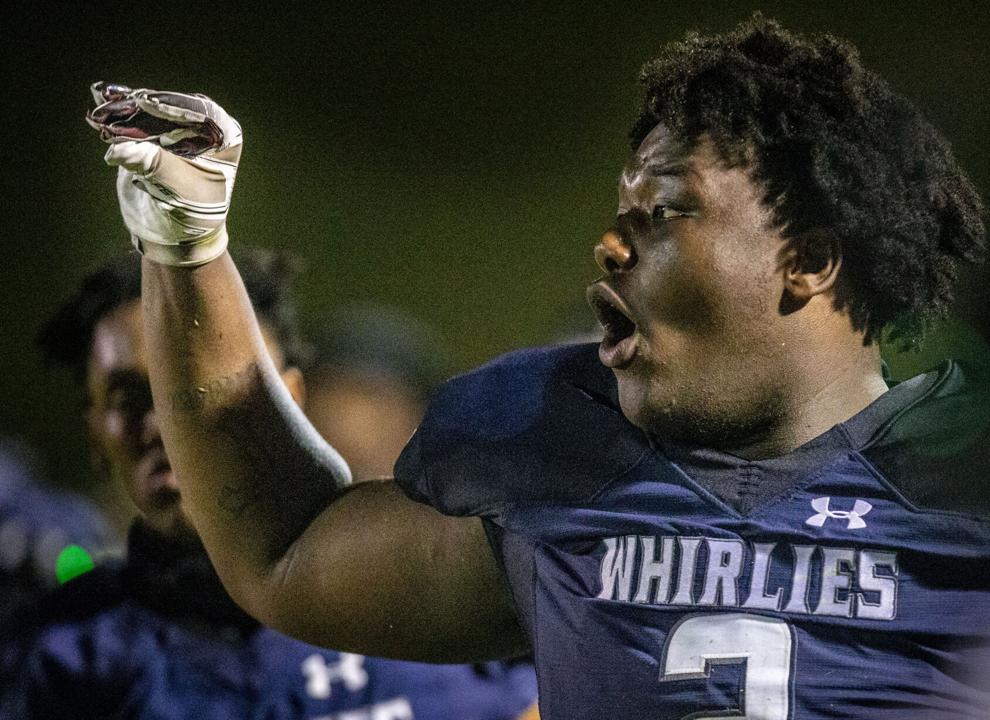 Contact Joe Sirera at 336-373-7034, and follow @JoeSireraSports on Twitter.