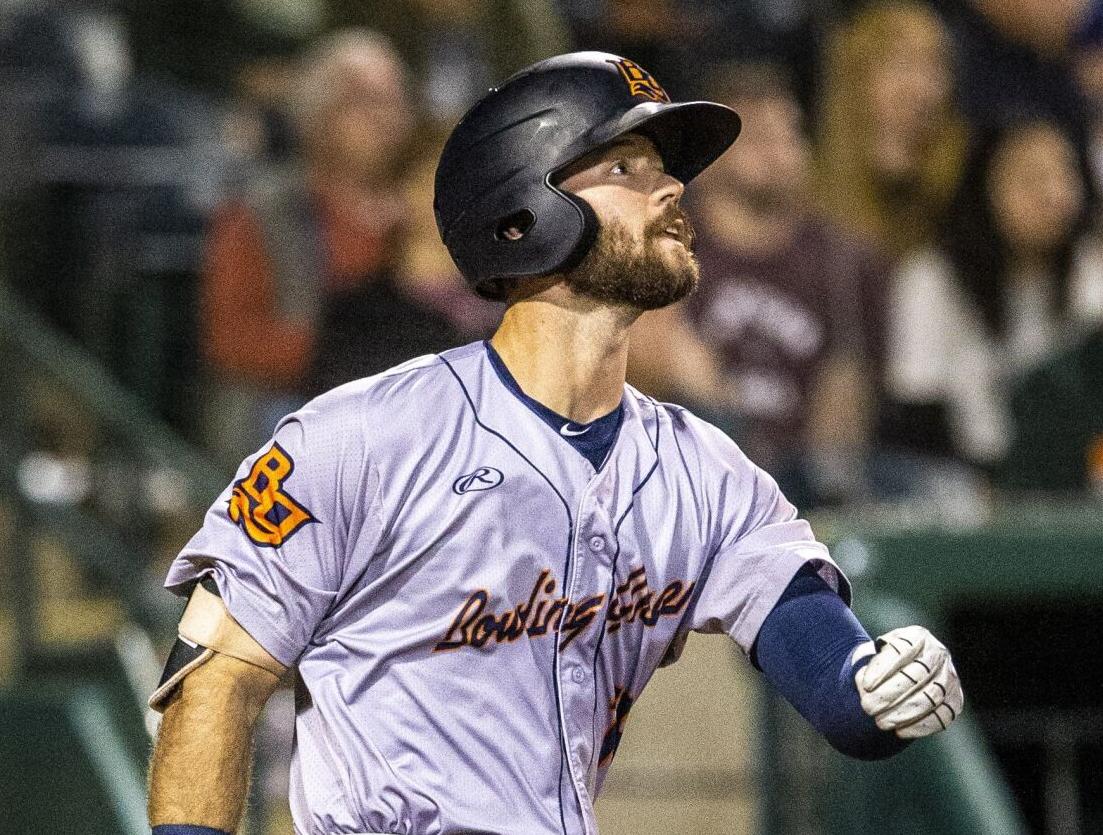 GREENSBORO — So many things probably looked familiar for the Greensboro Grasshoppers when they opened the High-A East League championship series Thursday night.
They rallied in a topsy-turvy baseball game. They came up with clutch hits. They created havoc on the base paths. Their bullpen was in cruise control.
Then something else on the frequency list came into play. This one wasn't so comforting.
Evan Edwards, who is from Greensboro, was doing damage against his hometown team.
That didn't turn out to be a recipe for success for the Grasshoppers in the twice-postponed Game 1 with the Bowling Green Hot Rods at First National Bank Field.
Done in by a damaging ninth inning, the Grasshoppers fell 10-8. 
"We're going to fight from the first to ninth inning," said Edwards, a Southern Guilford alum and first baseman for the Hot Rods. "It's a huge to get the first one."
The Grasshoppers are apt to find just about any way to win a game as well. That appeared to be the case deep into this night.
"It was a fun game," Greensboro manager Kieran Mattison said. "We've been winning these kinds of games for the most part. We just didn't seal the deal."
The teams meet 1 p.m. Friday in Game 2 before heading to Kentucky for the rest of the best-of-five series, with Game 3 set for Saturday night.
Edwards had a part in both of Bowling Green's big innings.
"I got to play a full week in the (regular) season here," he said, noting he had close to 20 family and friends on his ticket list for the playoff game. "It's pretty cool to be able to play in the playoffs here. That's a plus, especially in front of family."
Yet the Hot Rods were two outs away from defeat when they produced three consecutive ground-ball singles, the latter misplayed by center fielder Matt Gorski as the tying and go-ahead runs scored. Edwards followed with a sacrifice fly to the warning track in right-center field.
"You put the ball in play and make the defense work," Edwards said. "That's what we did."
The most impressive part of that sequence might have been that Edwards' bat broke on his swing.
"It got in on me a little bit," he said. "I got the run in. That's all that matters."
Earlier, Edwards smashed a solo home run, sparking a five-run fourth inning for the Hot Rods. The former N.C. State player hit 22 homers in the regular season.
"They hit mistakes," Mattison said when asked about Edwards, referring to the Hot Rods collectively. "You make mistakes, they hit them."
Edwards homered four times in the regular season against the Grasshoppers, including three times in five games in Greensboro.
It started much better than it ended for the Grasshoppers, who knocked out a pitcher with sparkling credentials.
The Grasshoppers scored five times in 2⅔ innings against former Virginia Tech left-hander Ian Seymour, a 2020 second-round Tampa Bay Rays draftee. Seymour didn't allow an earned run in 10 innings across two recent starts during an emergency call-up to the Triple-A Durham Bulls.
Aaron Shackelford and Will Matthiessen homered for the Grasshoppers, who had five stolen bases – each having a role in three Bowling Green errors. Gorski greeted reliever Evan McKendry with a two-run double in the third inning.
The Grasshoppers were on top 8-7 on Liover Peguero's sixth-inning single. Relievers Steven Jennings and Colin Selby combined on five shutout innings.
It was all stacking up just right.
"That's something we've been doing all season," Mattison said. "Then they get a few seeing-eye singles, and one of them might have been a (game-ending) double-play ball. That's something that happens in this game."