GREENSBORO — He has already made history, just by getting the job.
And now Erik Moses is eager to get to work.
Moses is the new track president at Nashville Superspeedway, the first African American to hold that leadership title at any NASCAR track.
It's a big deal, and he knows it.
But Moses, a Greensboro native who has helped reshape the sports and entertainment scene in Washington, D.C., over the past 24 years, is trying to take it in stride.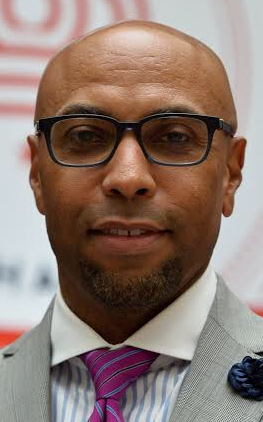 "The symbolism of being the first to do anything is not lost on me," Moses says. "I have received some really nice messages from people who tell me it means a lot to them, to see progress and to see someone like me have this opportunity. … But there's no pressure. I intend to be successful. And if I'm not successful, it won't be because of the color of my skin."
Pro tip: Don't bet against Moses and success.
Moses is self-made. He's a Grimsley alumnus, Class of 1989, who earned a bachelor's degree at North Carolina and law degree at Duke. He has worked as an attorney, an organizer, an executive and an adjunct professor.
He was the president of an XFL team, the CEO of the D.C. Sports and Entertainment Commission and the vice president of Events DC, the beating heart of Washington's hospitality and tourism industry.
He's a family man. Moses and his wife of 21 years, Mioshi, have two sons, a 19-year-old college sophomore and a 14-year-old high school freshman.
The family is house hunting now, pulling up stakes in Washington and moving to Nashville and the new challenge of NASCAR.
"When you're watching ESPN," Moses says, "and (my) name scrolls across the bottom of the television screen on the crawler, it's a pretty heady thing. My wife sees me energized by the opportunity. … Then my phone started blowing up, and people were talking about how historic this was. That was unexpected."
Greensboro
Maybe the history is unexpected. But, truth is, Moses has always had great expectations of himself.
Born in Greensboro, he grew up in central New Jersey before returning to the city the summer after his junior year of high school.
"I moved because the only college I ever wanted to go to, the only college I applied to, was Carolina," Moses says.
It was easier to reach his college goal by transferring to Grimsley for his final year of high school.
Ethan Albright, the NFL veteran who is now Grimsley's athletics director, was Moses' classmate in high school and college. They were teammates on the Whirlies' baseball team.
"Erik is an even-keeled guy, and he handled that move in stride," Albright says. "It is tough for any high school kid to transfer in his senior year. But with a good foundation like he has, that type of kid can handle it. Erik is very outgoing and makes friends very quickly.
"You know, he was always a sharp guy. You could see success all over Erik. I remember he was always inquisitive, so the law degree makes sense. He was the type of guy who always asked a lot of good questions."
Moses adjusted quickly to his only year of school at Grimsley because he never really left Greensboro. This place is in his blood.
His great-uncle is a legend in this city. Civil rights attorney J. Kenneth Lee, who died in 2018, integrated UNC's law school as a student and went on to lead the legal fight that desegregated Greensboro's public schools.
"I've always loved Greensboro," Moses said. "It's a place I spent summers and holidays. Both my grandmothers lived there. My biological father, aunts and uncles lived there. It always felt like home."
Moses still owns a house in the Benbow Park neighborhood, a place that has been in his family for more than 60 years.
"I still get cravings to go for ice cream at Mayberry on Summit Avenue," he said. "I remember going to A&T football games against North Carolina Central. And if I came to visit my grandmothers and there weren't at least two boxes of Krispy Kreme doughnuts, I was going to be (disappointed). … Greensboro has a special place in my heart because it represents family."
Washington
Moses started his own family, and his career, in Washington, settling there after law school.
His work, often behind the scenes, made a difference in the city.
"I am a sports guy," Moses says, "and specifically a sports business guy. I have always been interested in the business of sports and what made it tick from an internal business standpoint."
Visit the capital, and you can see his work.
As CEO of the D.C. Sports and Entertainment Commission, he oversaw the construction of Nationals Park, home of the defending World Series champions.
"Yeah, I was involved in a lot of that," Moses says. "I worked for a city council member when we were wooing Major League Baseball to bring the barnstorming Expos to D.C. … It was a heady experience. That ballpark was put in a part of our city that had been light industrial and didn't have a lot of development going on. We knew putting the stadium there would make it an anchor that accelerated more development. It was a really big deal. … There's a lot of pride about getting that done and bringing baseball back to the nation's capital."
It's more than baseball. Moses' work with Events DC involved the NBA's Wizards and their G-League affiliate, the WNBA's Mystics, plus managing RFK Stadium's campus and the nearby DC Armory and Festival Grounds.
His latest project was starting the D.C. Defenders from the ground up. The fledgling XFL team played five of 10 scheduled games before the season was scrapped because of the coronavirus pandemic.
"Man, that was really, really disappointing," Moses says. "We had made so much progress in such a short amount of time. We were in first place in the Eastern Division. Our fanbase was growing. The weather was about to get more seasonal and nice, compared to February when we played a couple games when it was 30 degrees. So it was really disappointing. I was so proud of what we accomplished, and people were responding. … I hope for the league's sake they're able to give it another go. Because it can work."
His experience in Washington led him to the new job in Nashville.
NASCAR, and in particular Dover Motorsports COO Mike Tatoian, took notice of Moses' work.
"I like to think of myself as a builder," Moses said. "I've been fortunate to come into organizations and either help reposition them or start them from scratch like with the XFL. The office for the D.C. Defenders was my dining room table for several months. Those kinds of challenges are interesting to me. They allow me to bring all of my knowledge and experience and connections to bear."
Nashville
Moses is not a traditional NASCAR guy. He knows that.
But his skills — marketing, team building, operations, wooing "external stakeholders" — should all translate to his new job.
Moses has been asked to resurrect a 1.33-mile concrete track built in 2001 and get it ready to host a Cup race for the first time next year. Dover Motorsports plans to invest $8 million to $10 million into track improvements but for now does not plan to add permanent seating beyond its current 25,000 capacity.
"This is one of the hottest young markets in the country for all things music, entertainment and live events," Moses says. "Given the pandemic, they've taken a hard hit. But there's such a rich history there, and a history with NASCAR dating back to the 1950s. Well, they haven't had a Cup race since the '80s, and so there's a fair bit of pent-up demand for this. I know folks in Nashville and that whole area of middle Tennessee have a reputation for driving long distances to other racetracks in order to see the sport they love."
Moses sees far more to his new job than one NASCAR race week in a 52-week year.
"We're working to get the facility up to snuff for a Cup race next year," he says. "But we also sit on 1,000 acres, and so someone like me, who has curated events and hosted events, you can imagine my brain is popping with ideas. You're telling me I'm in Music City, USA, and I have 1,000 acres? And we're in the middle of a pandemic where people need to be socially distant? Well, let me at it."
Nashville reminds Moses of Washington when he arrived in the 1990s.
It's a young market with established pro sports teams in the NFL's Titans and NHL's Predators. There's a vibrant restaurant and arts scene, as well as the city's long music tradition.
"We were out there three weeks ago, and I counted 11 cranes downtown," Moses says. "We used to have a thing in Washington, D.C., we called 'Crane Watch,' because we were growing by leaps and bounds. That's how you measure the development and growth of a city: How many cranes are in the air? There are quite a few working in Nashville. …
"I've made some contributions to what Washington has to offer. And now, going to Nashville, it's another city on the rise. It's already a great city with lots of history and things to brag about. But you can feel the momentum and feel the energy when you're there. And I want to be a part of that. I want the superspeedway to be a part of that."
Moses' NASCAR background is limited to turning a few laps at 130 mph at the Richard Petty Driving Experience, attending a handful of races and his friendship with Tatoian.
But he knows sports and the business of sport. And he understands part of his new role in motorsports is to be a trailblazer.
"NASCAR is not unlike any other business looking to expand, to be constantly adding to its customer base," Moses says. "… It's quintessential American sport, and related even more so to the South. I get all of that. That said, it appears as an observer from the outside, that NASCAR has figured out and determined we can honor our history, can be true to the roots of the sport and the things that make it different from stick-and-ball sports, while still welcoming everyone who wants to be a part of this sport. I admire that. I admire the stance they've taken on things like the Confederate flag. As an African American, I can tell you it's a very divisive symbol for me and many others. …
"I don't think it's necessarily my job, but if my hiring is a signal or a symbol to some people who were potential NASCAR fans or fans who were turned off by some things they saw or experienced, then that's great. I hope it makes certain the signal goes out with the message that everyone is welcome. We have a great sport for people to appreciate."
Contact Jeff Mills at (336) 373-7024, and follow @JeffMillsNR on Twitter.
Be the first to know
Get local news delivered to your inbox!