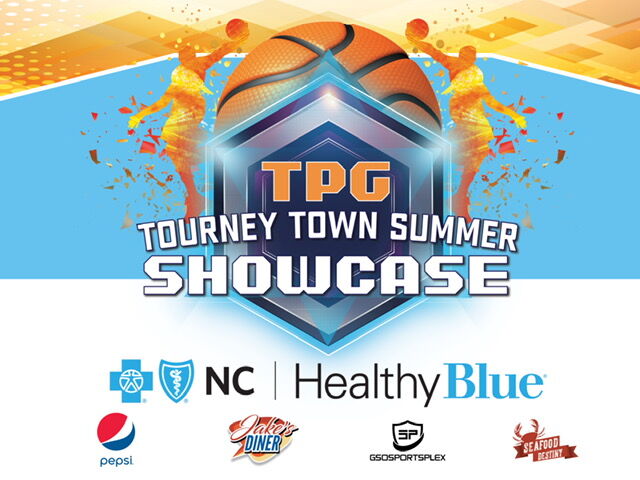 GREENSBORO — With so much up in the air during the 2021 high school basketball season, Derrick Partee didn't want to take any chances. The Smith boys coach wanted to make sure area teams would have a chance to compete this summer, even if they couldn't use their own facilities because of COVID-19 protocols.
That's how the TPG Tourney Town Summer Showcase was born.
"It really came from all of the high school coaches talking and throwing out ideas," Partee says. "I kind of ran forward with it, in terms of trying to put this together."
The showcase will involve 22 schools, although only six will have both their boys and girls teams competing: Andrews, Dudley, Grimsley, Page, Smith and Southeast Guilford.
"This is a bit of a throwback event," says Page boys coach Evan Fancourt, "because there used to be a summer league formatted like this, when Partee and I played, instead of just jamborees on the weekends. … That used to be a lot of fun."
Teams will play two games per week at the Greensboro Sportsplex starting Monday and concluding with a two-game bracket-style tournament July 2. Girls teams will play Mondays and Wednesdays and boys teams will take to the court Tuesdays and Thursdays. Each team paid $350 for the opportunity to play 10 games in four weeks. Admission is $5 per day.
Summer is a big part of team building and player development in high school basketball. Some teams play in weekend jamborees at a single school that typically offer three games per day and cost $350 to $400 per team, while others go to a team camp at a college where they might play six or seven games at a total cost of $3,000 to $4,000 per team.
"We'd like to give teams an affordable option to play in a summer league," says Partee, who hopes the tournament will be more than just a one-year wonder. "The sustainability of it all is based on the financial part."
A key to the financial side of the showcase is sponsorships. The sponsors for the first event are Jake's Diner, NC Healthy Blue, Pepsi and Seafood Destiny.
"With this being a positive opportunity for our kids, especially with all the challenges of the past year with COVID shutting so much stuff down, when Partee mentioned it I jumped in immediately because I know the kids are starving for something like this," says Natalie Johnson, a Grimsley graduate and owner of the four Jake's Diner locations in Greensboro. "I felt privileged that I was asked to be a part of it, and I would love to do it moving forward."
Players and coaches are excited about the possibilities, Fancourt says.
"I didn't think they'd know about it," the Pirates' coach says, "but I had kids and parents asking me if we were participating in the summer shootout when I didn't even think it was out there like that."
Partee started talking with other coaches during the season, but things took off in March after he reached out to Trey Godette, general manager of the city-owned Sportsplex.
"For a long time it was just words," Partee says, "because we weren't sure what the COVID mandates and protocols would be, whether we'd be able to do anything. It could have been all for nothing."
Godette was eager to have an event at the Sportsplex, and his staff is ready to handle the games and the teams.
"We've definitely been presented with a lot of challenges because of COVID and being an athletics facility that depends on revenue from tournaments and practices and various events," Godette says. "We've been fortunate to have some test runs. We've been managing tournaments since mid-April, so at this point my staff is used to the protocols we have in place, reminding people to socially distance when possible and we're still asking spectators to wear a mask inside the building."
Once they get in the building, players and fans will get a chance to see city rivalries renewed, even if the games don't count once the 2021-22 season rolls around. After Dudley, Grimsley, Page and Smith put together the Big 4 Tip-Off Showcase in January for their basketball teams, this summer event is another opportunity to strengthen basketball bonds.
"You have a unique situation where you have myself, Partee and (Grimsley coach Darren Corbett) who are all Greensboro guys. … (Josh) Prince has been at Dudley for a long time," Fancourt says. "We have guys who really appreciate where they are, not just that they're great programs but the history of all these schools. … We want to celebrate that and let people know that these are special places to be."
Contact Joe Sirera at 336-373-7034, and follow @JoeSireraSports on Twitter.