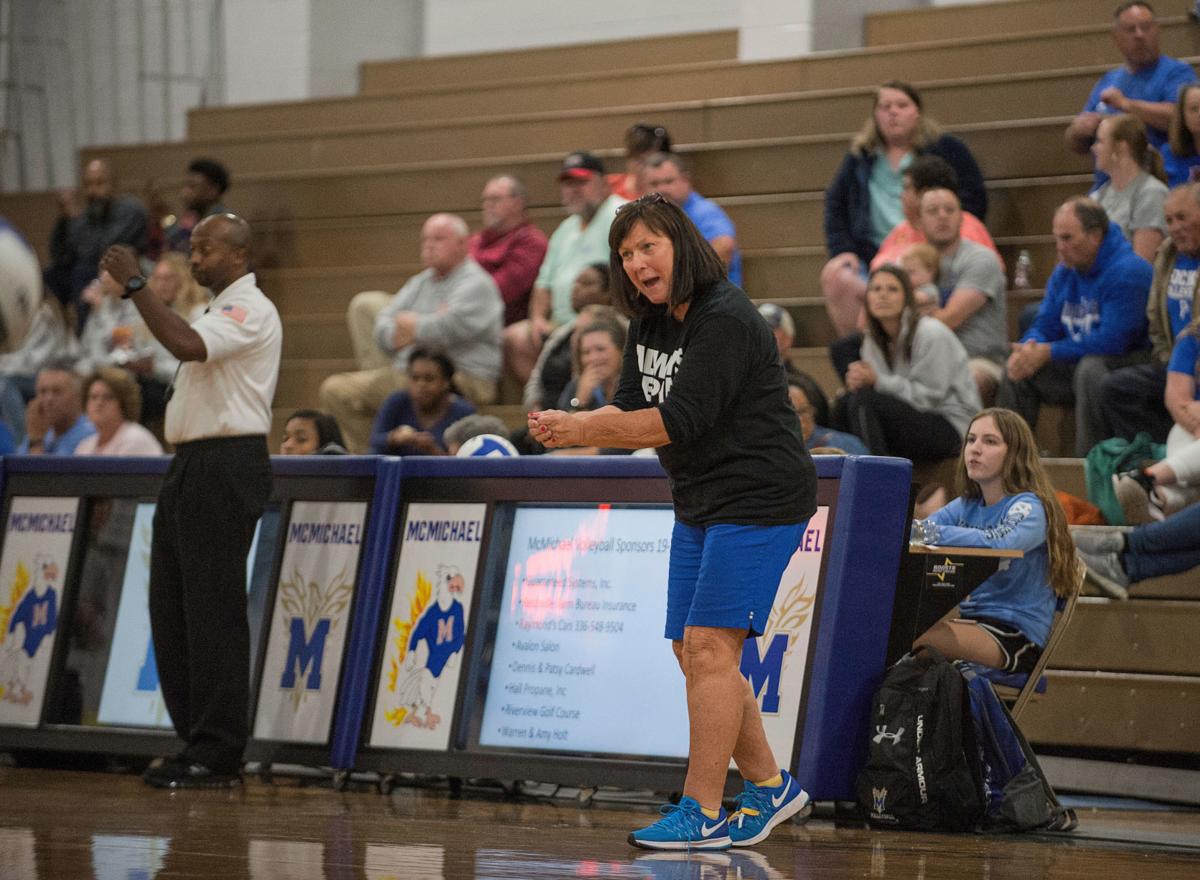 MAYODAN — Marcia "Marty" Woods recently added to her impressive numbers as McMichael's volleyball coach and is on the brink of several more milestones during the course of the 2020-21 season.
The NCHSAA Hall of Fame coach claimed her 700th victory on Nov. 20 with a three-match sweep of visiting Rockingham County (25-8, 25-6, 25-9) in the Mid-State 3-A Conference. Woods and the Phoenix set the stage for the historic win by claiming a 3-1 victory over Northern Guilford in McMichael's opener Tuesday.
Barring any further cancellations or postponements, Woods' scheduled eighth match of the season Dec. 10 at Northern Guilford will be her 1,000th. Her current McMichael squad, coming off a 30-6 season, is experienced and poised to add more postseason hardware to an already crowded trophy case.
Woods' teams have had 41 consecutive winning seasons, including 14 regular-season conference titles and seven league tournament championships. Her career record is 701-294 and this season marks her 43rd as head volleyball coach at either the former Madison-Mayodan or McMichael high schools.
Despite her success, Woods remains humble.
"I think I look at it as, obviously, it's been a long, wonderful career," Woods said, "and I look at all of the lives that I have been involved with through this sport — the players, the staff and the friends that I've made through coaching — I look at that as I have been very blessed to have had 40-plus years in my life that have been very positive experiences."
Woods was selected as the NCHSAA's coach of the year in 2005 and later inducted into the NCHSAA Hall of Fame in 2016.
Woods also coached softball for 24 years, helping lead Madison-Mayodan High School to the AAA/AAAA state championship in 1982 in a three-game series win over North Lenoir.
A 1973 Bethany High School graduate who played for fellow Hall of Fame coach W.A. Wall on the school's basketball team, she began her career as a teacher and coach in 1977 at Madison-Mayodan after graduating from UNCG. She took over the McMichael program in 1989.
Woods has taught her athletes to fight for what they believe in, especially considering she is a cancer survivor who was told in 1991 that she had less than a year to live. Every moment counts, she tells her players. Off the court, she has set an example of how to give back to the community through her time as Sunday school teacher and Special Olympics volleyball coach.
In 2013, she was awarded the Rockingham County Schools' Naismith Coaches Award, which was created to honor a present or former coach who represents sportsmanship, character, teamwork, service, integrity, honor and excellence.
McMichael assistant Tony Johnson said there are a number of qualities Woods possesses that allow her to continue to make a positive impact on the sport.
"It's her calm demeanor," Johnson said, "her belief in the girls and her desire for them to do whatever is best to make them the best people and players they can be."
Contact Joe Sirera at 336-373-7034, and follow @JoeSireraSports on Twitter.
Get in the game with our Prep Sports Newsletter
Sent weekly directly to your inbox!