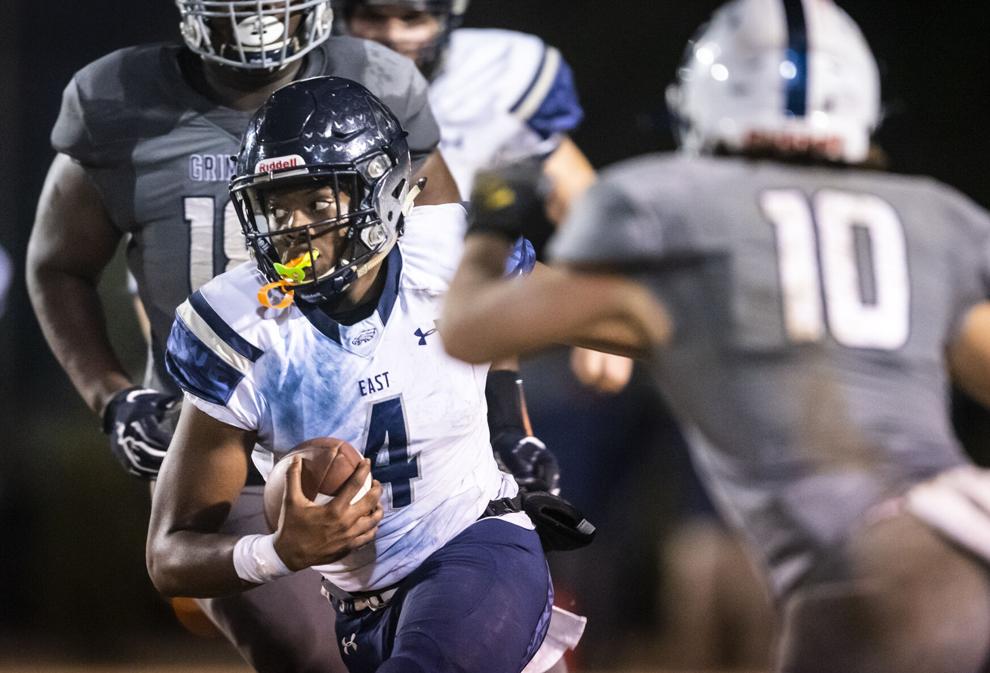 The N.C. High School Athletic Association released football playoff pairings Saturday evening for this spring season.
Here's a look at how the brackets break down for area teams:
CLASS 4-AA WEST
Area team: No. 7 Northwest Guilford (6-1)
Northwest Guilford earned a wild-card bid as the runner-up to unbeaten Grimsley in the Metro 4-A Conference and tuned up for the playoffs with a 48-12 win at Hoke County on Friday night. Unfortunately for the Vikings, they have to travel to Charlotte to face unbeaten Myers Park.
CLASS 4-A WEST
Area teams: No. 1 Grimsley (6-0), No. 3 Glenn (5-1), No. 8 East Forsyth (3-3)
The lone area matchup in the first round is a familiar one, East Forsyth at Grimsley. East ended the Whirlies' 2018 and 2019 seasons on its way to state titles, but Grimsley has already beaten the Eagles 27-7 this year. Glenn dominated East, 35-13, on Friday night to win a wild Central Piedmont 4-A Conference race and will be home against Matthews Butler in the first round.
CLASS 3-AA WEST
Area teams: No. 2 Mount Tabor (7-0), No. 8 Dudley (6-1)
Mount Tabor's 9-6 win at Dudley on March 20 is what separates these two Piedmont Triad 3-A Conference teams. Mount Tabor is home against an Alexander Central team that has won five straight, but could be overmatched against the Spartans' defense. Dudley travels to Boone to take on a Watauga team that won Alexander Central's conference and handed the Cougars one of their two losses. Tabor and Dudley wouldn't meet until the regional final.
CLASS 3-AA EAST
Area team: No. 2 Southeast Guilford (6-1)
The Falcons roll into the playoffs as the Mid-Piedmont 3-A Conference champion and have a home game against a familiar opponent. Southeast faces Clayton, a program it beat 13-6 in the first round of the 2019 playoffs.
CLASS 3-A EAST
Area team: No. 6 Southern Guilford (5-2)
The Storm doesn't exactly enter the playoffs on a high note after losing 60-36 on Friday night at Eastern Guilford. It doesn't get any easier in the playoffs, where Southern Guilford must travel to Havelock to face a Rams team that is unbeaten and has outscored its opponents 384-57.
CLASS 2-AA WEST
Area teams: No. 1 North Davidson (6-1), No. 5 Oak Grove (5-2)
North Davidson's 17-3 win over Oak Grove on Friday night separated these teams in seeding and earned the Black Knights a top seed and a home game against Pisgah. Oak Grove must travel to unbeaten Ashe County. If the Central Piedmont 2-A Conference rivals win Friday night, they'll meet again in the second round of the playoffs.
CLASS 2-AA EAST
Area team: No. 5 McMichael (2-5)
How does a 2-5 team get into the playoffs? The Phoenix was the top 2-A team in a split 3-A/2-A conference, and its 30-27 win over Morehead back on March 12 punched the postseason ticket for a 257-mile trip to Newport to face Croatan.
CLASS 2-A WEST
Area teams: No. 5 Walkertown (5-0), No. 7 Forbush (6-0)
COVID-19 issues kept Western Piedmont 2-A rivals Walkertown and Forbush from meeting in the regular season, and they wouldn't meet until the regional final in the playoffs. That's a long way off when Walkertown faces a trip to powerhouse Shelby and Forbush must travel to Burnsville Mountain Heritage in the first round.
CLASS 2-A EAST
Area team: No. 1 Reidsville (6-0)
The Rams haven't lost a conference game since 2011 and have played in the last four NCHSAA Class 2-A championship games, winning three and losing the other in overtime. If they get past Southwest Onslow as expected on Friday night, they could face Wallace-Rose Hill, the team that beat Reidsville in the 2017 state championship game.
CLASS 1-AA WEST
Area teams: No. 2 East Surry (6-1), No. 6 Mount Airy (5-2)
East Surry's 17-10 win over Mount Airy on Friday night gave the Cardinals the Northwest 1-A Conference championship and was the difference in the rivals' seeding for the 1-AA playoffs. East Surry is home against a North Moore team that averaged 7.3 points in its three losses and 54.0 in its four wins. Mount Airy has to travel to Mooresville to face an unbeaten Pine Lake Prep team that moves the ball almost exclusively on the ground.
CLASS 1-A WEST
Area team: No. 8 Winston-Salem Prep (5-2)
The Phoenix finished third in the Northwest 1-A Conference, but slipped into the playoffs as a wild card. Prep's reward is a 237-mile trip to unbeaten Class 1-A power Robbinsville.
Contact Joe Sirera at 336-373-7034, and follow @JoeSireraSports on Twitter.