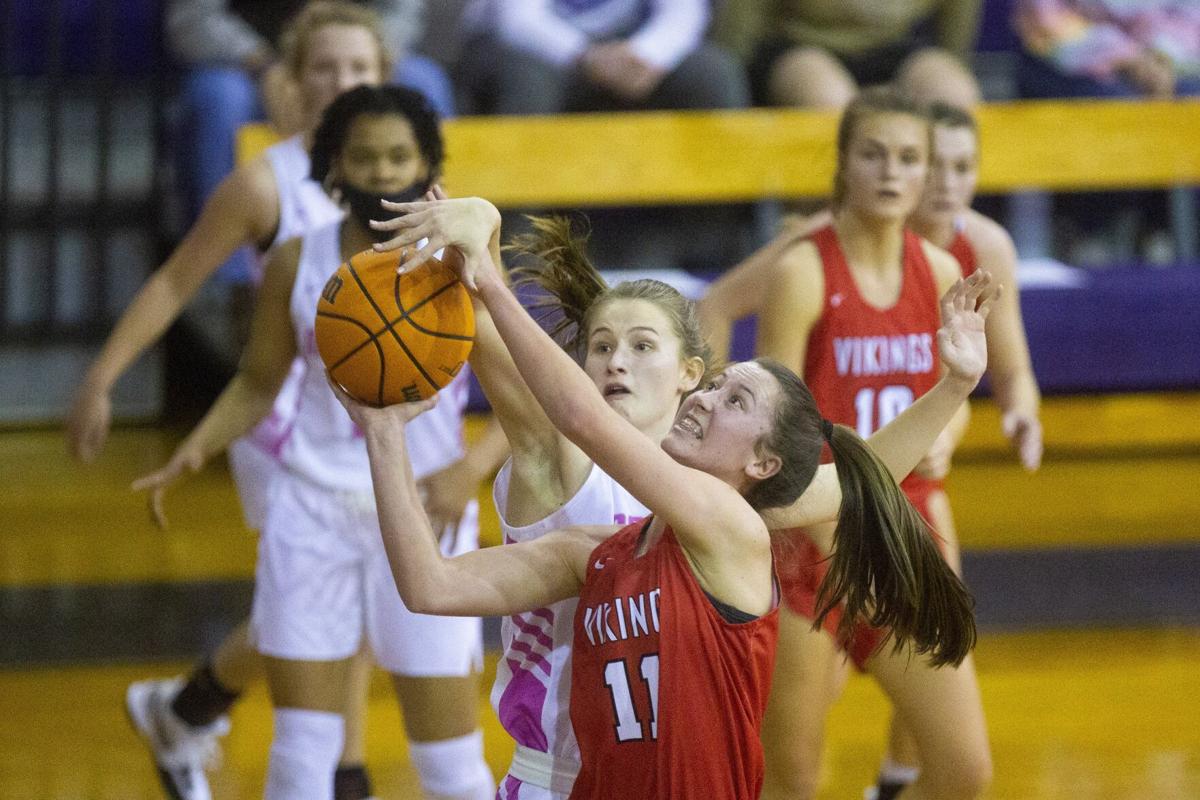 GREENSBORO — Don't tell the Northern Guilford girls basketball team that the best defense is a good offense.
"Defense makes offense" is the approach the Nighthawks have taken this season, junior point guard Christina DeLisa says. That was true again Tuesday night in a 52-37 win over visiting Northwest Guilford that made Northern 11-0 this season.
After a sluggish start offensively that saw the Nighthawks fall behind 6-3, coach Kim Furlough's team did what it does best. Northern hit some shots and began applying full-court pressure against the young Vikings.
"They know what they have to do score, and that's force turnovers," said Northwest coach Haley Hackett, who was a Northern assistant before taking over the Vikings' program in 2019. "They're a better fast-break team than a half-court team and that defense works to their advantage."
That defense turned a 12-8 advantage after one quarter into a 13-point halftime margin. Northern's lead ballooned to as much as 25 points early in the final period after Northwest lost one of its key ballhandlers, Madison Young, to foul problems.
That's exactly the way Furlough wants her Nighthawks to play.
"They've bought into the defensive intensity that we've been trying to get for a few years," says Northern's longtime coach. "They play hard every single game. It's nice to not ever have to beg a team to play hard."
In that respect, this Nighthawks team reminds Furlough of the only other Northern team that was 11-0 – the 2016-17 squad that won the program's first of two straight NCHSAA Class 3-A championships and finished 31-1 behind current N.C. State All-American Elissa Cunane.
Another trait this Nighthawks team shares with that group is unselfishness.
"We're probably the deepest we've ever been, and I just have a bunch of kids who don't really care who gets the credit," Furlough says. "They're just genuinely happy for each other, and that's the way it was in '16-17."
Five Nighthawks went into Tuesday's game averaging at least 7.0 points per game, but no one was averaging more than 9.7. Sophomore forwards Jadyn Newsome and Laurel Zlotkowski led Northern with 15 points each against Northwest and dynamic sophomore guard Jasmine Harris added 10, but five others contributed four points.
Another key to this team's success is its versatility.
"I've got three different kids who can play point guard," Furlough says, "so if one is covered another switches to that spot. I've got kids who can play inside and outside."
Senior forward Abby Mulry is one of the Nighthawks' unquestioned leaders, but the core of this team is a junior class that includes DeLisa, Newsome, Zlotkowski, Lizzie Gram and Avery Burnham.
"I knew as these juniors progressed they were going to be special," Furlough says. "They've all been together since middle school and they've played a lot of (Greensboro) Gaters together. They have wanted to stick together and see what they could do in four years."
Newsome and DeLisa couldn't help but smile Tuesday night when they spoke about their team. They seem to have as much fun playing together as their fans do watching them.
"It's amazing to be here and play for these coaches and have the team dynamic that we do," Newsome said. "We're really all best friends. We're all one, and that shows on the court."
"It's really nice to not dread going to practice but love it," DeLisa added. "It's just so much fun. The team is fun. The games are fun. Practice is fun. It's really nice to know that we're all a family."
Furlough would like to see that family play with a little bit more of an edge at times as it heads deeper into Metro 4-A Conference play.
"I wish we'd be a little bit meaner," she says. "They're super-nice kids, and I'd like to see them be more aggressive offensively."
But that's a minor quibble with a team that plays defense as hard as this Nighthawks team does.
"We all want to play offense," Furlough says, "but this team actually gets excited about shutting down a leading scorer or holding them to a certain field-goal percentage. That's what stands out the most with this group."
BOX SCORE
Northwest Guilford 8 11 4 14 — 37
Northern Guilford 12 20 12 18 — 52
Northwest Guilford (8-5, 2-2 Metro 4-A) — Maslyn Mosbacher 20, Kamryn Snyder 6, Bel Varadi 4, Madison Young 4, Peyton Vernon 3.
Northern Guilford (11-0, 4-0) — Jadyn Newsome 15, Laurel Zlotkowski 15, Jasmine Harris 10, Christina DeLisa 4, Malena DeLisa 4, Lizzie Gram 4, Abby Mulry 4, Katyln Newome 4, Emma Wagoner 2.
Contact Joe Sirera at 336-373-7034, and follow @JoeSireraSports on Twitter.