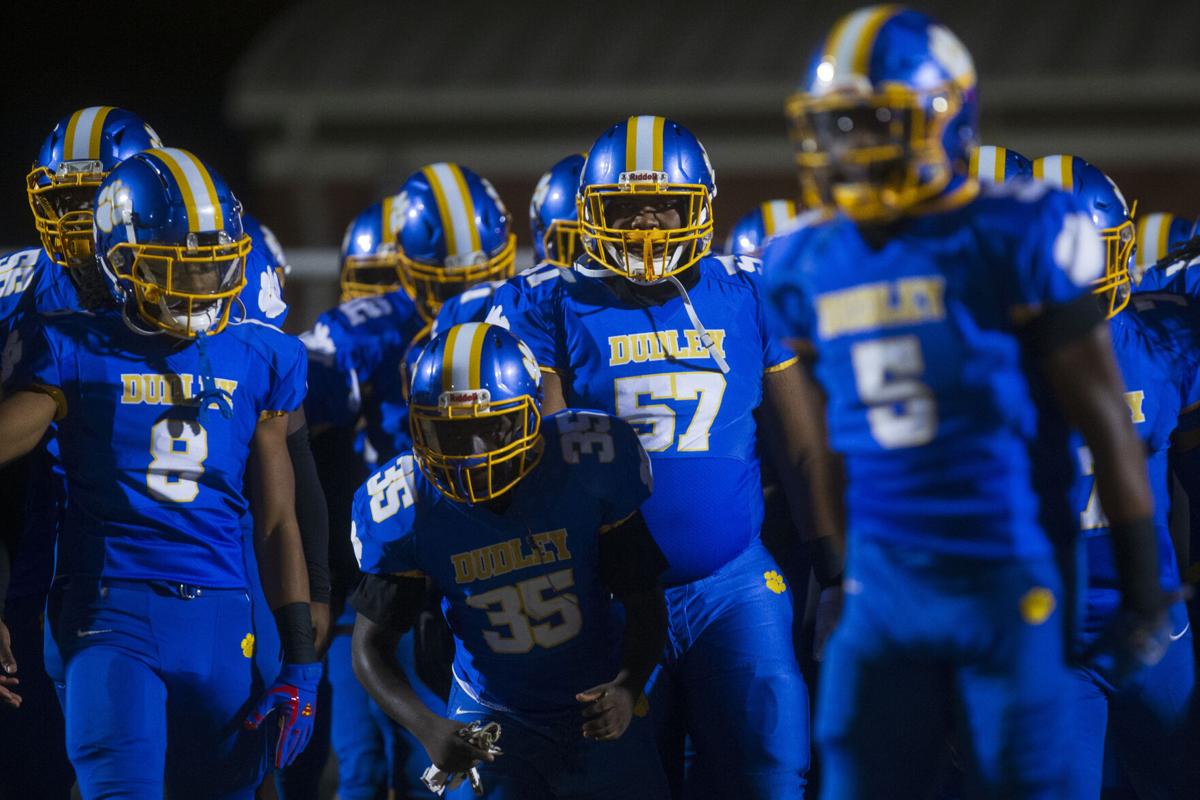 GREENSBORO — After its only loss of the football season, Dudley laid waste to the Mid-State 3-A Conference by outscoring its seven league rivals 415-15. But when it came time for the playoffs, things would get tougher for the Panthers. Right?
Dudley did give up 10 points, but scored 53 on Friday night in a dominating victory over Ledford at J.A. Tarpley Stadium. Combined with a 60-0 win over North Henderson in the opening round, third-seeded Dudley has outscored its opponents 113-10 in the NCHSAA Class 3-A playoffs and has scored at least 40 points in nine straight games since a 30-14 loss at Durham Hillside on Sept. 3.
Next up for Dudley (11-1) is No. 11 seed Kings Mountain at 7:30 p.m. Friday at The Tarp. The Mountaineers (10-2) beat No. 6 West Charlotte 27-17 in the second round.
"It's a really good feeling," coach Steven Davis said of advancing to the third round for the second time in as many years. "They've got to come this way."
Kings Mountain will come to a Dudley team that finished with 447 yards of offense and was extremely efficient on that side of the ball. Senior quarterback Jahmier Slade completed 12 of 15 passes for 226 yards and three touchdowns, and senior running back Michael Shaw had 121 of Dudley's 221 rushing yards on just 10 carries.
Was this Slade's best performance of the season, considering it came in the second round of the playoffs?
"It's up there," Davis said. "Like I told him, 'You don't have to do a lot. You've got some dynamic players like Mehki Wall and R.J. Baker. You've got Michael Shaw. Just get it to them. You might throw a slant and they might go 75 yards, and in the paper it's going to say, Jahmier Slade 75-yard touchdown pass.' "
Wall showed off his electric running ability with the ball in his hands, catching five passes for 126 yards and a touchdown and nearly breaking a couple of kick returns. Baker had 63 yards and two touchdowns on five carries.
Regardless of the opposition, this Dudley offense is playing with confidence.
"These guys work hard in practice, and Coach (Antonio) Hall does a great job of getting the game plan together, he and the offensive staff on Sundays," Davis said of his offensive coordinator. "Then we just try to implement it throughout the week and come out here and execute it on Friday night."
Dudley's defense didn't execute its game plan in the first quarter. Ledford (8-4) finished the opening period with 72 yards on the ground and 71 yards through the air, including a 40-yard touchdown pass from Nathan Carr to Nic Morgan. Carr scrambled to his right, broke containment and found Morgan 15 yards behind the secondary.
"We could kind of see it when the play got started that we had some guys out of place and they didn't stay with their man," Davis said. "The guy just got outside the pocket. Our ends, for some reason, were going too far up the field tonight. But we made adjustments and slowed them down in the second half."
Carr and sophomore running back Alex Sanford also found room to run against a Dudley defensive front that usually dominates opponents. The hosts did finish with five sacks, but it wasn't until the second quarter that they began to take over the game.
"We got back to reading our keys," Davis said. "We had some guys out of place. We went to our solid defense and were able to have some success that way."
One area where Dudley struggled all night was special teams.
Ledford opened the second half with an onside kick and recovered to set up its only points of the second half, a 38-yard field goal by Bryson Sims.
"Coming out of halftime we told them, 'Watch out for the onside kick,' " Davis said. "I kind of take the blame on that because there are several things we can do on kickoff return. After they did it the first time, we went to what we call '62,' with six guys up front and we were able to get it. I should have started off with that."
Extra points also were an adventure for Dudley. Three times something went wrong with Adoul Bayor attempting the kicks before Yero Woodson finally came on and converted after the last touchdown.
"On the extra points we just have to continue to trust the holder," Davis said. "Those guys are going to be coming and he's going to set it down. You can't wait and look. You have to trust it and go through your same motion every time. If it's there, kick it. If not, kick through it."
Those special-teams miscues didn't hurt Dudley on Friday night, but Davis knows they could against Kings Mountain and beyond.
"We'll be ready," he said.
Stars
Ledford — QB Nathan Carr 12-of-25 passing, 156 yards TD; RB Alex Sanford 16 carries, 97 yards; WR Nic Morgan 4 catches, 55 yards, TD.
Dudley — QB Jahmier Slade 12-of-15 passing, 226 yards, 3 TDs; RB Michael Shaw 10 carries, 121 yards, TD; ATH R.J. Baker 4 carries, 66 yards, 1 TD; ATH Mehki Wall 5 catches, 126 yards, TD; LB Jaylan Richmond 1½ sacks; Austin Lloyd 1½ sacks.
Scoring summary
D – Mehki Wall 47 pass from Jahmier Slade (kick failed), 1st, 6:55
L – Nic Morgan 40 pass from Nathan Carr (Bryson Sims), 1st, 5:29
D – R.J. Baker 4 run (Michael Shaw run), 1st, 3:12
D – Michael Shaw 42 run (kick blocked), 2nd, 11:16
D – K.J. Morehead 3 run (Nasir Newkirk pass from Slade), 2nd, 4:30
L – FG Bryson Sims 38, 3rd, 7:40
D – Morehead 8 pass from Slade (pass failed), 3rd, 5:50
D – Newkirk 22 pass from Slade (pass failed), 3rd, 3:26
D – Koredell Bartley 18 pass from Slade (run failed), 4th, 11:53
D – Jorge Lara 9 run (Yero Woodson kick), 4th, 3:45
Contact Joe Sirera at 336-373-7034, and follow @JoeSireraSports on Twitter.