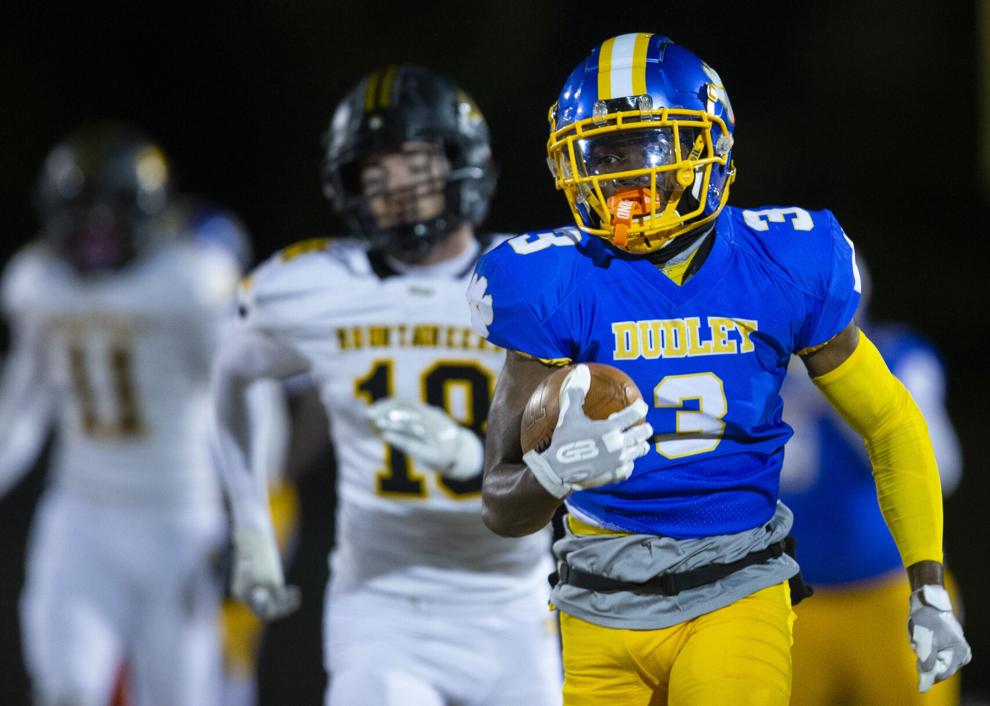 GREENSBORO — After a sluggish first half Friday night against Kings Mountain, Dudley football came out running. The Panthers did it effectively and they did it quickly, turning a tie game into a 36-10 victory at Tarpley Stadium in the third round of the NCHSAA Class 3-A West playoffs.
Third-seeded Dudley (12-1) will travel to second-seeded Statesville (12-0) next Friday for a regional semifinal.
Playing for another week seemed far from certain at halftime for the Panthers, as they went to the locker room tied at 7 with Kings Mountain (10-3). The Mountaineers got penetration on numerous plays and held Dudley to 47 yards on 15 carries.
The Panthers took the second-half kickoff and went 72 yards in 1 minute, 57 seconds to take the lead on R.J. Baker's 5-yard touchdown run. Dudley went no-huddle and ran the ball on six of seven plays as Kings Mountain struggled to keep up with the Panthers' pace.
After a three-and-out for the Mountaineers, Dudley struck again and this time it only took one play – a 52-yard run by Michael Shaw. Dudley's third TD of the quarter was the fourth play of an 80-yard drive as Baker went 49 yards.
When the 12-minute quarter ended, the Panthers had run the ball 12 times for 184 yards and they led 28-7.
"We knew that we had a chance to up-tempo those guys," Dudley coach Steven Davis said. "We talked about it throughout the week, then came out and did it in the second half and it worked."
One reason it worked was that the Panthers' line took over the game, not that Baker, Shaw and Mehki Wall need much of a crease to break a big play.
"It was just them getting on their blocks and staying on their blocks," Davis said of his linemen.
"We had to get our blocking down pat and start blocking on the perimeter to clean everything up," Baker added after Dudley rushed for 242 yards in the second half.
Baker finished the game with 116 yards and two touchdowns on 12 carries. Shaw had 119 yards on his 12 carries, and Wall added two carries for 65 yards and a TD and two catches for 86 yards. As if that weren't enough, the Duke commit threw a 39-yard pass to Baker and intercepted a pass at the Dudley goal line when the score was 20-7.
"It's a great boost because we know we have someone in our back pocket we can always pull out," Davis said of using Wall as a defensive back. "If someone in the game is not playing well we can always go with Mehki because he's such a great athlete and can play anywhere on the field that we put him."
Quarterback Jahmier Slade had another efficient game for the Panthers, completing five of seven passes for 95 yards and managing the changes in tempo.
One negative for Dudley was penalties. The Panthers were flagged 10 times for 92 yards, and three of those penalties gave Kings Mountain first downs on the drive that ended with Wall's interception at the goal line.
"That's something we have to clean up this week," Davis said.
The Panthers will have the opportunity to work on some things before they make the 75-mile trip to Statesville next Friday night. The venue doesn't concern Davis, as long as Dudley is playing.
"Whether it's here or down there," the coach said, "we just have to go play."
Stars
Kings Mountain — QB Lamont Littlejohn 14-of-26 passing, 160 yards; RB Robert Kendrick 16 carries, 32 yards; WR Bryson Brown 5 catches, 48 yards; WR Peyton Fisher 2 catches, 39 yards.
Dudley — QB Jahmier Slade 5-of-7 passing, 95 yards; RB Michael Shaw 12 carries, 119 yards, TD, 2-point conversion; ATH R.J. Baker 12 carries, 116 yards, 2 TDs, 2 catches, 42 yards; ATH Mehki Wall 2 catches, 86 yards, 2 carries, 65 yards, TD, 39-yard pass, INT.
Scoring summary
Kings Mountain ;0 ;7 ;0 ;3 ;— ;10
Dudley ;7 ;0 ;21 ;8 ;— ;36
Du – K.J. Morehead 1 run (Adoul Bayor kick), 1st, 4:27
KM – Micah Ward 1 run (Jaden Ellis kick), 2nd, 3:09
Du – Baker 5 run (Bayor kick), 3rd, 10:03
Du – Michael Shaw 52 run (kick failed), 3rd, 7:36
Du – Baker 49 run (Shaw run), 3rd, 0:46
Du – Mehki Wall 50 run (Nasir Newkirk pass from Jahmier Slade), 4th, 10:46
KM – FG Ellis 22, 4th, 3:08
Contact Joe Sirera at 336-373-7034, and follow @JoeSireraSports on Twitter.