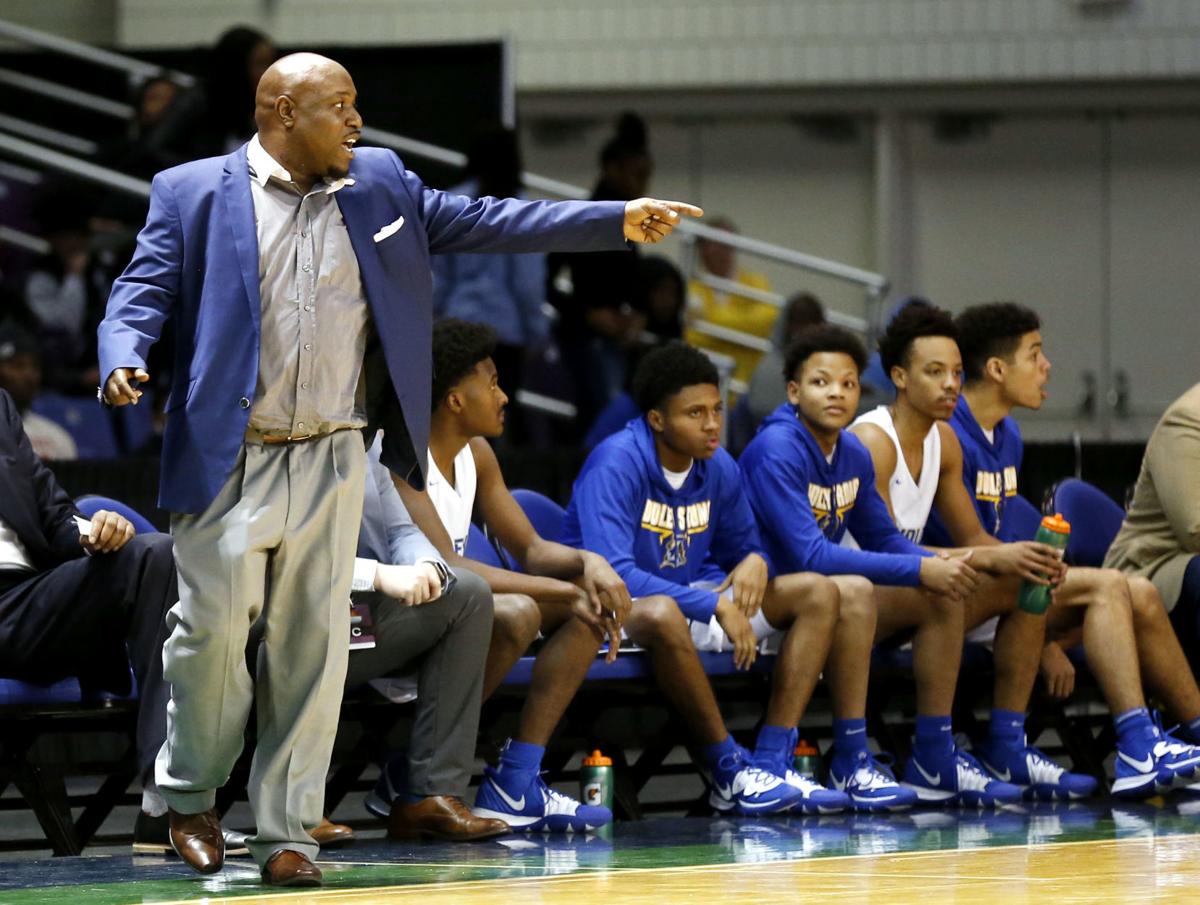 GREENSBORO — Ken Ferguson's tenure as boys basketball coach at Dudley has ended after four seasons, but he remains a Guilford County Schools employee.
The school district advertised the position on its website, although the job was no longer posted Monday when skill development workouts were allowed to begin. A public information sheet GCS provided says that Ferguson has been suspended with pay from his position as a physical education teacher at Dudley since May 1.
The district declined to provide information on what prompted the suspension, citing privacy laws concerning personnel records. Ferguson did receive a raise of $166 per month effective July 1.
Ferguson could not be reached for comment on his suspension from teaching and his termination as boys basketball coach. Dudley athletics director Art Wade referred all questions about Ferguson's job status to Guilford County Schools' central office staff, which provided only the public information sheet.
Neither Ferguson nor Scott Wood, who was a Dudley boys basketball assistant coach until his contract was not renewed Aug. 10, have been charged with any crimes.
A third Dudley boys basketball staff member, an assistant coach, was suspended in March after he was charged with three counts of sex acts with a student. Three days before Ferguson's suspension, Greensboro Police charged Christopher Arnell Holland with an additional three counts of statutory rape of a child by an adult, two counts of statutory sex offense with a child by an adult and one count of indecent liberties with a child, Greensboro Police said. The alleged incidents took place from 2017 to 2019.
Greensboro Police said in May that the investigation was ongoing and additional charges against Holland were anticipated, but none have been filed.
Ferguson's Dudley teams went 60-45 overall and 21-23 in conference play during his four seasons. He previously served as an assistant at Dudley and has been employed by GCS since March 18, 2005, as a physical education teacher.
The Panthers' best season on the court under Ferguson was 2016-17, when they went 15-10 overall and 7-2 in the Metro 4-A Conference, winning the regular-season championship. Dudley qualified for the NCHSAA playoffs in three of Ferguson's four seasons as head coach, losing in the second round each time.
Ferguson was a freshman player on Coach David Price's 1996 NCHSAA Class 3-A championship team at Dudley. Among his teammates were Vincent Whitt, Braxton Williams, current Smith coach Derrick Partee and future NBA player Brendan Haywood.
Contact Joe Sirera at 336-373-7034, and follow @JoeSireraNR on Twitter.