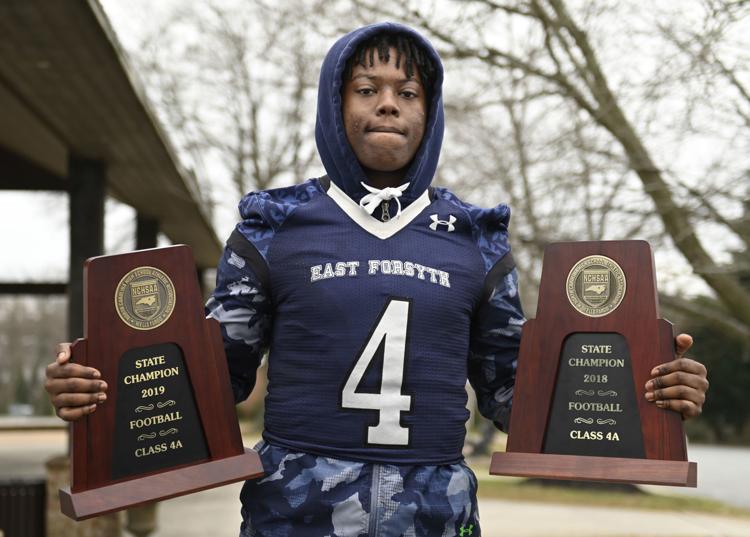 KERNERSVILLE — Coastal Carolina's football team isn't just getting a quarterback with Ty Lyles, it's getting a champion.
The rising senior, who has led East Forsyth to back-to-back NCHSAA Class 4-A titles, announced his college decision in a video posted this afternoon on his Twitter account.
"They're going to get a winner, no doubt about it," said Todd Willert, East Forsyth's veteran coach. "Two state titles. Two MVP awards. A lot of people don't look at quarterback stats this way, but I do and the number one stat I look at is: Is the kid a winner?"
A 6-foot, 210-pound athlete who also plays basketball for the Eagles, Lyles is a three-star recruit and the No. 61 player in North Carolina in the Class of 2021, according to 247Sports.com. His other finalists were Massachusetts and Navy, and he had at least nine other FBS or FCS offers.
In his video, Lyles thanked God, his mother, stepfather, brother and grandparents. He also gave a shout-out to "the coaches who helped me and contributed to my success throughout the journey," highlighting the work of Willert and East Forsyth offensive coordinator Ron Horton.
As a junior, Lyles completed 140 of 243 passes for 2,242, with 18 touchdowns and 11 interceptions. He also rushed for 830 yards and 11 TDs. For his career, Lyles is 258-of-454 passing for 4,560 yards, with 44 TDs and 17 interceptions. He's added 1,238 yards and 13 TDs on the ground.
But it's two other numbers that Willert says are the most important when evaluating his quarterback: 28-2. That's the Eagles' record with Lyles as their starting quarterback.
"It's his leadership and the confidence he instills in other kids," Willert said. "His sophomore year we kind of beat everybody pretty good, but this past season there were a lot of games where we were behind. The kids just believed that with Ty there that he could find a way to help us win."
The two questions about Lyles at the next level are his height and his passing, but Willert doesn't think either will be an issue when he heads to Conway, S.C.
"If you watch East Forsyth, we have a pretty big offensive line," Willert said. "He's had to learn how to look over those guys, and when you look at some of the D-linemen he's had to go against he's already been challenged that way and handled it."
And as for Lyles' passing, look for improvement in that area in the fall.
"I'm not worried about his arm as much as it's his footwork," the East Forsyth coach said. "That's with all young quarterbacks. That's where he'll grow and people will see that this year at East when we, hopefully, play some games. His footwork is going to be so much better."
Lyles is on track academically to graduate early and enroll for the second semester at Coastal, but he also plays basketball for East Forsyth and he may elect to play one more season in that sport. Willert hopes the COVID-19 pandemic eases and his Eagles get the chance to showcase Lyles' talents for one more season.
"I've talked to him so much during this offseason and this crazy break we're on and see just how much he's matured," Willert said. "But he still has a chip on his shoulder. You wouldn't think a kid who's 28-2 as a starter and has won two state championships would have a chip on his shoulder, but he still has that hunger and desire. It's the way he talks now, the way he handles himself. It's not just confidence on the field, it's confidence off the field.
"If we can get on the field this year he's going to be unbelievable."