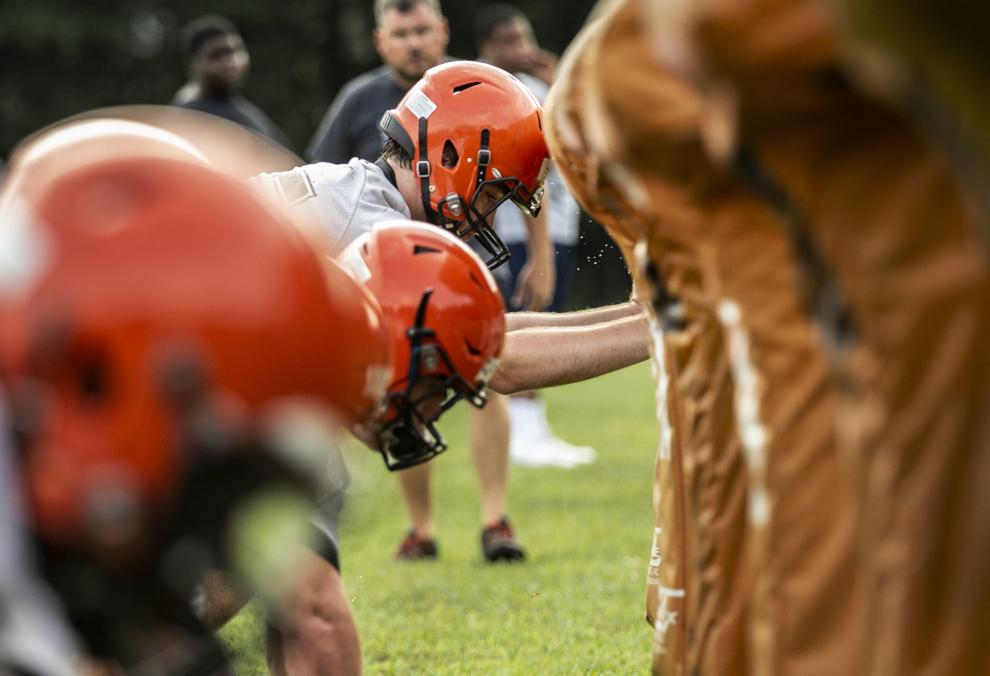 GREENSBORO — The helmet: the last piece of equipment a football player puts on his body before entering a game and, yet, by far the most important. And at a time when sports-related concussion concerns have been heightened by links to Chronic Traumatic Encephalopathy, most high school programs in the region are outfitting their players in quality helmets.
The News & Record has obtained the helmet inventory of the 19 football-playing public high schools in Guilford and Rockingham counties. (Click on the school links under "WHAT ARE THEY WEARING?")
But Virginia Tech researchers' nationally recognized STAR rating system goes further, measuring a helmet's ability to reduce the likelihood of a concussion. Most area football teams also scored well by this measure, with 1,530 of the 1,768 helmets in schools' inventories rated as 4-star or 5-star, with 5-star being the best.
Still, 238 are 3-star helmets with 194 of those are concentrated at four schools: Page, Northeast Guilford, McMichael and Rockingham County.
"Concussions are a concern to all of us," Leigh Hebbard, athletics director for Guilford County Schools, said in an interview. "Safety is a concern to all of us."
In a subsequent email, Hebbard said GCS "will continue to monitor the evolution of (Virginia Tech's) STAR ratings system and its implications. The STAR rating will be a consideration when determining which helmets to purchase/use" going forward.
While the overall numbers are good, eight schools are also placing their athletes in helmets that are now prohibited for use by NFL players after a study released in April by Biokinetics Inc. of Canada.
The NFL Players Association, which commissioned that study, did say its results should not be extrapolated to college or high school players because the impacts that were tested were meant to simulate hits seen in an NFL game. The fact that some helmet models were banned immediately while a few others can be worn for one more year by players who wore them in 2017 does raise concerns.
Attention on concussions in football has increased since the release of the movie "Concussion," based on the discovery of CTE by Dr. Bennet Omalu during an autopsy of Pro Football Hall of Fame center Mike Webster, and by subsequent work at the Boston University CTE Center. Boston University neuropathologist Anne McKee examined the brains of 202 deceased football players in 2002. Of the 202, 111 of those players played in the NFL, and 110 of them were found to have CTE.
Football is not the only high school sport that produces concussions, but its violent collisions and hard impacts with the turf make players particularly susceptible. Yet football is also the most popular sport in the United States, a cultural phenomenon, based on TV ratings and average per-game attendance at the college and professional levels. So there is a heightened awareness around the long-term effects of the sport and what equipment is being worn by its participants.
"In addition to the usual symptoms felt during a concussion — headaches, nausea, loss of balance — you also have to worry about brain development in a high school-aged athlete," said Dr. Chris Miles, a sports medicine physician at Wake Forest Baptist Medical Center. "Whether it is behavior, moods, cognition, those kinds of things, later in life … we still don't know that with great science, but we're certainly investigating to see if a younger person sustains this injury are we setting them up for a longer-term problem than just the symptoms from the actual injury."
A number of factors, including tackling and blocking techniques, can contribute to a diagnosed concussion. The football helmet is one of the most prominent.
"There is no such thing as a concussion-proof helmet," says Kevin Guskiewicz, a neuroscientist and nationally recognized expert on sports-related concussions at the University of North Carolina, but "some helmets, based on the work done at Virginia Tech, are better at mitigating the slosh inside the skull and perhaps reducing the threat of concussion."
The ratings
Southeast Guilford is the only area high school that uses all 5-star helmets in Virginia Tech's ratings system. How do the Falcons do it?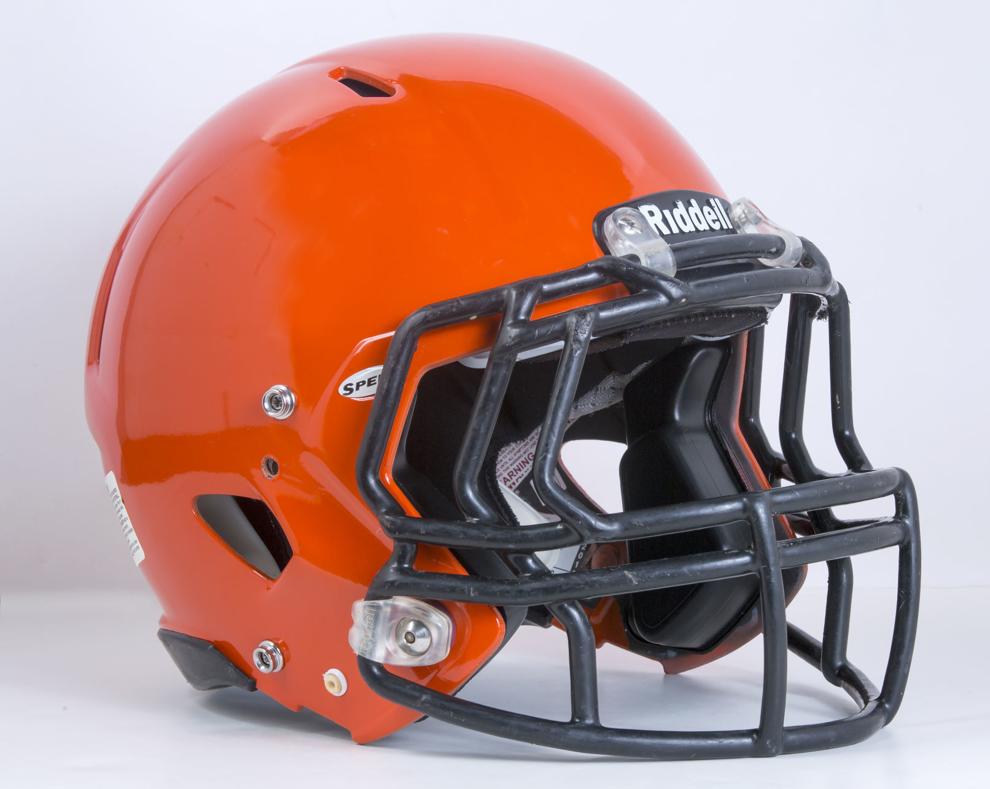 "We've had some parents that played in the (NFL) who had their kids come through here who wanted to make sure our kids were getting the best," said athletics director Shawyn Newton. "When all the talk of concussions came up, they said, 'This is how I can help. We'll provide these for you.' "
When schools first provided their helmet inventories to the News & Record/HSXtra.com, Rockingham County produced the lowest average helmet rating, at 3.00. Athletics director Courtney Paschal later purchased 12 Riddell Revolution Speed helmets, which are rated 5-star. That raised the Cougars' average to 3.34 and left McMichael (3.18) with the lowest average rating.
Coach Brad Baker "came in last year and at that point we looked at the helmets," Paschal said, noting that Rockingham County also has 55 helmets that were purchased in 2013 and will age out at the same time. "I talked to Brad immediately and said, 'We've got to fix this,' " she added.
Page's helmets carry the lowest average rating among Guilford County schools, at 4.00. That number is brought down significantly by 43 3-star-rated Shutt Air XPs purchased in 2013. Rusty Lee, Page's athletics director, said he didn't recall what went into the decision to buy those helmets before adding, "I don't have a concern at our place.
"But I am concerned about the safety of the sport and the way people are looking at it and trying to make it better," he added. "I want it to be safer."
Lee pointed out that Page's coaches are trained in the USA Football Heads-Up program, as all area coaches are through a grant from the Winston-Salem-based Matthew Alan Gfeller Foundation; that the Pirates' helmets are checked for fit and wear periodically during the season; and that no Page football players reported suffering concussions last season.
"At Page, I ask the coaches what equipment they need for the following season," Lee said. "If a coach brought me a 2-star helmet to purchase, I would probably question it and then still probably wouldn't purchase it."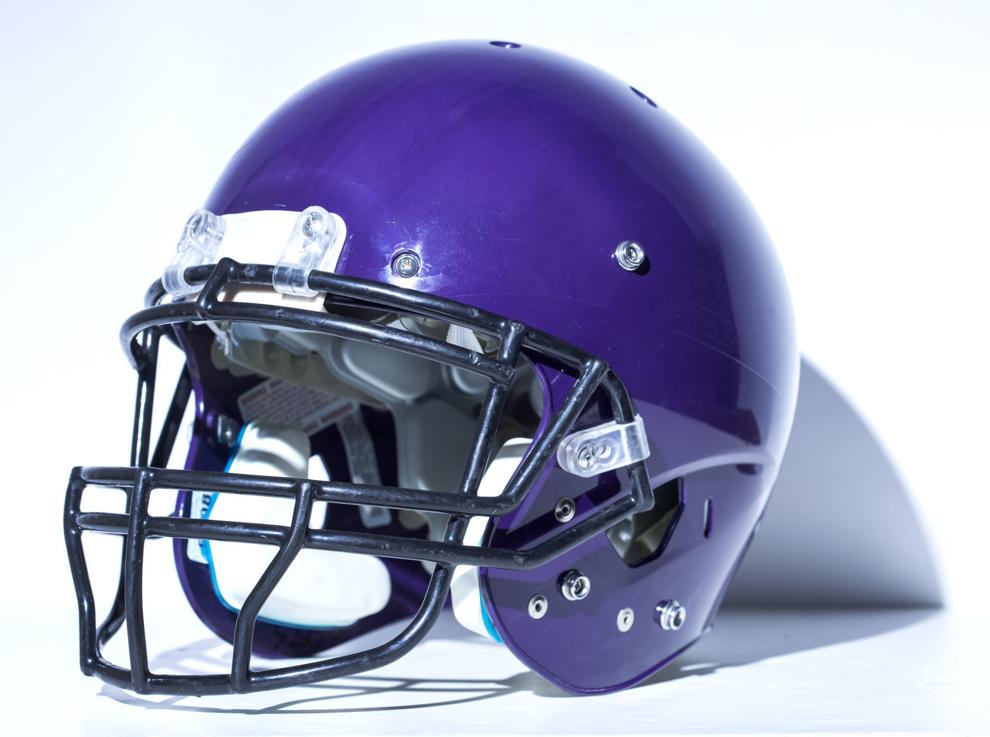 Despite the differences in concussion risk reduction from 5-star to 3-star based on Virginia Tech's studies and the NFLPA's decision to ban certain helmets, each of the helmets in use at area high schools does fulfill its primary obligation: attempting to prevent a catastrophic injury.
"They are all safe," said Dr. Steve Rowson, an assistant professor in Virginia Tech's Department of Biomedical Engineering and Mechanics who works on the university's helmet study. "No one is going to get seriously injured (due to the helmet they are wearing), but there are differences in their ability to manage impact energy and, therefore, differences in risk for concussions."
Fit and age
In addition to Virginia Tech's STAR system, Guskiewicz said, the fit and age of football helmets are important.
As a parent of former players, Guskiewicz has practical experience in that area. All three of his sons were participating at the same time "about eight years ago" and each was wearing a different model of helmet.
"They were all wearing helmets that were 4- or 5-star-rated, helmets in the top 10 at the time on that list," he said. "My kid that was wearing the fifth-best-rated helmet, that was the right helmet for him because it fit correctly. The first- or second-rated helmet on that list may not have been the best helmet for him despite that it was rated two or three spots ahead."
While most players wear school-issued helmets, some parents — like Guskiewicz — choose to purchase a helmet for their child and have it fitted by a representative of the manufacturer.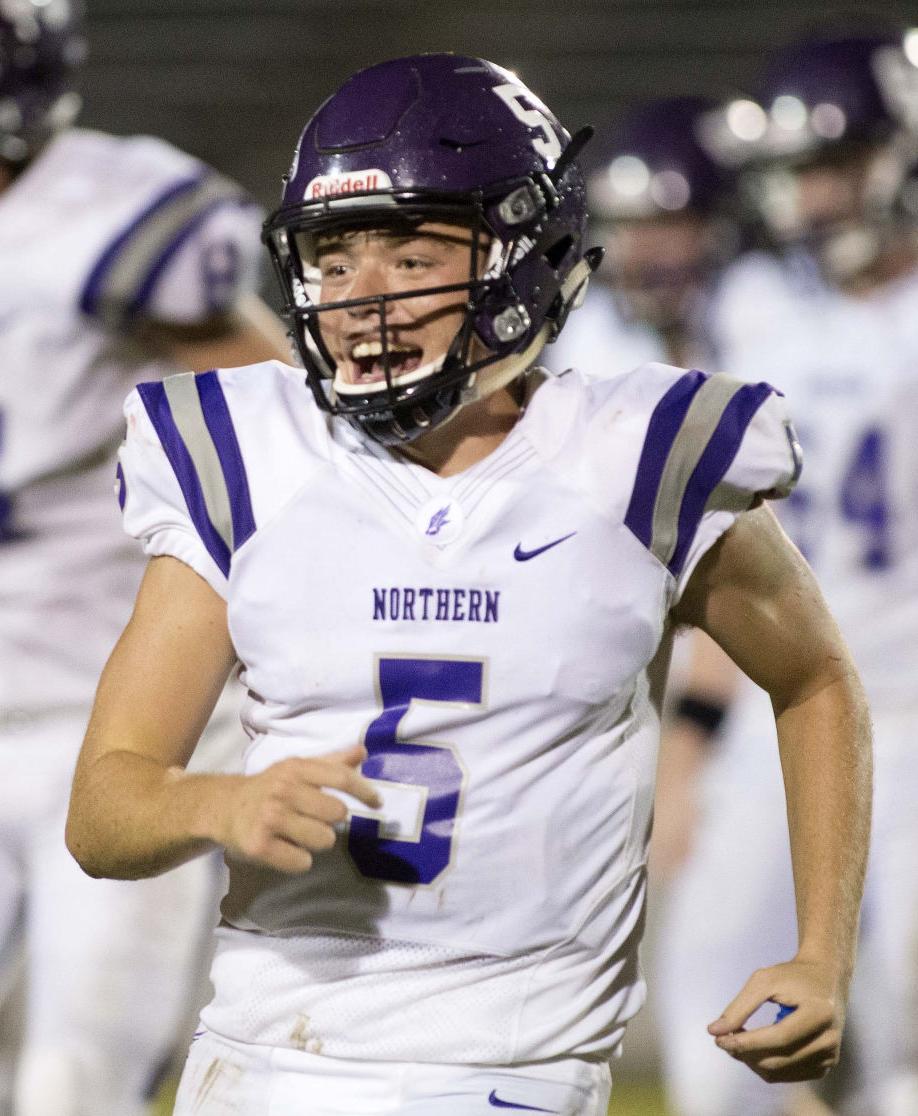 Ron Lenard purchased highly rated helmets for both of his sons, who are quarterbacks at Northern Guilford: a Riddell Speed for Will, a sophomore, and a Riddell Speed Flex for Jakob, a senior. He recently upgraded Jakob to a VICIS Zero1, the top-rated helmet in the Virginia Tech system. Prices for the best-rated helmets can approach $1,000.
"They do have good inventory at Northern," Lenard said. Buying helmets for his sons "had nothing to do with what (the school) had. … I wanted to make sure they felt comfortable with what they were wearing."
Lenard oversaw Northern's youth football program when his sons were younger and purchased team helmets based on the Virginia Tech rating system. He said buying helmets for his sons "put me at ease."
The age of the helmet is also important. The NOCSAE certification label on the back of each helmet says it should not be used more than 10 years after the manufacture date, and helmets that are not new should be reconditioned at least every two years.
All but two helmets used at the 19 high schools in Guilford and Rockingham counties have been reconditioned since the 2017 season. That process involves a company X-raying each helmet's hard plastic shell for cracks or structural problems, as well as cleaning and replacing padding.
Most area high schools try to purchase 10 to 12 new helmets a year to replace aging models. The retail price of area high schools' helmets when purchased new ranged from a low of $140 for a Rawlings Impulse (4-star, but now prohibited by the NFL) to a high of $409.99 for a Riddell SpeedFlex (5-star).
"I recognize that these schools can't afford to buy 75 new helmets every year," Guskiewicz said. "… But I would never put my kid in a helmet that is more than four years old. That's just my policy. Ideally, I'd like him to wear the helmet he wore the year before because it's broken in and fits properly. It would be even better to swap them out every two or three years."
The oldest helmets in use at area high schools were manufactured in 2009 (62 of 1,768), and the average age of helmets in each of the 19 schools' inventories ranges from 1.8 (Morehead) to 5.7 years old (Southern Guilford).
Testing and certification
NOCSAE certification is the only requirement for football helmets to be used by high schools in North Carolina.
"NOCSAE is the group that, through the state association and the NFHS (national federation), is the one that we are following," said Hebbard, the GCS athletics director. "They will say that the ranking of the helmet is not based on evidence of actually preventing concussions."
In January 2017, NOCSAE revised its football helmet standards to limit the maximum rotational forces involved in many concussions. Its testing will incorporate a pneumatic ram test standard, similar to the Virginia Tech study and manufacturers will have to abide by this standard beginning in May 2019. Guskiewcz doesn't believe current NOCSAE certification standards go far enough.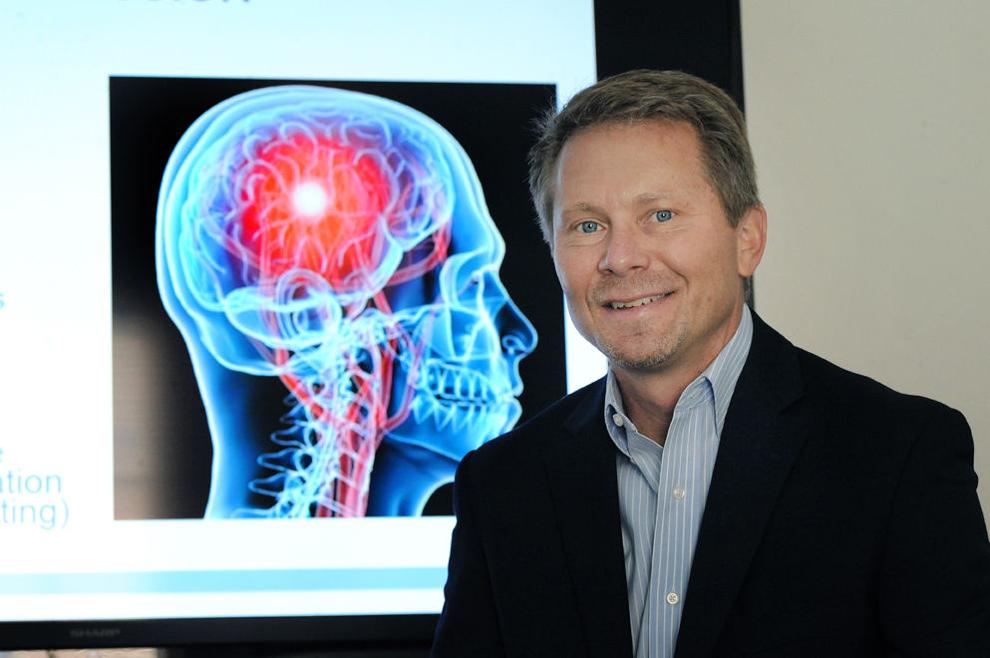 "What's important to remember is that certification is to prevent catastrophic injury — meaning skull fractures, brain bleeds, those sort of things," said Guskiewicz, who is also UNC's dean of the College of Arts & Sciences. "Ninety-nine point nine percent of the time, if you're wearing a certified helmet that is new or has been reconditioned properly, that helmet is going to protect you from a catastrophic injury. But the brain is still going to slosh around inside the skull when the body is impacted — not even the head, but especially when the head is impacted. With that impact comes the threat of concussion."
While NOCSAE doesn't test a helmet's effectiveness in reducing concussion risk, the Virginia Tech 5 STAR Helmet Study researchers say their work does. Their impact tests measure a helmet's ability to reduce linear and rotational acceleration of the head resulting from a range of head impacts a football player may experience on the field.
"It all starts with our basic research where we instrument football players, we collect head-impact data and we really understand how they hit their heads," Rowson said. "We know how frequently they hit their heads, we know what impact locations, we know how hard the helmets hit and we know which impacts are more likely to cause concussions, and we've been doing that for about 15 years now."
Virginia Tech's testing grades helmet performance based on these real-world impacts, then gives the helmet a rating between 1 star (worst) and 5 stars (best). The helmets are purchased anonymously and are tested new.
"When you compare a 5-star to a 4-star to a 3-star, there is a score or star value that's a predicted number of injuries based on a certain exposure to head injuries that we model in the lab," Rowson said. "This isn't the exact number that someone would see in the real world, but it's a controlled point of comparison between the different helmets. … If you look at our 5-star group, our lowest-rated helmet has a value of about 10; if you look at our 3-star helmet, it has a value of 25. We would say this person would have a 50 percent less chance of a concussion in the 5-star helmet if they were to experience the same exact head impacts that the helmet experiences in the lab."
The League
The NFLPA's helmet study was commissioned as a part of the NFL's Play Smart, Play Safe initiative. The purpose of the study was "to evaluate which helmets best reduce head-impact severity" at the NFL level, said Sean Sansiveri, the union's vice president of business and legal affairs.
"Our engineers are very adamant that the severity of head impacts on those different levels (high school, college, professional) likely vary greatly and, therefore, the helmets may hold up differently," Sansiveri said.
Virginia Tech's Rowson agreed, saying: "Their harder head-impact conditions are way harder than what we test on the helmet and they are way harder than what a high school player is likely to see."
But the fact that some helmet models in use at area high schools are banned immediately for NFL use and a few others can be worn for only one more year by players who wore them in 2017 is worth noting.
The eight area high schools that are using helmets that Sansiveri said "performed poorly" in NFLPA testing are Northeast Guilford, Page, Smith, Southwest Guilford, McMichael, Morehead, Reidsville and Rockingham County. The prohibited helmets at those schools were manufactured by Rawlings, which no longer makes football helmets, or Schutt.
"I don't think that factors into what we purchased or what my coaches present to be purchased," Lee, Page's athletics director, said of the NFLPA study. "We're just trying to get a safe product to put on our kids. Fitting, reconditioning and teaching proper use, in our minds, are the keys."
How can we do better?
All 105 helmets in use this season at Southeast Guilford are 5-star rated. How can all the high schools in the area get to that level?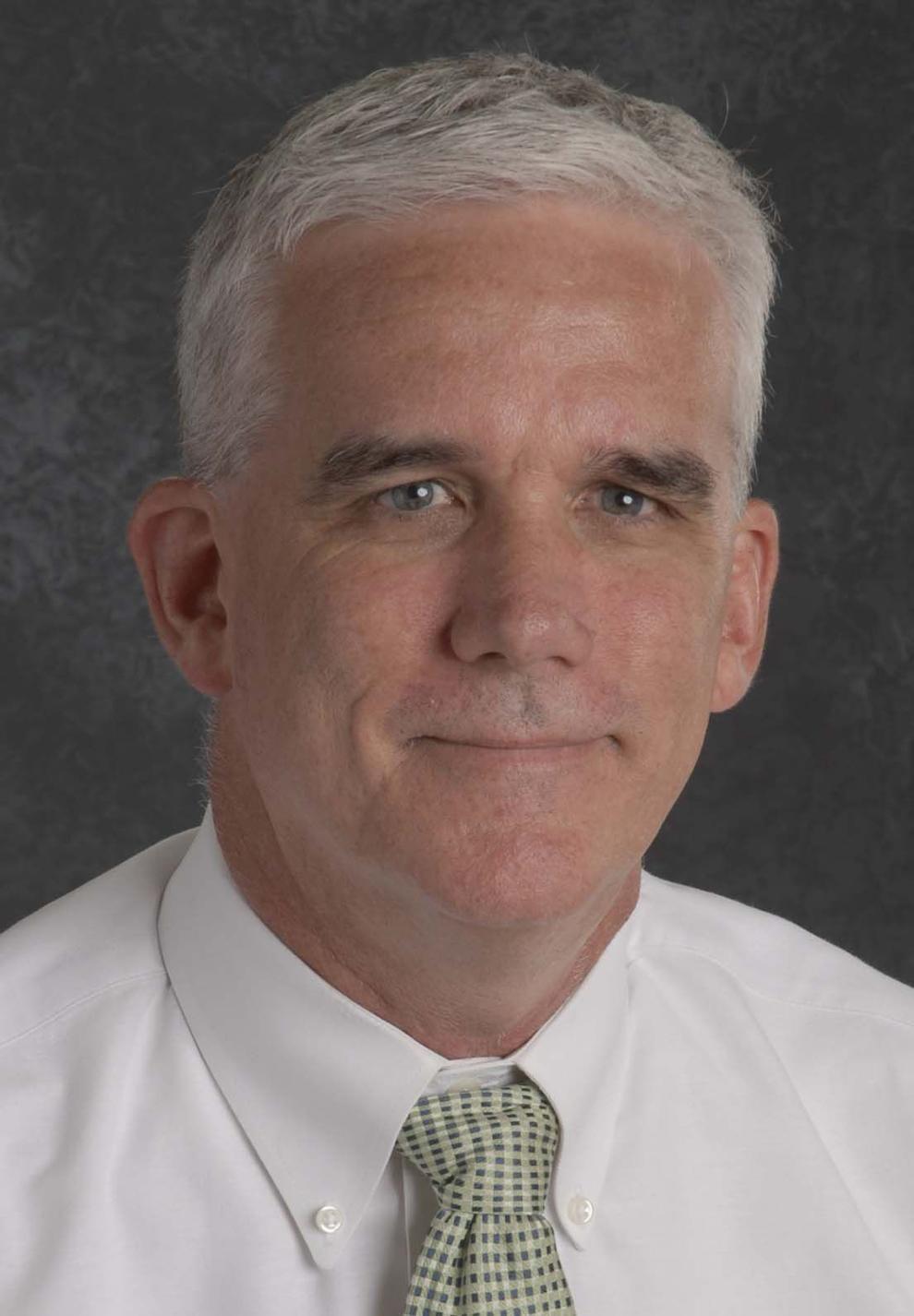 "It's going to take a lot of people buying in, keeping up with the technology," said Newton, the Southeast AD. "Ever since the movie 'Concussion' came out, more and more parents have been buying into the safety of their student-athletes. We, as a school and as a district, have to do our part. At some point the district may have to start chipping in, like saying, 'Hey, coaches, we're going to help you out with 15 helmets a year.' "
Hebbard, the GCS athletics director, said: "The current model makes it difficult to find enough money to do that in a way that matters. … If we're going to help with football helmets, why are we not helping with lacrosse helmets? Why are we not talking about baseball and softball helmets? The bill gets pretty big pretty quickly."
As big as the bill might be, Guskiewicz says, the cost of concussions could be much higher.
"I've often said that if you can't afford to have a certified athletics trainer at your school and the proper equipment to do everything possible to prevent injuries and to manage them properly when they do occur," he said, "then you probably shouldn't be fielding a football team."
Contact Joe Sirera at 336-373-7034, and follow @JoeSireraNR on Twitter.