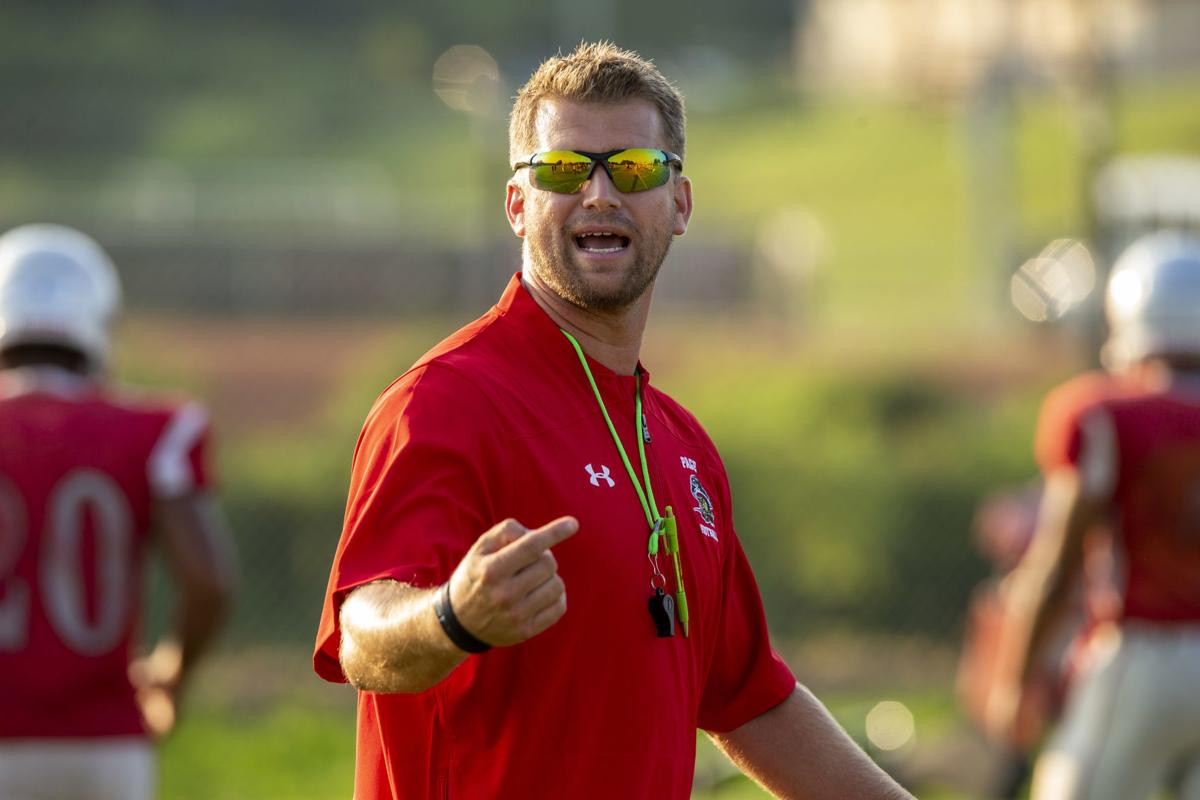 GREENSBORO — Jared Rolfes will not be back for a fourth season as Page's head football coach.
Page athletics director Matt Harder said in a text tonight that the high school's administration thanked "Coach Rolfes and his staff for everything they have done for our football program." Rolfes confirmed he will not be retained, but declined to discuss the circumstances of his departure. Harder and Page Principal Erik Naglee did not respond to requests for further comment.
In Rolfes' three seasons at Page, the Pirates went 20-17 overall and 1-3 in the NCHSAA playoffs, including a season-ending 27-15 defeat at Mooresville on Friday night in the first round in Class 4-A West. But their record was worse each year, going from 11-2 in 2017 to 6-6 in 2018 and 3-9 this year.
Before taking the Page job, Rolfes went 23-14 at Northwest Guilford, where his teams also were 1-3 in postseason play. Rolfes came to Guilford County as offensive coordinator at Northern Guilford for the 2013 season after five years as head coach at Celina (Ohio) HS.
"I've had a great experience at Page," Rolfes said tonight. "I've met so many quality families and kids. We had a lot of success when I was there."
It's been a tough 2019 for the Page football program. Sincere Davis, a senior running back on the 2018 Pirates team, was shot March 2 at the Pointe at Irving Park Apartments at 3100 N. Elm St. and died March 12. Greensboro Police said at the time that his death was being investigated as a homicide, but no one has been charged with the crime.
The Pirates dedicated their season to Davis with the #26Strong hashtag and a player wore Davis' No. 26 for each game through the early part of the season. That season began with a 28-27 loss at Davie County, and Page spiraled to a 1-6 non-conference record before going 2-2 and finishing third in the Metro 4-A to earn a playoff berth.
"Obviously, this year didn't go the way that we had hoped it would, but we had 16 sophomores on the varsity roster, and 11 of them either started or contributed on a really, really high level. That bodes well for the future, but not always for the present when you're injured and all that we went through in the last year. The kids have done everything we asked them to do."
In Harder's text, he wrote: "We think highly of Coach Rolfes and wish Coach Rolfes the best in his coaching career moving forward."
Rolfes plans to finish the school year teaching at Page unless another coaching opportunity presents itself before June.
"I don't know where I go from here yet," he said. "I'm a person of faith, so my wife and I will spend some time praying about what God calls us to do next. I definitely believe that at some point — whether it's immediately or in the future — that coaching will be a part of that. Without a level of arrogance, I've been successful wherever I've been. ... I'm thankful for the opportunity to be at Page for the time that I was."
Contact Joe Sirera at 336-373-7034, and follow @JoeSireraNR on Twitter.