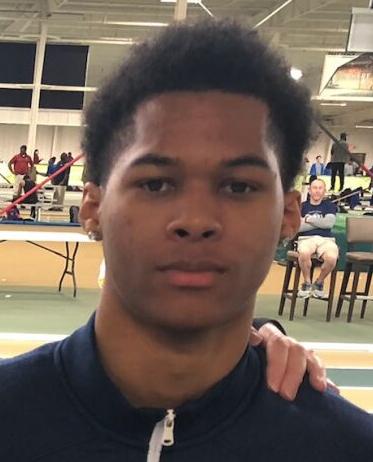 GREENSBORO — Jared Rolfes remembers Page's 41-16 victory over Charlotte Providence in the second round of the 2017 NCHSAA Class 4-AA football playoffs. He also remembers Naseem Alston's performance in that game: seven catches, 203 yards and two touchdowns.
The former Pirates coach remembers how Alston shared the team award for that game with current Virginia Tech linebacker Alan Tisdale and how Tisdale said the award should go to Alston. But what Rolfes remembers most vividly is Alston's "smile that day and how energetic he was. He was just an outstanding kid."
Alston, 20, died in a car crash Sunday afternoon in Mebane, leaving his former Page football and track coaches and teammates shaken but looking back fondly on the time they got to spend with him.
Javondre Paige, who was the starting quarterback on that '17 Page team, said Thursday that Alston was "always a light in every situation."
"It was just his presence and him being around," said Paige, who graduated in 2019 and is playing lacrosse and football at Catawba College in Salisbury. "He was always a people person. He always wanted to see those around him eat, no matter how it was. Whatever he could contribute to make someone the best version of them, he was always willing to help."
That started for Paige when he joined the Pirates football program as a freshman and Alston was a sophomore. They knew each other because Alston and Paige's older brother, Kiandre, were classmates at Mendenhall Middle School.
"I was able to jell with him so much because he, Nick Baker, Assad Alston, Nick Mackovic, Alan Tisdale … they all took me in and just helped me adjust and adapt," Paige said. "Naseem was one of the ones who helped me learn the playbook and was willing to stay after practice and get extra reps. He was always the one who wanted to help me get better each and every day and to block out the haters and the doubters."
The car crash that killed Alston began when the N.C. State Highway Patrol attempted to stop a Nissan being driven by James Jarmock Bethea, 20, of Greensboro at approximately 3:34 p.m. Sunday for a speeding violation on I-85 near Mile Marker 160 in Orange County, according to 1st Sgt. Christopher Knox of the State Highway Patrol.
"The driver of the passenger vehicle began eluding authorities, initiating a vehicle pursuit," according to Knox's synopsis. "During the course of the pursuit, the driver exited onto Mebane Oaks Road and ultimately traveled onto East Washington Street in Mebane. The driver of the Nissan lost control on East Washington Street traveling off the roadway striking a ditch culvert and then caught fire. As a result of the collision, a passenger in the involved vehicle was pronounced deceased at the scene and the driver later died at UNC Hospital."
The passenger was identified as Naseem Alanis Alston, who was living in Whitsett. "The State Highway Patrol is investigating the collision," Knox wrote in an email. "No further details are available at this time."
"So sad," Matt Harder, Page's athletics director, said in a text message. "He was a great kid."
"He had a very pleasant personality," said David Blue, the longtime Northeast Guilford track and field head coach and Pirates assistant, whose daughter Liana was Page's head coach when Alston ran hurdles. "Even when we had to get on him, he knew we cared about him and he still respected us."
Alston graduated from Page in 2018 and was an honorable-mention HSXtra.com All-Area selection in football as a senior after catching 37 passes for 542 yards and five touchdowns for a Pirates team that finished 11-2. He also competed in track and field as a hurdler and went on to run for Louisburg College, although he was not enrolled at the two-year school for the second semester after previously attending Coffeyville (Kan.) Community College and GTCC.
"He had a really good season for us, especially as the year went on," said Rolfes, who is now an assistant coach at Oak Grove. "He was a kid who in track and football really worked at his craft a lot. I always respected that."
Alston first ran track as a freshman at Page.
"With the freshmen, we try to figure out where they belong, especially if they didn't run in middle school," said Blue, who has returned to Northeast Guilford. "He really took to the hurdles right away. But he was open to trying whatever we asked him to do."
Now, everyone who knew Alston must carry on without him. Paige said he and some of his teammates on those Pirates football teams have reached out to each other since they learned of Alston's death.
"We have to keep honoring him and his name and continue to be great as if he was still here," Paige said.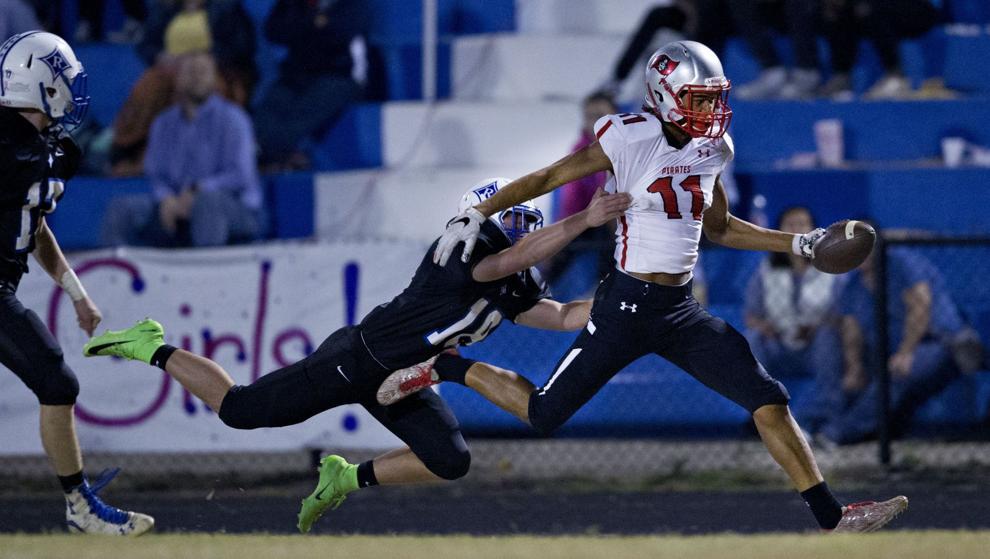 Contact Joe Sirera at 336-373-7034, and follow @JoeSireraSports on Twitter.