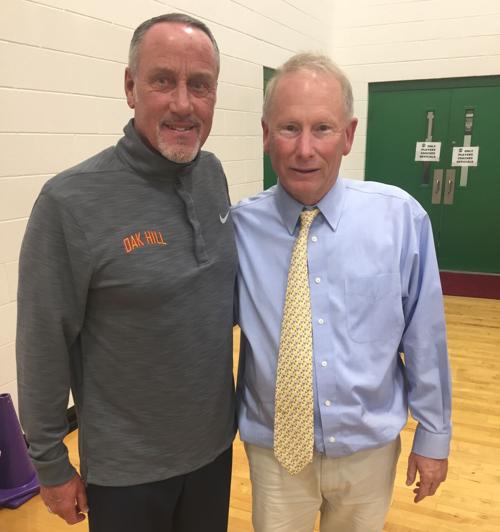 For Freddy Johnson and Steve Smith, it isn't about their 2,309 victories. Or Johnson's 11 state titles at Greensboro Day School. Or Smith's nine national championships at Oak Hill Academy.
For all the historic numbers and accolades both men have amassed in more than 82 combined years as high school basketball coaches, it's about the players they've coached.
"One thing you can always see with his teams is his players know he cares about them," Johnson says of Smith's program. "They always talk so highly of him as a person, not just as a coach."
Smith sees the same thing when he looks at what Johnson has built.
"Greensboro Day is a big family to him, just like Oak Hill is family to me," Smith says.
In a way that makes their teams' matchup Saturday evening in what is being billed as the GOATs Classic in Matthews a family reunion, even though the two coaches and their teams have met only five times. The lack of head-to-head matchups doesn't mean Johnson and Smith haven't gotten to know each other very well since their teams first played against each other in January 1984, Smith's first season at Oak Hill.
"I've been so fortunate to have a friend like him, someone you can call and ask questions," says Johnson, 67. "He'll always give you his honest advice, and he will take time to call you back."
"We'll DM and stuff like that all the time, and probably talk in person a couple of times a year," says Smith, 66. "We seem to have gotten closer the last 10 years, probably because we're getting older. We're the old guys still coaching. I think he respects what I've done, and I really respect what he's done."
Rick Lewis, the founder and editor of Statesville-based Phenom Hoops Report, started putting together the GOATs Classic last year. His respect for both coaches runs deep.
Lewis thinks so much of Smith that he let his son Tyler play for him at Oak Hill before going on to N.C. State and Butler, while Lewis refers to Johnson as "the Dean Smith of high school basketball."
Both men rank among the 10 winningest boys high school basketball coaches of all time, with Smith (1,204) at No. 3 and Johnson (1,105) at No. 8 heading into the weekend.
"Coaches jump around now, whether it's their choice or the choice of the administration at the school," Smith says. "It's hard to stay at one place as long as Freddy and I have."
'I'm glad I stayed'
Steve Smith began coaching at Oak Hill, a Baptist boarding school in rural Mouth of Wilson, Va., in 1983. He lived in a house on campus across a parking lot about 50 feet from the Warriors' gym for 20 years. The teachers and staff ate three meals a day with the students in the cafeteria.
"Players would come over at night, hang out, watch TV and play with my kids when they were growing up," says Smith, whose son and daughter are now in their late 30s. "It was a neat place to raise a family."
Smith and his wife, Lisa, moved off campus in 2004 and built a log home about 5 miles away, but their life is still centered at Oak Hill.
"We're a school first," says Smith, a native of Wilmore, Ky. "We've been here since 1878. We were a school before basketball was invented, and that makes us a little different from some of these popup places that are out there now."
In his time at Oak Hill, Smith has coached more than 100 Division I players and 29 NBA draftees, including Carmelo Anthony, Rajon Rondo and Jerry Stackhouse. He's had plenty of opportunities to leave for jobs at higher-profile schools or colleges.
"I'm glad I stayed," he says. "Our basketball program is a fraternity. We have guys who've played here through the years where I've coached their sons now because they've sent their kids to Oak Hill. I've gone to their weddings. I've enjoyed that part of it as much as the coaching part."
Smith wonders about the future of a high school game where elite players rarely spend four years in the same program, which is one of the reasons his Warriors have joined the National Interscholastic Basketball Conference, a league with seven other like-minded schools whose 38 conference games this season will be televised by ESPN's networks.
"Part of the reason we got into this league was they put in rules and guidelines where kids can't transfer during the season," Smith says. "High school's turned into almost like AAU. I don't want to say that it's good or bad, it's just different."
One thing that hasn't changed is the reason Smith got into coaching and stays in the game.
"I enjoy coaching high school kids," he says. "I enjoy not just being their coach but having an effect on their lives when they're teenagers, having a relationship with them. … I'm sure it's the same with Freddy. If you go coach in college it's totally different. It's more of a job. You have a relationship with your players, but not like what we have."
'We are really close'
What Freddy Johnson has at Greensboro Day is a high school basketball program where "we are really close … and we really, really care about each other."
"The word 'love' is something we use all the time with each other," Johnson says before name-checking a couple of Bengals who are playing for Power Five schools. "If I talk to (Cincinnati's) John Newman, it's 'Coach, I love you.' It's not, 'Love ya, bye.' (Virginia's) Carson McCorkle came in the other day and told me he loved me."
That has been a constant since Johnson took over the program in 1977, but he has adapted in other ways. Whether it's the Bengals' shift from primarily zone defenses to man-to-man over the years or welcoming transfers from other parts of North Carolina, "If you don't change with the times, it's time to get out," he says. "The biggest thing you have to be able to do is relate to your current players and change for them."
Johnson has had his share of talented players, but he hasn't had the future NBA talent that Smith has coached at Oak Hill. That doesn't matter to the Grimsley High School and Greensboro College alumnus.
"I had to do a speech during the summer at Greensboro College and I asked Cason Pierce and John Newman and Justin Gainey what it was like," Johnson says, referencing a couple of other former players. "They talked about the values we have as a family, how you can count on each person. They knew they could count on the coaches and the coaches could count on them. That's from Justin back in the '90s to Cason and John now. … It is a family and we are a family."
He sees those same traits in the Oak Hill program, and it's because of the Warriors' leader, Smith.
"He's just first-class, and I think so much of him," Johnson says.
'A win-win for us'
If Johnson and Smith have so much respect for each other, why haven't their teams played each other more than five times in 38 years?
"We just have so much respect and just like each other, it's really not that much fun to play each other," Johnson says.
Smith adds, "The reason we've played just a few times is Freddy wasn't going to drive up here and play in the (Blue Ridge) mountains, and I knew if I drove down there it was going to be a tough game."
The toughest trip to Greensboro for Oak Hill and Smith was in 1993, when a Bengals team that included future North Carolina player and Pitt assistant coach Jason Capel as an eighth-grader pushed the visitors to the limit before falling 66-62. The Warriors' average winning margin in the other four games was 28.8 points, but that was a reflection of Oak Hill's talent.
"The great thing about Steve is that he might beat you," Johnson says, "but he's never going to run up the score or anything."
The difference in talent between this year's Greensboro Day and Oak Hill teams is not insignificant, with three Warriors ranked among ESPN's top 100 recruits in the Class of 2022 and one, Duke recruit Caleb Foster, ranked among the top 15 in the class of 2023. But playing against Smith and Oak Hill is "a win-win for us," Johnson says.
"He's got one of the top programs in the country," Johnson says, "and we'll see what we need to work on."
Contact Joe Sirera at 336-373-7034, and follow @JoeSireraSports on Twitter.