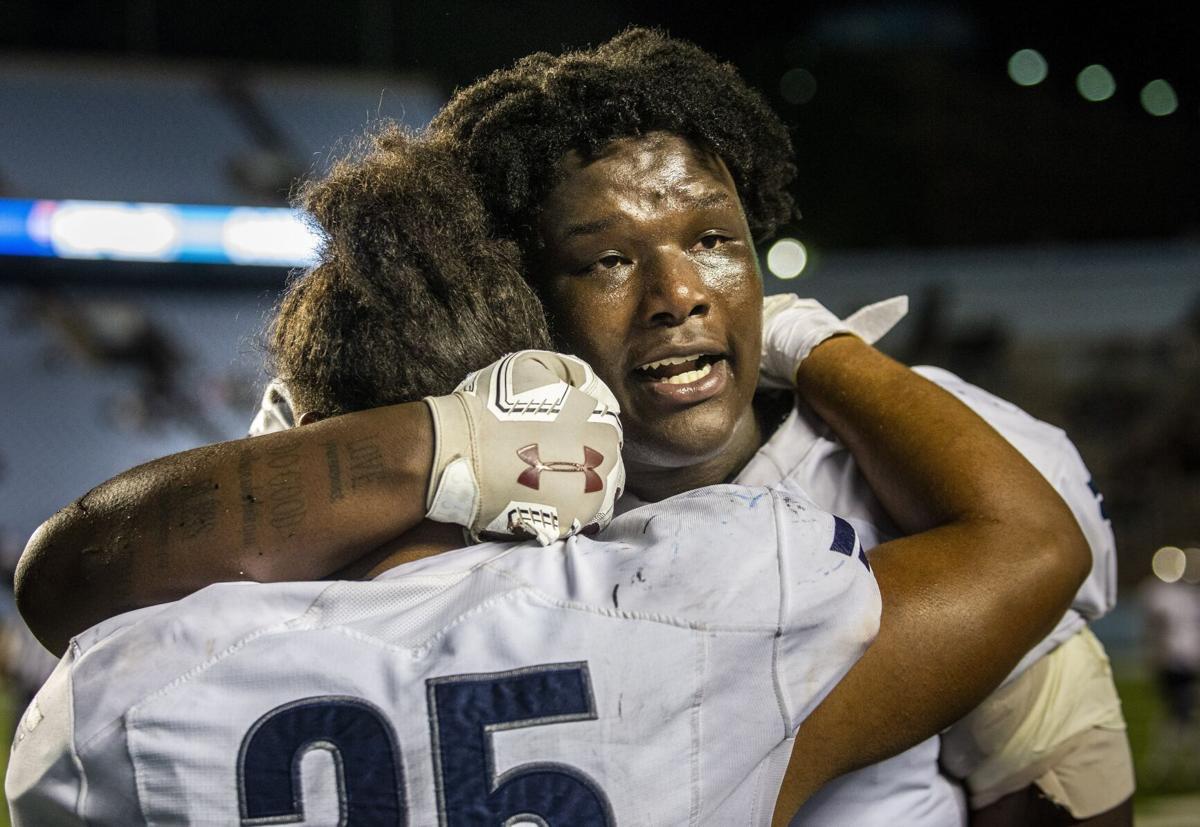 GREENSBORO — There really was never any doubt that Travis Shaw would play football this season for Grimsley.
Not when he attacked rehab from surgery on his left shoulder. Not when he was at every Whirlies game and nearly every practice, providing vocal support and coaching to his teammates. And certainly not when he received medical clearance Wednesday to return to the field.
"None," Shaw said. "Not at all."
The Grimsley defensive lineman made it official on social media Monday afternoon that he will play his first game of the season Friday night. The opponent? Page, of course.
"It was not necessarily who we were playing," Shaw said of his return, "but I haven't missed a Page-Grimsley game my whole time here. I just felt like returning was not just the biggest game because of who we were playing, but because it was the next game. They're a good team with some good pieces, but from here on out every game is the biggest game."
Shaw, a 6-foot-6, 325-pound defensive tackle, suffered a torn labrum during the Whirlies' NCHSAA Class 4-A championship game victory over Raleigh Cardinal Gibbons on May 7. He had surgery June 1 and had been rehabbing the injury and awaiting medical clearance to return to the field for Grimsley.
"At the beginning, it was kind of challenging because it was a big setback," Shaw said Monday. "I had three different dates when I was looking to be cleared. Those dates came and I still wasn't cleared. As a student-athlete, I was like, man, I'm leaving early in January and I want to get on the field again before I leave."
He'll get that opportunity when his Whirlies (5-0 Metro 4-A, 8-0 overall) face Page (4-1, 4-4) at Jamieson Stadium. It's been a long journey from June to today.
"Physical therapy was a big mental jump," Shaw said. "You look to your left and you look to your right and you see people struggling, people really going through it. Being as healthy as I am, being as young as I am and being able to take on physical therapy … some of the elderly people working hard around me gave me motivation to finish, to get it done."
Whirlies coach Darryl Brown is certainly glad Shaw got it done.
"It's great to have him back, but he's been a great leader for us all year regardless," Brown said. "He's a great locker-room guy. He's been great on the sideline for our guys. To throw him back in the mix with the guys we already have out there is huge.
"What it does more than anything defensively is it solidifies everybody in their right spots. We've had to move some guys because of him being out."
How much will Shaw play Friday night against Page?
"We're going to get a feel for him this week in practice and what he's able to do," Brown said. "As far as snaps go, it's going to be up to him if he needs to get off the field. We trust him."
Shaw was cleared to return to the field Wednesday, and "when I got the news I immediately called Coach Rigs (defensive coordinator Joe Rigsbee). I told him the Dark Side is back. We're fully back and loaded. He about lost it, 'Let's go! Let's go!' "
Then Shaw called a couple of teammates to tell them he would be at practice.
"I told them it's time to finish this season out the way we want to finish," Shaw said. "I just couldn't wait to get back out there with my brothers."
Is he concerned about potentially re-injuring the shoulder?
"My whole point now is that I believe in those guys at Emerge Ortho," Shaw said of the physical therapists who worked with him. "We did lots of little bits and pieces, in range and out range of motion. My guy Matt (Sadlik) at Emerge Ortho, I have to give a really big shoutout to him, and all the other folks over there who worked with me."
One reason some doubted Shaw would play another high school football game was his status as a top-10 national recruit. Would the coaches at North Carolina, where he committed in August, support his decision to play this fall?
"Carolina's whole thing about it was, of course they were trying to make sure I was safe," Shaw said. "But Coach Mack Brown, when we were talking about and I was saying I wanted to come back but I wanted to hear their point of view, his thing was, 'If you're a quitter, we don't want you.' "