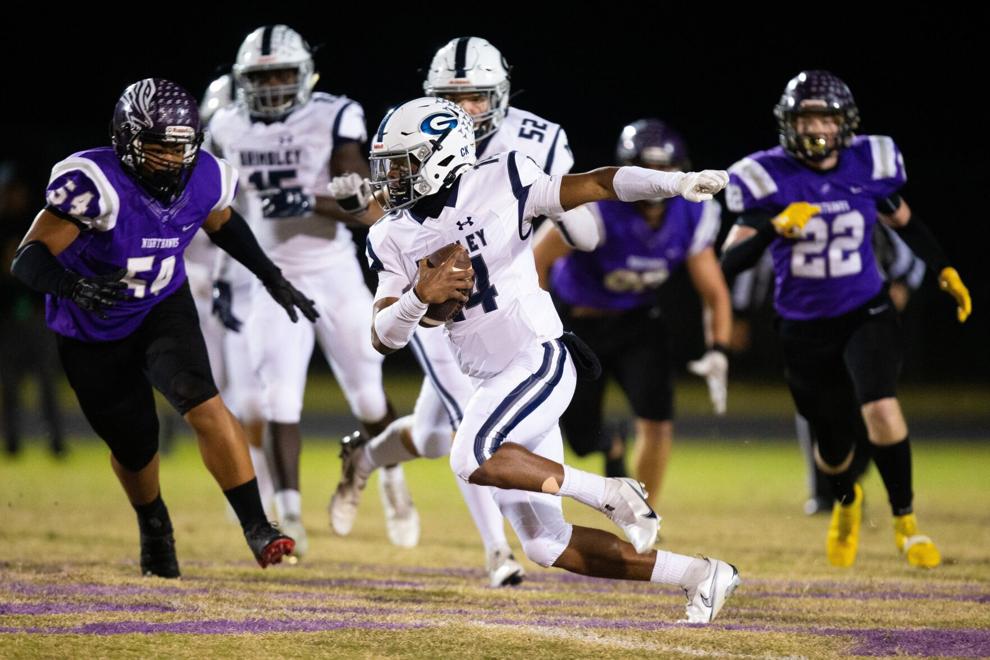 GREENSBORO — When two unbeaten high school football teams get together to decide a conference championship in the final game of the regular season, the game doesn't always live up to the hype.
Grimsley at Northern Guilford on Friday night was as good as advertised. The visitors put together a 16-play drive to kill off the final 7:35 of the game and held on for a 42-36 victory that gave the Whirlies the Metro 4-A title and extended their winning streak to 20 games.
"This is how it's supposed to be," said coach Darryl Brown, who guided Grimsley to the NCHSAA Class 4-A championship in the spring. "We told our guys all week, on the sideline and at halftime: This is how it's supposed to be to win a championship. It's supposed to be hard. You're supposed to make hard, tough plays. You don't want it to be easy."
It wasn't easy for the Whirlies, as Northern Guilford rallied from a 19-point deficit to trail by six after Manny Elliott caught a 4-yard touchdown pass on fourth down with 7:35 to play.
With Grimsley needing to score or at least run out the clock to secure the victory, the Whirlies knew who had to have the football in their hands: quarterback Alonza Barnett and running back Jeiel Melton. Thirteen of the game's final 16 plays were runs by the two seniors and the other three were passes by Barnett – one of them to Melton to pick up a key third down.
"He and Jeiel on the last drive it was just big run after big run, then a big throw to Tyson (Resper) for a first down," Brown said of Barnett.
Barnett, a James Madison commit, completed 20 of 31 passes for 292 yards and three touchdowns and ran for 113 yards and two scores. Melton rushed for 159 yards and a touchdown and also caught a TD pass.
Barnett was not sacked by a Northern Guilford defense that has made life miserable for quarterbacks all season. When the Nighthawks applied pressure from the outside, he ran up the middle for first downs. When Barnett was chased toward a sideline, he either ran for positive yardage or kept his head up and completed a pass downfield. Both coaches agreed his playmaking was a key for the Whirlies.
"Their quarterback is special and he makes them go," Northern coach Erik Westberg said. "He's that good."
"He's just a winner," Brown said of Barnett. "He doesn't get rattled. He stays poised and he's going to make plays we need at critical times. … I told Alonza after the game that it was the best football game he's played at Grimsley High School."
Grimsley's young offensive line also had a strong night, allowing the Whirlies to rush for 294 yards. "I'm really, really proud of those guys," Brown said.
After failing to make the playoffs in a 5-2 spring season, Northern Guilford also had a lot to be proud of Friday night.
Junior quarterback Jack Mercer threw for 170 yards and two touchdowns and ran for 153 yards and a score, and senior running back Jordan McInnis had 127 yards of total offense and returned a kickoff for a TD.
The Nighthawks were held to 27 yards of offense in the second quarter as Grimsley went up 35-19, but "we weren't panicking at halftime," Westberg said. "The goal was to get back to the running game with Jordan and Jack and throwing the ball when we could."
That strategy nearly brought Northern all the way back, but they "just ran out of time against a very good football team," Westberg said.
When it was over, the teams met at midfield for handshakes and hugs that were more than the usual postgame exchange.
"Both teams made big-time plays at big-time moments, and you could see the respect from both teams after the game was over," Brown said. "That's what high school sports is all about."
Now both teams head to the NCHSAA Class 4-A playoffs. Grimsley (7-0 Metro 4-A, 10-0 overall) should be a top-four seed in the West Region and open at home Friday, Nov. 5. Northern (6-1, 9-1) also is an automatic qualifier as the conference runner-up and figures to be home for a first-round playoff game.
Stars
Grimsley — QB Alonza Barnett 20-of-31, 292 yards, 3 TDs passing, 18 rushes, 113 yards, 2 TDs; RB Jeiel Melton 31 carries, 159 yards, TD, 3 catches, 62 yards, TD; WR Alex Taylor 9 catches, 108 yards, TD; WR Terrell Anderson 4 catches, 93 yards, TD.
Northern Guilford — QB Jack Mercer 19-of-31, 170 yards, 2 TDs passing, 14 rushes, 153 yards, TD; RB Jordan McInnis 13 carries, 64 yards, 6 catches, 63 yards, kickoff-return TD; DB Diomante Dorner INT.
What they said
"Like a lot of games we've had we had to get into the flow a little bit and get a feel for what was going on. We did that in the second quarter and played really well defensively. That allowed us to push the lead out. It was huge that quarter to get a couple of stops." – Darryl Brown, Grimsley coach
"We are a good football team, and hopefully we'll get a home playoff game and we'll be ready to go next week." – Erik Westberg, Northern Guilford coach
Records
Grimsley: 7-0 Metro 4-A, 10-0 overall.
Northern Guilford: 6-1 Metro 4-A, 9-1 overall.
Scoring summary
Grimsley ;7 ;28 ;7 ;0 ;— ;42
Northern Guilford 9 ;7 ;14 ;6 ;— ;36
Gr – Alex Taylor 20 pass from Alonza Barnett (Colin Prago kick), 1st, 9:35
NG – Jack Mercer 6 run (kick blocked), 1st, 7:32
NG – FG Grant McNeill 37, 1st, 3:50
Gr – Terrell Anderson 29 pass from Barnett (Prago kick), 2nd, 10:42
Gr – Jeiel Melton 1 run (Prago kick), 2nd, 6:38
NG – Jordan McInnis 75 kickoff return (McNeill kick), 2nd, 6:22
Gr – Barnett 13 run (Prago kick), 2nd, 3:00
Gr – Barnett 2 run (Prago kick), 2nd, 10.5
NG – McInnis 1 run (McNeill kick), 3rd, 9:15
Gr – Melton 30 pass from Barnett (Prago kick), 3rd, 5:44