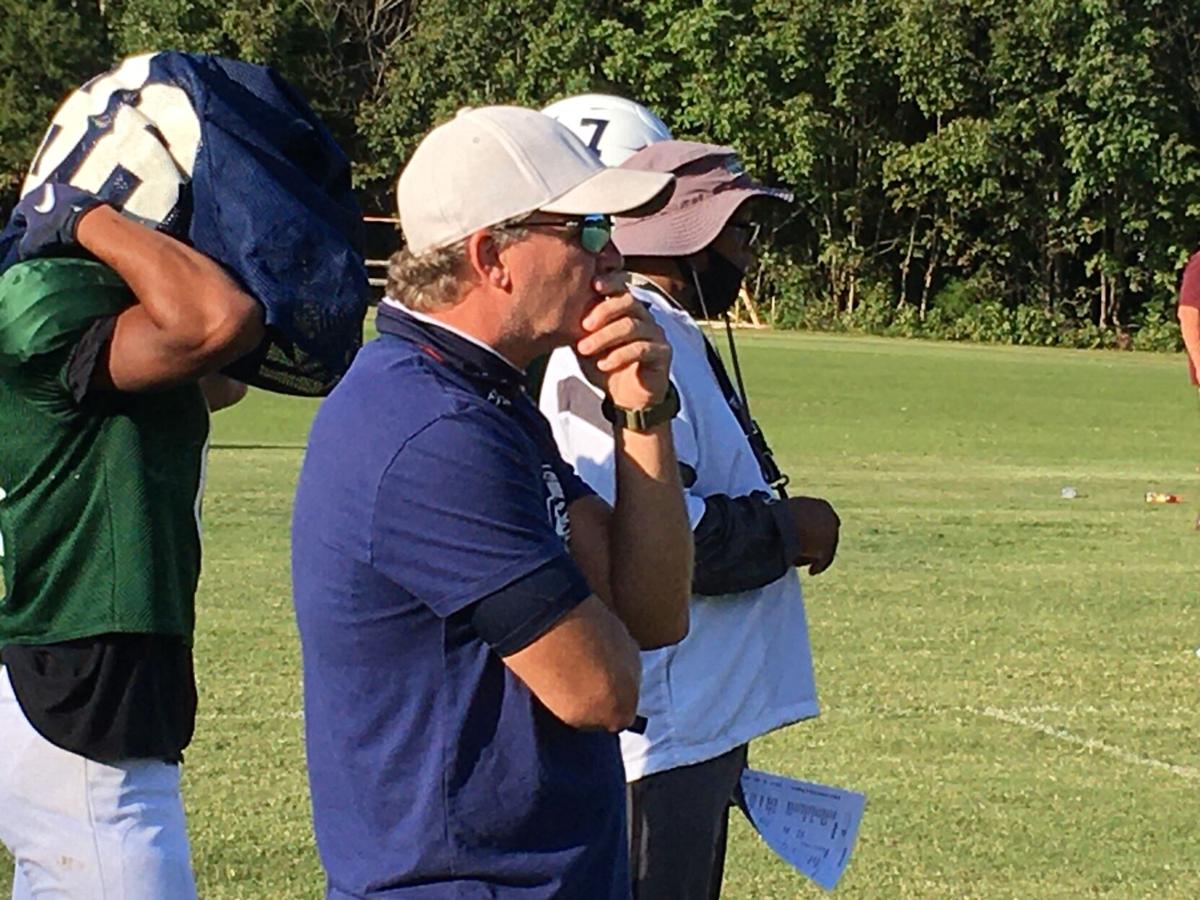 HIGH POINT — Plenty of safety protocols will be in place when the high school football season kicks off Thursday night in the Triad. But there won't be any fans in the stands.
High Point Christian will face Metrolina Christian without spectators as both teams adhere to the N.C. Independent Schools Athletic Association's guidelines for sports amidst the COVID-19 pandemic. Not even the players' parents can be in the stands at the High Point Athletic Complex.
But the players are grateful just to have the opportunity to do what they love under the lights after high school athletics were shut down in mid-March.
"It's going to be a little bit different," said High Point Christian senior quarterback Luke Homol, "but we're going there for one reason and that's to come out with a win in Week One. We can't worry about that."
Fellow senior Phil Couillard will have a couple of familiar faces to look at during the game. His older brother Andrew, a former HSXtra.com All-Area offensive lineman, is a High Point Christian assistant coach, and their father, John, will be part of the chain gang.
"It's going to be tough not having my grandparents and my extended family there," the Cougars offensive tackle said. "They kind of cheer me on, get me going, and my friends, too. They're not going to be able to come and will have to watch the livestream."
Before that livestream goes live, High Point Christian athletics director Corey Gesell and his staff will have prepared the facility for two football teams with approximately 70 players, two coaching staffs, clock operators, a public-address announcer and a full crew of officials.
The teams and the officials will go to the stadium dressed, as the locker rooms will be closed. They will be able to use restrooms, but those must be sanitized afterward. Pregame and halftime pep talks will be on the field, with the teams and officials socially distanced.
The footballs and other equipment must be sanitized whenever play allows, and certified athletics trainers and medical staff have to take more precautions than usual to limit any potential spread of the coronavirus. In a sport with heavy physical contact on every play it won't be easy, but Gesell is confident it can be done.
"We're fine. We're excited," Gesell said. "My trainer (Morgen Wade) and I, along with our administration, have been reviewing things since we got our schedule that said we had a home game for the first game. We feel like we've got things lined up for everybody to be safe, everybody to be screened. We're just taking things slowly."
High Point Christian and Metrolina Christian have had in-person instruction since the school year started. High Point Christian checks its players' temperatures and screens them every day before practice or games. Metrolina Christian will screen its players and staff and administer temperature checks before they board the buses for the 95-mile ride to High Point, so they won't have to be checked when they arrive.
"I've talked with their athletics director (Ronnie Plyler) and we're both checking on some things to make sure our bases are covered and everybody's doing things appropriately," Gesell said.
Gesell just wishes that the families of players on both teams could be in the stands to watch. The NCISAA has plans to allow at least the home team's families for athletics contests starting in October, but that won't make it any easier Thursday night.
"If I was a parent and my son was playing football, it would break my heart not to be able to be there," Gesell said. "Football is a little bit different than tennis or cross country. It's a physical sport and on any given play somebody could get hurt, and that's somebody's son. I know that's the first thing that crosses parents' minds, the injury factor. … Those are tough conversations, no question about it, but our parents are handling it about as well as could be expected."
Contact Joe Sirera at 336-373-7034, and follow @JoeSireraNR on Twitter.
Get in the game with our Prep Sports Newsletter
Sent weekly directly to your inbox!