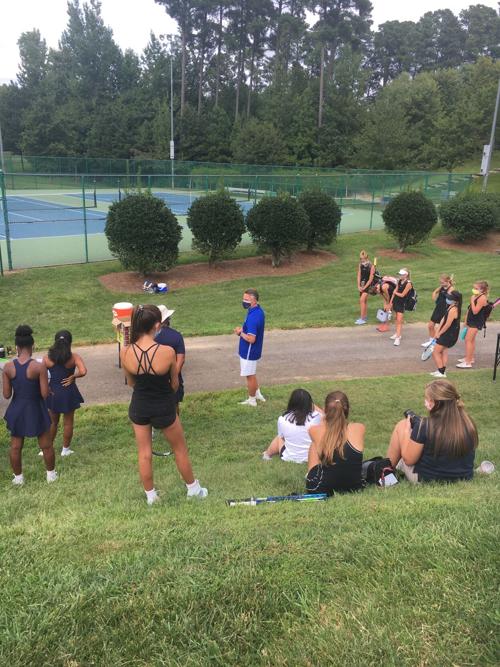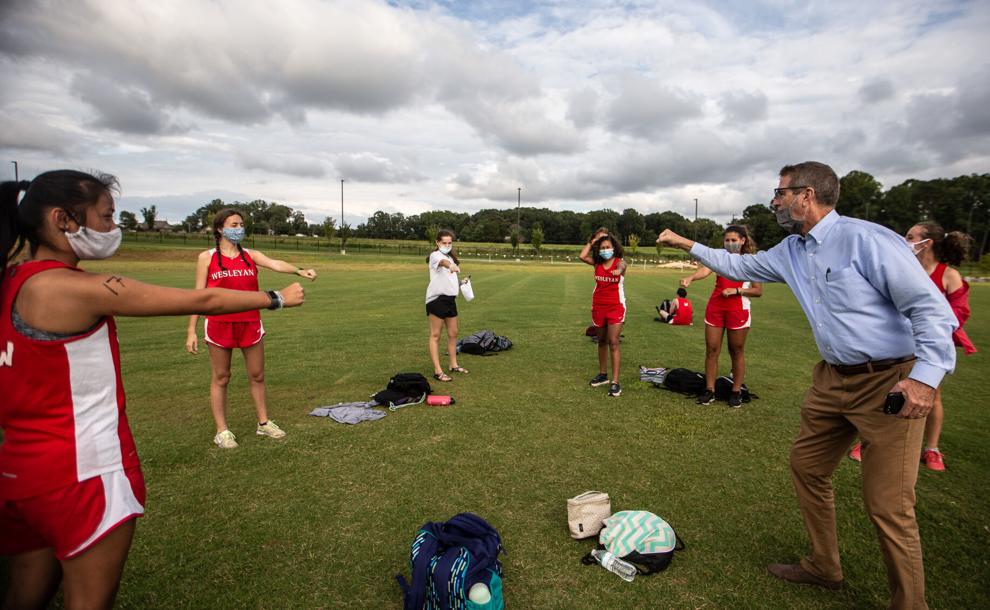 After winning a big point during their tennis doubles match against Caldwell, Forsyth Country Day's Erika Choopani and Mary Brooks Hall exchanged high-fives, elbow bumps and shoe taps, a moment of choreography and joy.
Immediately, their heads snapped toward each other, eyebrows raised.
Once Choopani and Hall realized they had violated coronavirus safety protocols, they apologized to their opponents and looked toward coach Harold Moore to make sure they weren't in trouble.
They weren't. But they knew how important everything they did was as high school teams in North Carolina return to competition.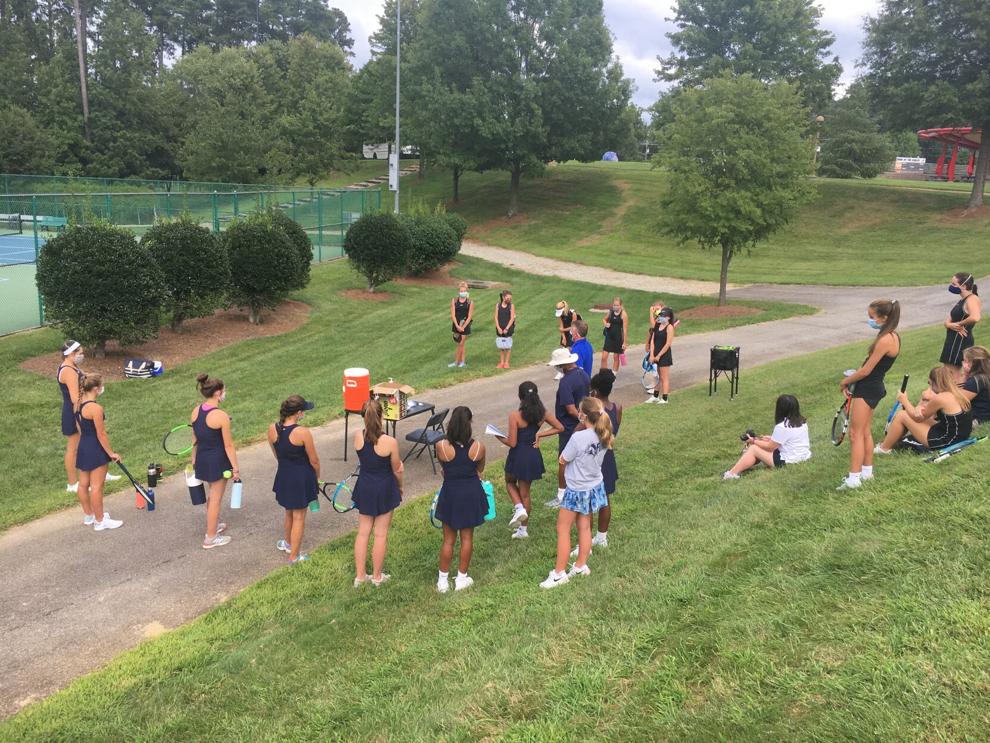 The Caldwell and Forsyth Country Day girls tennis teams were among the first to play Tuesday as the N.C. Independent Schools Athletic Association allowed its schools to compete in sports deemed "low risk" for the first time since March 13. The teams met at AHA International School in Greensboro, where the only people allowed near the courts were the players and coaches.
Both squads did their best to follow all of the safety protocols put in place by the NCISAA and their schools. But these are teenagers and sometimes emotion still rules, as it did during the Forsyth Country Day doubles team's informal audition for "Riverdance."
It was just a blip on a day when it was clear from the time the players arrived at the courts by bus or car that competing during a pandemic would be different. While high school tennis isn't typically a sport that attracts many fans, players' parents were forced to watch the matches as best they could from a parking lot above the six courts because of social-distancing guidelines.
Both teams wore masks and spread out on the paved path around the courts. As Caldwell coach Dr. Fred Ortmann announced the matchups for singles, the players for each team could only nod to each other before toting their bags to a court.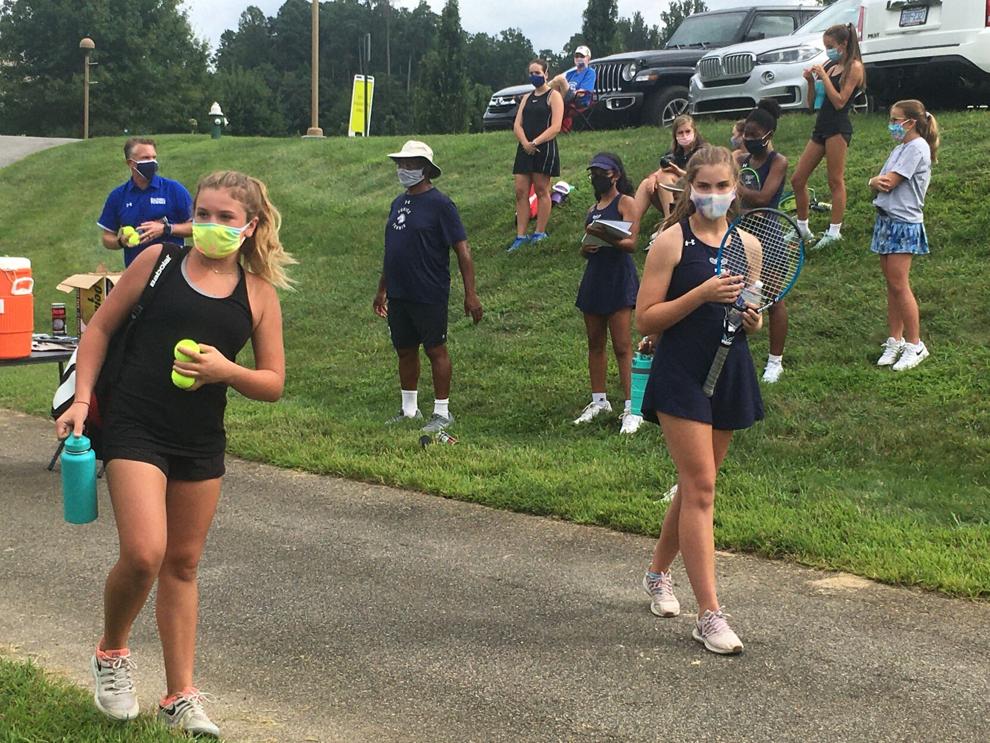 Ortmann's daughter Rollins said the biggest adjustment Tuesday was "not being able to shake my opponent's hand, especially when they're calling out lineups, and not being able to give high-fives."
Once they were on the courts, the players tried to limit the handling of tennis balls as they took off their masks, warmed up and played their six singles matches and three doubles matches. The tennis looked the same for much of the afternoon, but in doubles, where teammates typically huddle between points and often celebrate with high-fives and other forms of physical contact, players had to get used to the new normal and sometimes found it difficult.
"It's pretty weird," said Forsyth Country Day junior Brynna Myers, the Furies' captain. "Playing doubles, if a teammate is down and they're in their head a high-five or some encouraging words really helps them."
One thing both coaches have found particularly challenging is that they can't bring all of their players to matches. Instead of 15 or more players coming to the courts, they are limited to 10. Moore said the players also miss the vocal presence of their parents at matches.
As play continued Tuesday, Fred Ortmann found himself doing more than just coaching Caldwell's players. He also live-streamed a few minutes of each Eagles match to players' families via his cellphone and refilled each player's water bottle from a cooler that only he handled to limit contact.
"I'm coach and waterboy," Ortmann said. But he is more than that for Caldwell. As an orthopedic surgeon with EmergeOrtho in Greensboro, Ortmann has seen the pandemic through the eyes of a health-care provider as well as a parent. His daughters, junior Rollins and freshman Isley, play for the Eagles.
"The more that we can reinforce how important it is for health awareness to take care of yourself and do things safely and responsibly," he said, "that's something I try to get out to these ladies throughout the entire season."
That's a message the cross country coaches at Wesleyan and Westchester are also trying to get out to their teams. Wesleyan's athletics director, Elijah Denton, and his staff had a lot of work to do at their athletics complex off Sandy Ridge Road in Colfax before the Trojans' middle schoolers and varsity competed against Westchester on Wednesday, but it was worth it.
They had to set up and sanitize the 5K course and put a plan in place to manage both teams and their transportation before the masked Wesleyan middle schoolers began streaming off the school bus that brought them from High Point. The youngest runners walked one by one across the parking lot, before assembling on the grass near the start/finish line to loosen up and socialize. Westchester's runners arrived by car, parents waiting and watching from the parking lot as the Caldwell girls tennis parents had a day earlier.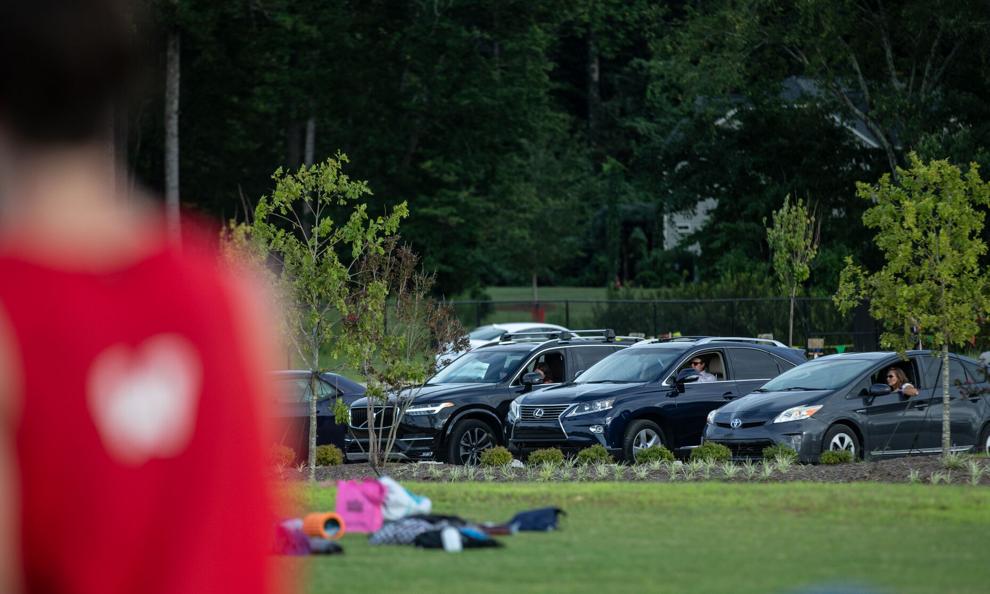 Runners generally wore their masks until they approached the starting line, and coaches remained masked throughout. The races went off smoothly, and the cool, breezy weather that caused the streamers lining the course to snap in the wind made it that much easier to warm up and cool down with a piece of fabric over their nose and mouth.
"It's worth it to be able to have a season," said Wesleyan senior Eden Reitnour, whose father, Scott, coaches the Trojans' powerhouse boys soccer program. "It is a little bit nerve-wracking, but there are only a few main things you have to do. Keeping track of those isn't too much."
Coaches and athletes for all of the teams were aware that, as the first high school teams competing in sanctioned competition in the Triad since March, they were under a microscope.
"We're the trailblazers for the school," said Forsyth Country Day's Moore. "With our school, all of our teams have taken on the responsibility of doing things as well as possible in terms of the kids social distancing and the school sanitizing and doing all those things. My girls just feel like we've done everything that we can and we're going to play."
There is definitely some pressure in going first.
"I don't know if the girls are feeling that, but I'm definitely feeling it," Fred Ortmann said. "I definitely knew that we were going to be one of the first sporting events in the Triad. … My phone call right before I came out here was to the North Carolina Tennis Association. I was double-checking to make sure there wasn't anything I was missing about the handling of tennis balls."
All of the teams handled their first competitive events well. It helped that students at Caldwell, Forsyth Country Day, Wesleyan and Westchester are in classrooms for instruction.
"We've gotten used to it with school," Rollins Ortmann said, "having to wear masks in the classroom and in the hallways.
"It went really well, went smoothly," she added. "We didn't have any issues with anyone not wearing a mask. It was a lot of fun after all the practice to finally have the matches we've been preparing for."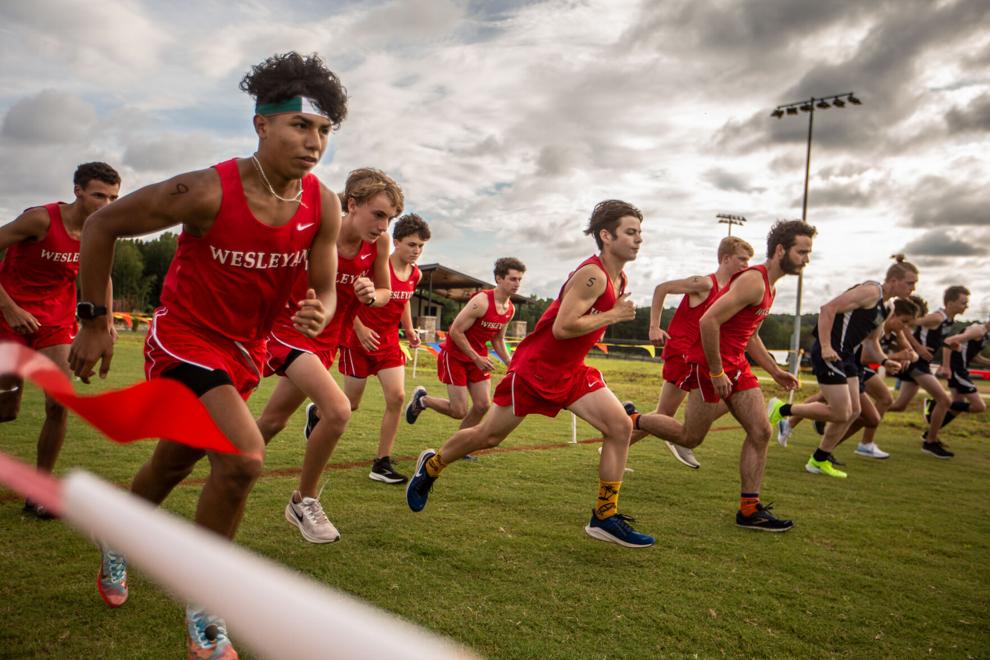 Contact Joe Sirera at 336-373-7034, and follow @JoeSireraNR on Twitter.