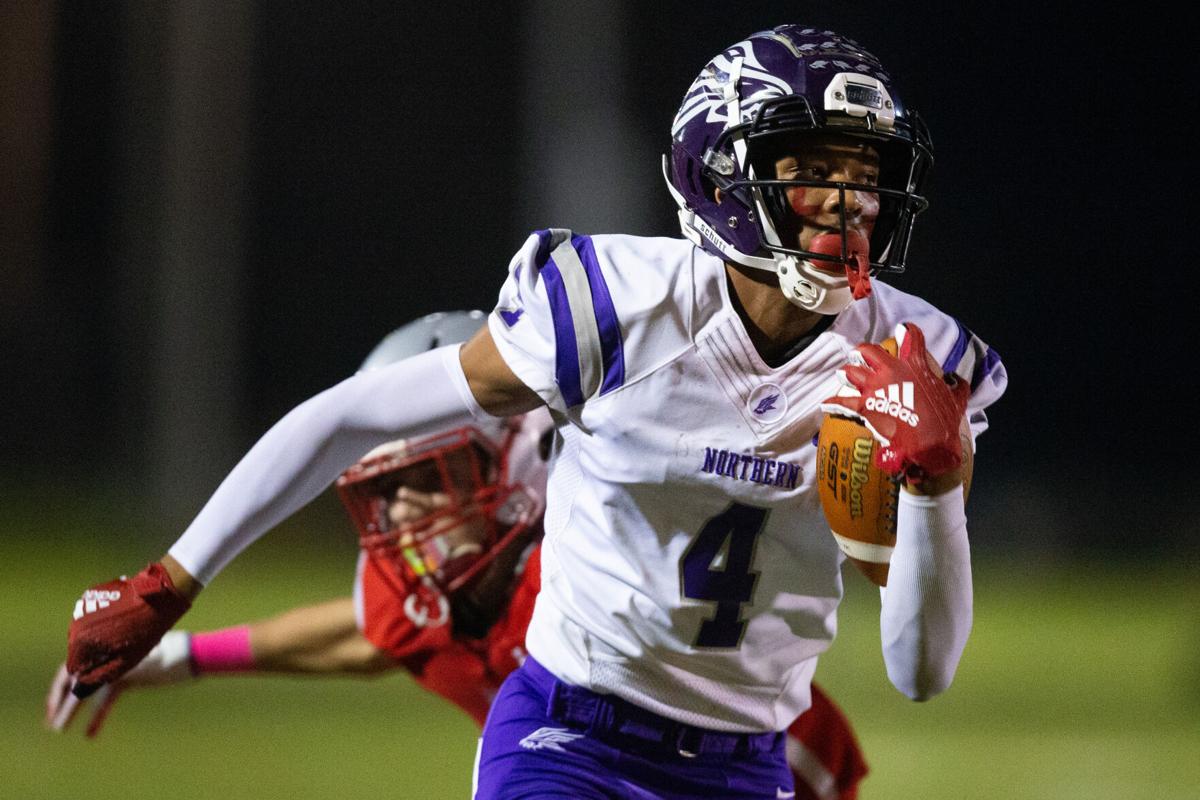 GREENSBORO — When one football team is there and one is trying to get there, sometimes the difference is one play.
Northern Guilford made that play Friday night to stay unbeaten. Page made a lot of plays, but couldn't make the one that decided the game.
Jack Mercer connected with Terrell Timmons on a 15-yard touchdown pass with 6.9 seconds left to give the Nighthawks a wild 48-41 Metro 4-A Conference victory at Marion Kirby Stadium.
Page (4-1 Metro 4-A, 4-4 overall) had tied the score just 40.1 seconds earlier when Trevon Hester ran 5 yards for a touchdown and bulled his way in for a two-point conversion. But Northern (5-0, 8-0) went 80 yards in five plays, utilizing its timeouts strategically.
It was the kind of ending that eluded the Nighthawks during the spring season, when their only two losses came down to the last play of the game and they missed the playoffs.
The first play of the winning drive Friday night was a 40-yard catch and run by Manny Elliott on a sublime inside screen pass.
"Manny Elliott there with a screen that was beautifully set up and he made a great run," Northern coach Erik Westberg said. "Jack made a good throw and we blocked it perfectly, the way we need to block it. That's experience."
A 3-yard run by Mercer, a 5-yard pass from Mercer to Jordan McInnis and a 7-yard run by McInnis left the ball at the Page 15 with 11.6 seconds left in the fourth quarter. Westberg called his final timeout and considered having Grant McNeill attempt a 32-yard field goal.
"We took our last timeout and we were going to take one shot and kick a field goal if we didn't hit that shot," Westberg said.
But the Nighthawks hit the shot, as Mercer found Timmons in the right-front corner of the end zone and the N.C. State-bound wideout beat a Page defender to come down with the pass.
"It went right through D.J. Southerland's hands," Page coach Doug Robertson said of his outstanding sophomore cornerback.
The game nearly slipped through Northern Guilford's hands, even after the Nighthawks took a 27-0 lead late in the second quarter.
Page's comeback began with a 19-yard touchdown pass from Nick Williamson to freshman Jerron Blackwell with 17.9 seconds to go in the second quarter. The Pirates cut into the lead further when they took the second-half kickoff and went 58 yards in two plays, the second a 55-yard TD pass from Williamson to Davontay Deloatch streaking down the right sideline.
A malady that has plagued Northern at times during its 8-0 start then became acute. A Nighthawks team that has often squandered offensive momentum with ill-timed penalties was flagged five times after starting its first possession of the half at its 34 and had to punt from its 20.
"We hurt ourselves with those penalties," Westberg said. "I'm definitely not happy about it and there are things we have to correct and get straight. But because of the resiliency of these kids we found a way to get a win tonight."
Page, which visits archrival Grimsley (5-0, 8-0) next Friday night, showed some resiliency of its own as the Pirates marched 53 yards in seven plays to cut the deficit to 27-20 when Blackwell ran 16 yards for a TD.
The Pirates tied it when they took advantage of an interception thrown by Mercer on a run-pass option play at a time when Northern was in position to seal the win.
"I take the blame on that one," Westberg said. "It was an RPO where I should've just got rid of the RPO and ran the football there and not put it on him to make the read. That's on me and I shouldn't put him in that situation."
But Mercer owned the interception that was returned to the Northern 26 to set up Hester's TD and two-point conversion.
"I knew on that interception as soon as I released it that I'd made the wrong read," the junior quarterback said. "I should have just handed it off, especially with the clock and where we were on the field."
But the junior, who completed 19 of 27 passes for 295 yards and four touchdowns, made the last big play when he found Timmons with 6.9 seconds left.
"I know my guy's going to make a play at the end," Mercer said of Simmons. "He does that every day in practice. They trust me and I'm glad they did. I love pressure. Terrell's something else."
For a Page team that was 0-7 during the spring, but had won four straight in the Metro to share the conference lead with Northern and spring NCHSAA Class 4-A champion Grimsley, Friday night's game was a big step forward despite the loss.
With the tempo of the game slowed by penalties (Northern was flagged 18 times for 160 yards, while the Pirates were penalized 11 times for 120 yards), Page was able to utilize Hester for much of the second half at running back while also playing him at defensive end. The 6-foot, 210-pound senior had 106 of his 130 yards rushing in the final 24 minutes.
"The score at the end of the half helped," Robertson said, "and then we scored right away to open the second half. That puts us in a position where we're within two scores with two quarters to go and we can still run our offense. We didn't panic.
"We just couldn't get the one stop to win the game. If it goes overtime, I don't know who wins."
Stars
Northern Guilford — QB Jack Mercer 19-of-27 passing, 295 yards, 4 TDs, INT, 10 carries, 74 yards, TD; RB Jordan McInnis 11 carries, 79 yards, 3 catches, 59 yards; WR Manny Elliott 4 catches, 77 yards, TD; WR Terrell Timmons 3 catches, 32 yards, TD.
Page — ATH Jerron Blackwell 2 rushing TDs, 2 receiving TDs; RB Trevon Hester 23 carries, 136 yards, TD, 2-point conversion run; QB Nick Williamson 9-of-16 passing, 199 yards, 3 TDs.
What they said
"Coach (Doug) Robertson is doing a heck of a job. That's a good football team, a well-coached team. We got lucky with one tonight." – Erik Westberg, Northern Guilford coach
"Northern's got a heck of a good football team. They'd given up 54 points this year and we score 41 on them. That's a credit to our guys. The bottom line is it wasn't quite good enough, but we can hang our hats on the effort that we showed." – Doug Robertson, Page coach
Up next
Northern Guilford: Western Guilford, Oct. 22.
Page: At No. 1 Grimsley, Oct. 22.
Northern Guilford 20 7 7 14 — 48
NG – Manny Elliott 9 pass from Jack Mercer (Grant McNeill kick), 1st, 10:18
NG – Jay Underwood 45 fumble return (McNeill kick), 1st, 8:02
NG – Zion Crawford 52 pass from Mercer (kick blocked), 1st, 5:14
NG –Crawford 39 pass from Mercer (McNeill kick), 2nd, 2:23
Pa – Jerron Blackwell 19 pass from Nick Williamson (Tylar Elliott kick), 2nd, 17.9
Pa – Davontay Deloatch 55 pass from WIlliamson (Elliott kick), 3rd, 11:16
Pa – Blackwell 16 run (run failed), 3rd, 5:55
NG – Jaton Hairston 1 run (McNeill kick), 3rd, 4:09
Pa – Blackwell 3 run (kick blocked), 3rd, 0:00
NG – Mercer 1 run (McNeill kick), 4th, 8:47
Pa – Blackwell 27 pass from Williamson (Elliott kick), 4th, 5:36
Pa – Trevon Hester 5 run (Hester run), 4th, 47.0
NG – Terrell Timmons 15 pass from Mercer (McNeill kick), 4th, 6.9
Contact Joe Sirera at 336-373-7034, and follow @JoeSireraSports on Twitter.