GREENSBORO — Wednesday's HAECOIsHiring.com Invitational girls final is the matchup no one saw coming, except the players and coaches on both basketball teams.
Fifth-seeded Page scored the first 11 points of the game and knocked off top-seeded Northwest Guilford 58-41, then No. 6 Southeast Guilford joined the Pirates in the title game by beating No. 2 Ragsdale 47-41.
Page went into Tuesday's first semifinal without three key players: Anna Schmedes, who was out for unspecified reasons but will return for the final, Tali McMillian and Riley Brown. But coach Ed Johnson's Pirates didn't play as if they were shorthanded.
"I told them before the game, 'Hey, this is an opportunity,' " Johnson said. "Nobody expects us to win this game, but I expect us to win this game. Do what we ask you to do, trust your teammates and we'll be there at the end. … Never in my life did I think we'd be up 17 points with one minute to go."
That was especially true after Northwest Guilford beat Page 43-27 on Dec. 16 in a Metro 4-A Conference game. This time the Pirates played the matchup zone defense they call "30."
"I told my assistants if they start knocking down 3s we're going to be in trouble, and they were 0-for-15 in the first half," Johnson said. "We capitalized on it and built a pretty good lead."
It wasn't just the 3-point shooting that doomed the Vikings. They were 3-for-34 from the field in the first half and 14-of-61 for the game.
Page's Hattie Sloyan didn't have any trouble making shots. The sophomore took advantage of a mismatch against Northwest's young post players to score 31 points on 10-for-14 shooting from the field and went 9-for-9 from the free-throw line. Fellow sophomore Candice Williams added nine points and steady play at the point as they turned back every run by the Vikings.
"When you play a team that's tough-minded like Northwest you have to be tough-minded like them," Johnson said.
Southeast Guilford has been a tough-minded program for a number of years, and that's something coach Rachel Clark felt the tournament seeding committee overlooked this year. The Falcons, playing in the holiday tournament for the first time since the 1980s, won a NCHSAA Class 3-A state championship in 2019 and shared the title in the COVID-interrupted 2020 season.
"I feel like we've always been underestimated and kind of pushed to the side," Clark said. "We might not be the team that we used to be and we might not be the best team, but we're definitely going to show up and do some things and turn some heads."
Sydney Roberts, who was a part of those Southeast championship teams, turned some heads Tuesday. The senior point guard one-upped Page's Sloyan by scoring a tournament-high 32 points.
"Teams try to box-and-one her and things like that," as Ragsdale did at times Tuesday, Clark said, "but she lives basketball, lives in the gym, so she is ready for anything. With her up top she can take on anybody."
Roberts' energy lights up the court, Clark said, "and that lights up the rest of the team."
What does Clark think the Falcons will see from Page in Wednesday's 5 p.m. championship game?
"I expect them to take lots of outside shots and try to get it going early," the Southeast coach said. "We're not very big and we have no true post, so I would think they'll try to attack there."
Page's Johnson said, "I know Rachel and her girls will be ready to play. They're a well-coached team that's gotten a lot better already this season."
BOX SCORES
Page                                11  11  15  21   —   58
Northwest Guilford         4   2   18  17   —   41
Page (4-5) — Hattie Sloyan 10-14 9-9 31, Candice Williams 3-8 2-3 9, Caroline Kelley 2-6 4-6 8, Melanie Niebitsie-Livingston 2-4 0-0 5, Briashia Lee 1-1 1-2 3, Sutton Sherrill 1-6 0-0 2, Ramiyah Baldwin 0-0 0-0 0, Hailee Cook 0-0 0-0 0, Zoe Bellamy 0-0 0-0 0, Rebekah Roy 0-0 0-1 0, Kennedy Leggett 0-1 0-0 0. Totals 19-40 16-21 58.
Northwest Guilford (7-4) — Kara Rumple 4-11 0-0 11, Maslyn Mosbacher 3-9 4-5 10, Kamryn Snyder 2-3 2-2 6, Isabel Varadi 1-4 3-4 5, Madison Young 2-19 0-0 4, Haylea Huffines 1-2 0-0 2, Julia Humphrey 1-4 0-2 2, Bailey Dutton 0-0 1-2 1, Peyton Vernon 0-1 0-0 0, Sophia Apple 0-9 0-0 0. Totals 14-62 10-15 41.
Three-point goals–Page 4-11 (Sloyan 2-4, Williams 1-2, Niebitsie-Livingston 1-1, Leggett 0-1, Kelley 0-3), Northwest Guilford 3-22 (Rumple 3-6, Mosbacher 0-2, Young 0-10, Apple 0-4). Fouled out–Sherrill, Young. Rebounds–Page 35 (Sherrill 7), Northwest Guilford 40 (Varadi 11). Assists–Page 5 (Leggett 2), Northwest Guilford 7 (Mosbacher 3). Total fouls–Page 15, Northwest Guilford 22.
Southeast Guilford              8  11  12  16   —   47
Ragsdale                               6    6  12  17   —   41
Southeast Guilford (8-2) — Sydney Roberts 12-18 8-10 32, Sophia Stevens 3-9 0-0 6, Mykensie Harris 3-11 0-0 6, Reagan Harris 1-3 0-1 2, Moriah Owens 0-1 1-2 1, Saniya McCalop 0-0 0-0 0, Comfort Donkor 0-0 0-0 0, Dominique Walker 0-9 0-0 0. Totals 19-51 9-13 47.
Ragsdale (5-4) — Christian Atwater 8-9 0-1 16, Victoria Boddie 5-12 2-4 14, Erin Mackie 0-3 5-6 5, Krupa Patel 2-22 0-0 4, Mya Patrick 0-7 2-2 2, Nicole Tarver 0-0 0-0 0, Maya Ballard 0-0 0-0 0. Totals 15-53 9-13 41.
Three-point goals–Southeast Guilford 0-6 (M.Harris 0-2, R.Harris 0-1, Walker 0-3), Ragsdale 2-13 (Boddie 2-5, Mackie 0-1, Patel 0-3, Patrick 0-4). Rebounds–Southeast Guilford 42 (M.Harris 9), Ragsdale 34 (Mackie 10). Assists–Southeast Guilford 4 (four players with 1), Ragsdale 4 (Mackie 2). Total fouls–Southeast Guilford 12, Ragsdale 18.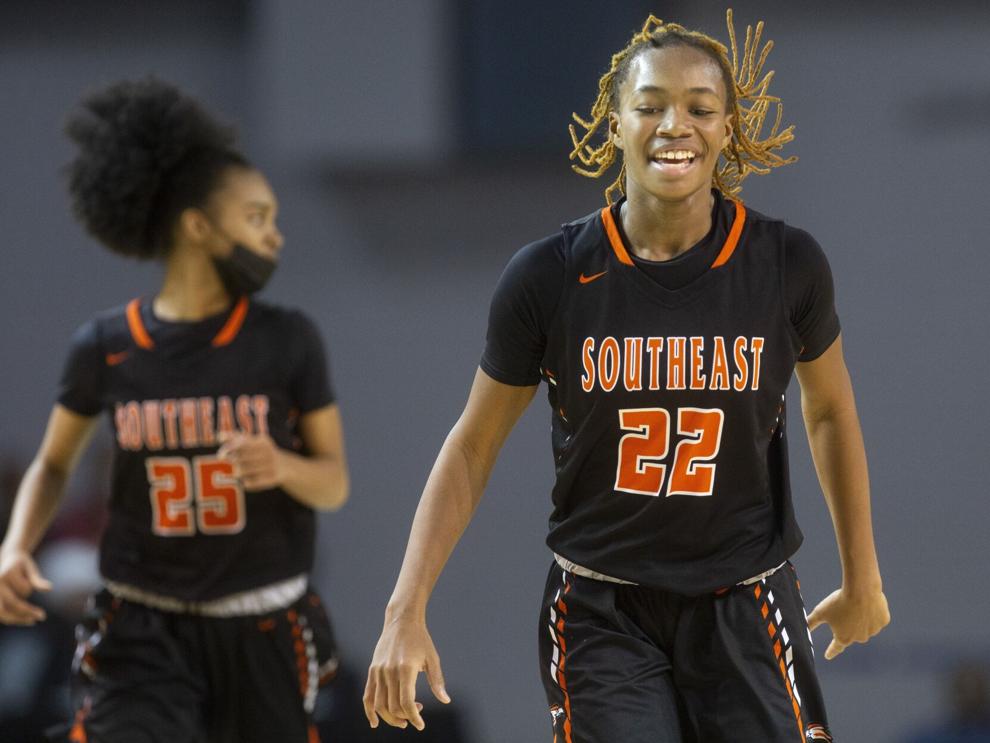 Joe Sirera's five favorite stories of 2021
The five stories Joe Sirera wrote in the past year that he would recommend reading.
Northern Guilford's Erik Westberg and Northwest Guilford's Kevin Wallace have a friendship that goes back more than a decade and brings them together after games. The gathering will be more interesting this week because their teams meet on the field.
Panthers coach Steven Davis and his son, Steven II, head to Chapel Hill on Friday night seeking a NCHSAA Class 3-A football title.
The two-sport standout from Reidsville will take the competitive edge he got from his late father, Curtis, to the N.C. State basketball program after winning another football state title with the Rams.
Page girls coach Tim Nash coached club and high school soccer for more than 40 years. Also a published author, he suffered a fatal heart attack after covering a high school football game Friday night for Greensboro.com.
Grimsley wins the school's first NCHSAA football championship since 1960, beating Raleigh Cardinal Gibbons 28-8 in Class 4-A.
Contact Joe Sirera at 336-373-7034, and follow @JoeSireraSports on Twitter.