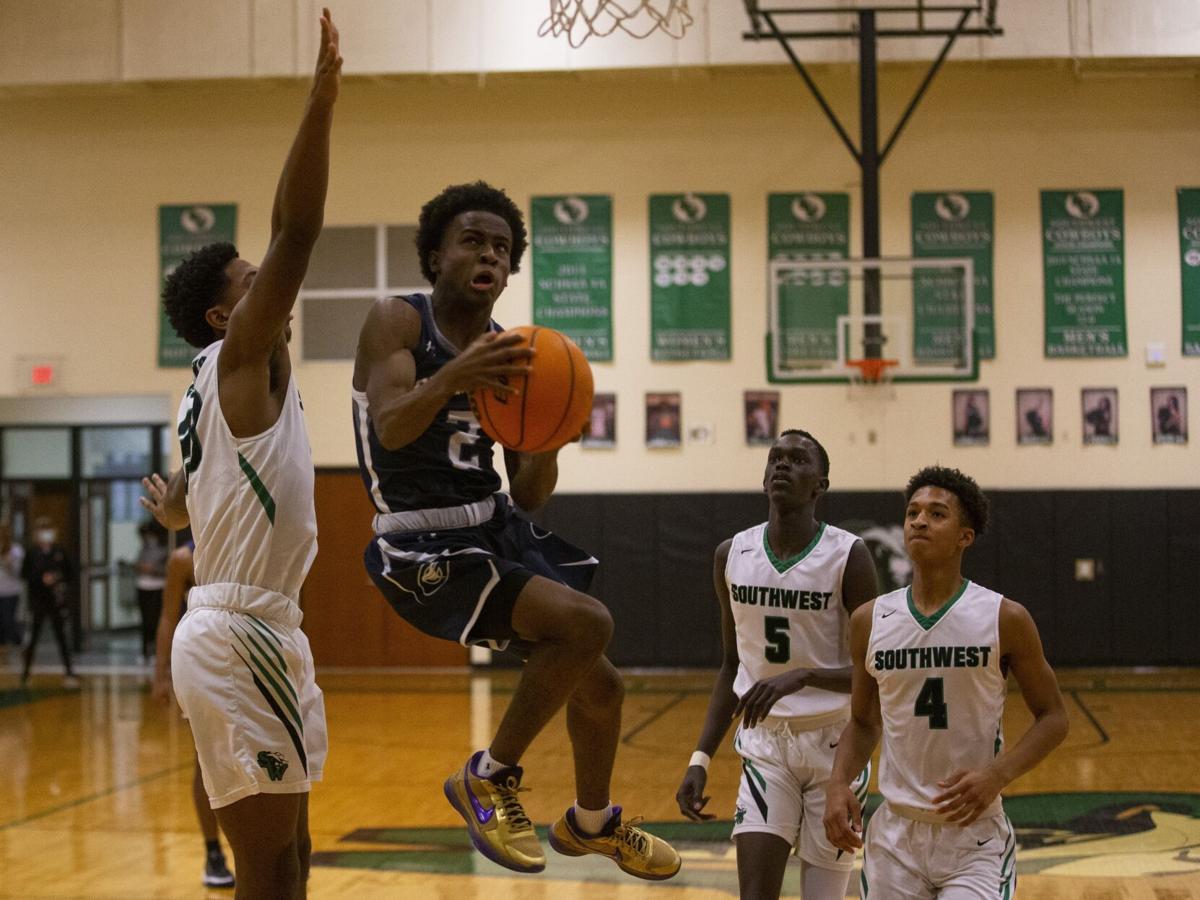 What
Metro 4-A Conference boys basketball
Where
Coggins Gymnasium, High Point
Why the Whirlies won
Grimsley followed the blueprint that has been the foundation for their 12-1 start. The Whirlies played strong defense, played a lot of people and scored off live-ball turnovers.
"That's our game," coach Darren Corbett said. "We want to try to create from our defense, to get out and get as many baskets in transition as possible off the other team's mistakes. It's been our M.O. all year."
It was particularly true in the first quarter as Grimsley built a 21-12 advantage behind five transition buckets and never led by fewer than eight points again. In what turned out to be an 11-point game that strong start was the difference.
"You can't do that against the quality team, the quality program that he's got," Southwest Guilford coach Greg Vlazny said of Corbett's Whirlies.
Why the Cowboys lost
Another slow start, another defeat for Southwest.
"We dig ourselves a hole, and then we wake up and say, 'We can play basketball, too,' " Vlazny said of what has become a recurring theme. "I honestly feel like we can play with anybody, but we're too busy digging ourselves a hole and then we expend a lot of energy to come back, and every time we get traction we slip on the same pebble."
The Cowboys did make a few runs at Grimsley in the second half, forcing turnovers and hitting some 3-point shots, but missing 11 free throws didn't help their cause.
"My biggest challenge is to get us to come out with more intensity," Vlazny added. "Our pressure has helped, but not enough. My job as a coach is to analyze the starts of these games and figure out what we need to do differently."
Three things we learned
1. Grimsley is deep. With senior point guard Jayden Watlington sidelined by illness, the Whirlies got big contributions from senior forward Marschall Uber and from junior wing Nick Elliott. Uber scored all 10 of his points in the second half, mostly by getting to good spots inside and finishing when teammates penetrated, broke down the defense and found him. Elliott hit 3s to open and close the first quarter and made another to start the second period. "As long as we can continue to get that effort from kids off our bench in this capacity we can do a lot of things," Corbett said.
2. Southwest is optimistic. "In the third quarter we finally started getting stop-score-stop, but unfortunately they didn't allow us to sustain it long enough. … We haven't put a full 32 minutes together, but if we ever put a full 32 together we're a dangerous team."
3. Grimsley shares the basketball. It's fun to watch a team that always seems to be looking to make the extra pass to get a better shot, and that's what the Whirlies often do. "They're so unselfish!" Corbett said. "The last game we had 26 assists on 36 baskets (in an 86-34 win over Parkland). They want to see each other shine."
What they said
"We're in a good spot. We know we have a tough week coming up with Page and Northern, but we have to take care of Page first. It's good that we have film from a game against them (a 50-41 win) in the HAECO so we can make adjustments." — Darren Corbett, Grimsley coach
"I'm not happy we lost, but this loss feels different because we're getting closer to really turning that corner. Coach Corbett has a phenomenal group and he's doing a phenomenal job, so I'm proud of the fight we showed." — Greg Vlazny, Southwest Guilford coach
Next up
Southwest Guilford: Tuesday, at Ragsdale
Box score
Grimsley                             21  17  18  21   —   77
Southwest Guilford            12  16  18  20   —   66
Grimsley (4-0 Metro 4-A, 12-1 overall) — Jordan Wall 16, Tyler Albright 16, Alex Taylor 10, Zacch Wiggins 10, Marschall Uber 10, Nick Elliott 9, Jaylon Bumpass 5, Peter Martinek-Jenne 1.
Southwest Guilford (2-3, 5-6) — Corbin Wilson 16, Noah Goldston 14, Troy Scarborough 11, Henry Giant 10, Amarya Huggins 9, Kenny Miller 3, Angelo Williams 2, Christian Bennett 1.
Contact Joe Sirera at 336-373-7034, and follow @JoeSireraSports on Twitter.