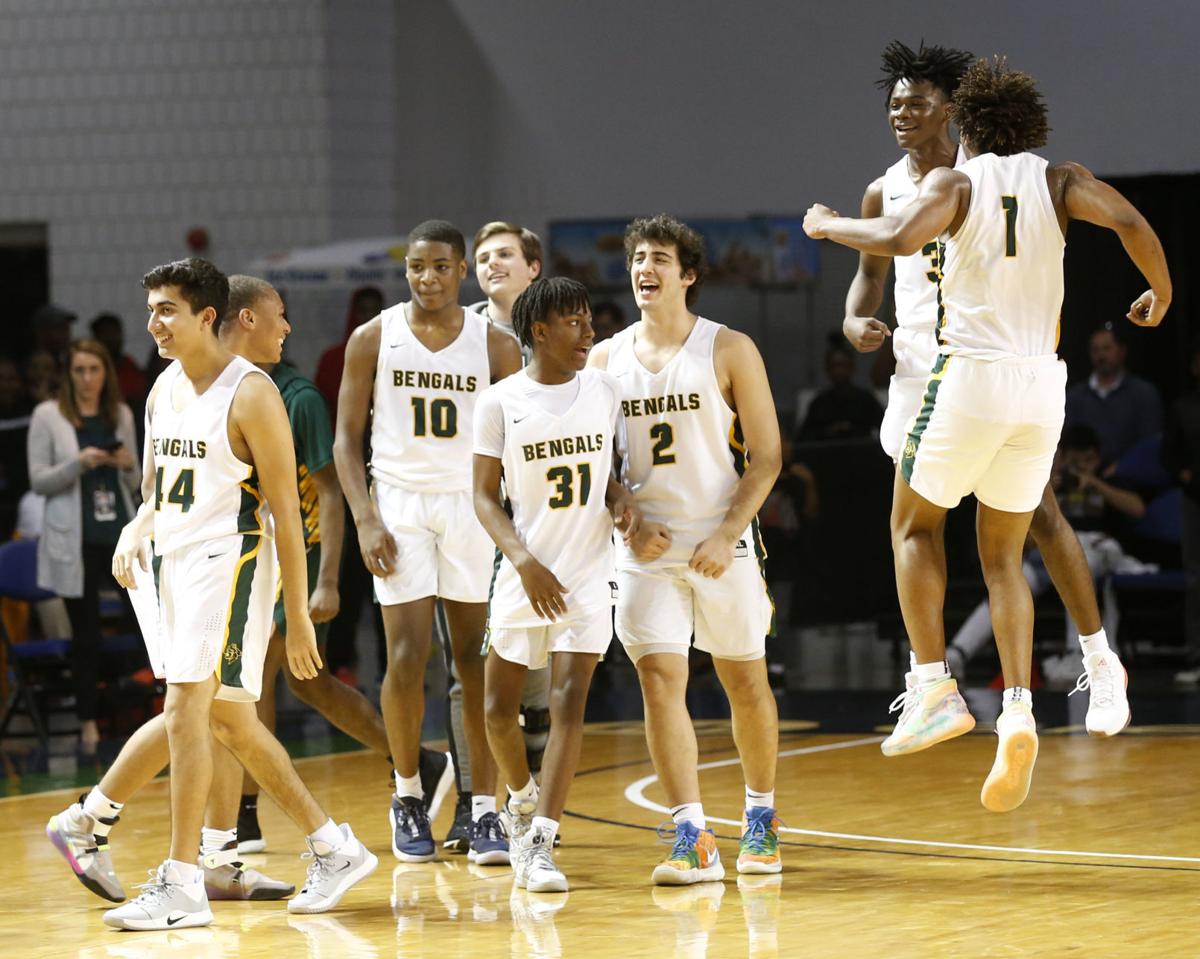 BOYS
Three storylines to watch
Can anyone challenge Greensboro Day? The Bengals have won eight of the last nine titles, with the run interrupted only by a Northwest Guilford win over Greensboro Day in overtime in 2018. The Bengals (15-2) come into the tournament with wins over nationally ranked Oak Hill Academy and Gill St. Bernard's and a squad that, as usual, plays great team defense.
How much Metro 4-A basketball is too much? Five of the realigned conference's eight members are participating in this year's tournament and two of the first-round matchups Monday pair Metro teams. It's unlikely but possible that two teams from the conference could play five times this season if they met in the Metro tournament and the NCHSAA Class 4-A playoffs.
How good is Grimsley? The senior-led Whirlies (8-0) are the only unbeaten team in the tournament and have close wins over Dudley and Northwest Guilford to their credit. We'll learn more about Grimsley right away when the Whirlies take on Ragsdale (7-1) in the boys opener.
Three players to watch
Jaylen Cross, Northwest Guilford: The 6-foot-4 sophomore guard has the length and the skillset to impact the game in a number of ways. Cross and fellow sophomore Tanner Ballou are the future of a Vikings team led by seniors Connor Ballou and Jackson Hartzell.
Spencer Hairston, Dudley: The 5-foot-10 senior guard has emerged as the area's top 3-point threat, hitting 40 percent of his shots from beyond the arc. Hairston is also second among the Panthers in assists and provides the perfect complement to sophomore PG Cam Flippen.
Josh Scovens, Page: The 6-foot-6 senior wing is the key to everything the Pirates do. Scovens' ability to take defenders to the basket off the dribble or hit jumpers from beyond the 3-point arc stretches a defenses, and his length and athleticism make him a versatile and annoying defender.
GIRLS
Three storylines to watch
Wide-open field: With Guilford County's only unbeaten team, Northern Guilford (8-0), not participating there's no clear favorite. Only Northwest Guilford, Smith and Ragsdale have winning records, and perennial power Dudley is in rebuilding mode after losing most of its rotation to graduation.
Smith's turnaround: The Golden Eagles were 0-58 the last three seasons, but with only one holdover from 2020-21 they have become a team to watch in Myke Bolton's first season as coach. Smith's only loss was 52-46 to Grimlsey on the second night of the Big Four Tip-off Classic.
Southeast Guilford's return: The Falcons, who held their own holiday tournament in recent years, are back in the field as Northern Guilford's replacement. Coach Rachel Clark's team has won or shared two state titles since it last played in the event and has the talent to be a major factor.
Three players to watch
Zoe Davis, Smith: In her first season with the Golden Eagles, the 5-foot-10 junior has provided a strong inside presence. Davis averages 12.6 points (second to sophomore guard Azahreya Drayton-Gill's 13.0) and 8.7 rebounds per game.
Sydney Roberts, Southeast Guilford: A first-team All-Area selection last season, Roberts has experience playing in and winning a state championship game. The Falcons' offense runs through the senior point guard.
Madison Young, Northwest Guilford: A second-team All-Area selection in 2020-21, Young is one of the best defenders in Guilford County. The 5-foot-10 junior guard helps the Vikings in a number of areas and has grown into a team leader.
Joe Sirera's five favorite stories of 2021
The five stories Joe Sirera wrote in the past year that he would recommend reading.
Northern Guilford's Erik Westberg and Northwest Guilford's Kevin Wallace have a friendship that goes back more than a decade and brings them together after games. The gathering will be more interesting this week because their teams meet on the field.
Panthers coach Steven Davis and his son, Steven II, head to Chapel Hill on Friday night seeking a NCHSAA Class 3-A football title.
The two-sport standout from Reidsville will take the competitive edge he got from his late father, Curtis, to the N.C. State basketball program after winning another football state title with the Rams.
Page girls coach Tim Nash coached club and high school soccer for more than 40 years. Also a published author, he suffered a fatal heart attack after covering a high school football game Friday night for Greensboro.com.
Grimsley wins the school's first NCHSAA football championship since 1960, beating Raleigh Cardinal Gibbons 28-8 in Class 4-A.
Contact Joe Sirera at 336-373-7034, and follow @JoeSireraSports on Twitter.