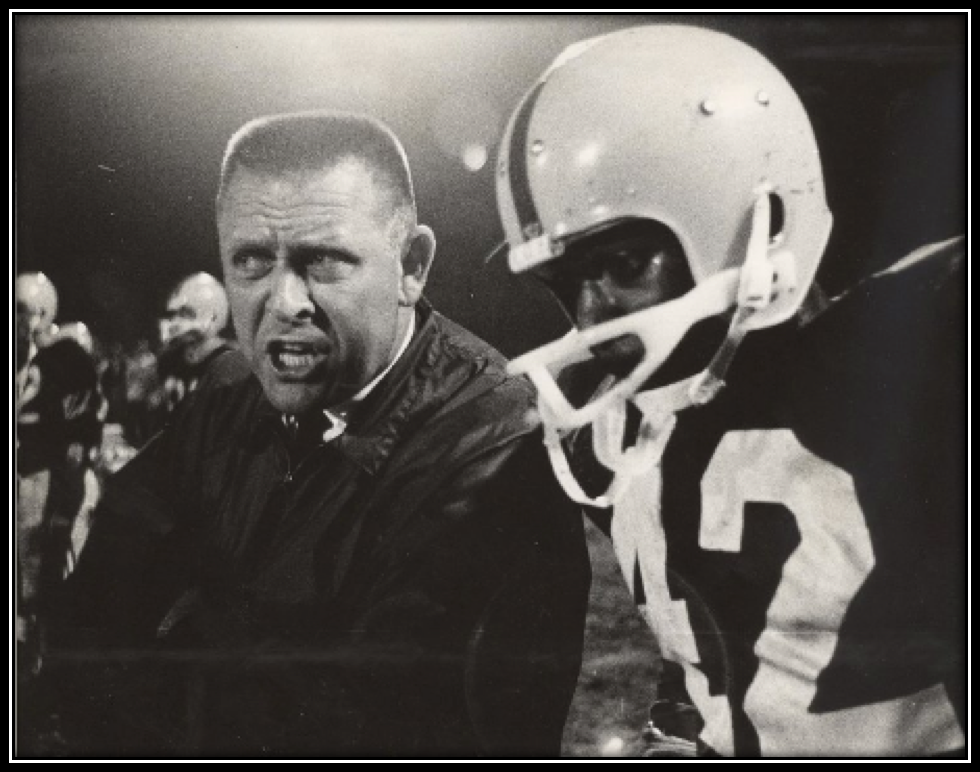 GREENSBORO — C.K. Siler was there for Darryl Brown, and that's what the Grimsley High School football coach will always remember about his grandfather, who died Wednesday after a long illness.
"Growing up he was always present," Brown said of the high school coaching legend, who was 92. "I don't remember ever playing a game, coaching a game … even as an assistant coach, when he wasn't there. Playing Little League baseball or whatever it may have been, he was always present."
Calvin Kennedy Siler was a presence at Sumner High School and Southern Guilford High School, which opened in 1970, as head football coach from 1955 through 1981. His football teams at the two schools compiled a record of 186-76-10.
"Coach Siler was bigger than life in the Southern Guilford community and his impact was wide and far reaching," athletics director Jeff Carter wrote in an email announcing Siler's death. "During his lengthy career, he impacted the lives of countless young men and women. As much as he loved teaching and coaching, it paled in comparison to how much he loved his family and the community he served.
"The lessons that he taught are still alive and being carried on today by his grandsons – Darryl (Grimsley), Calvin and Eric (Providence Grove). Coach Siler will continue to have an impact on lives for generations to come. Our community mourns his loss, but is greater because of his leadership."
Darryl Brown played at Southern Guilford, where the football stadium is named for his grandfather, and coached the Storm from 2005 through 2015 before taking over at Grimsley. He guided the Whirlies to their first state championship since 1960 when they won the NCHSAA Class 4-A crown in the spring.
The memorable night for everyone involved in the Grimsley program was bittersweet for Brown because "he wasn't there," Brown said of his grandfather, choking up, "that he couldn't be there and he wasn't able to watch. He was at the point where he didn't know what was going on because of dementia."
But the lessons he taught his grandson lived on that night and continue with all of the players Darryl, Calvin and Eric coach every day.
"More than anything I learned how to build relationships with players, with my coaching staff … the importance of being able to motivate young people," Darryl Brown said. "I always heard his former players talk about how he was always there for them."
Brown said he "wouldn't be doing what I do now if it wasn't for him."
"I grew up admiring him, watching him and really wanting to be like him," Brown said. "As a senior in high school I told a group of people and it was written in our yearbook that I wanted to grow up to be a football coach like my Grandpa. He touched a lot of people in a lot of different ways."
Siler didn't just help his grandson become a football coach by example. He was hands-on when he needed to be.
When Brown was offered a teaching job at Northwest Middle School right out of Gardner-Webb, he hesitated because he also would have to be the head football coach.
"I remember telling him there was no way I could be the head football coach," Brown said. "He said, 'We'll sit down and I'll help you get started and you'll be fine.' I spent the whole month of August with him every day going through stuff, and everything he taught me was what I used with that first team at Northwest Middle School when I was 22 years old."
Siler, who played football and baseball at Elon before graduating in 1954 and spending one year as football coach at Walnut Cove High, stepped aside from coaching football to concentrate on baseball and his duties as athletics director at Southern Guilford after the 1981 football season. Siler came back to help coach Mickey Atkinson from 1985 to '88 and continued to coach baseball until he retired in 1990.
A native of Siler City, he is a member of the Guilford County Sports Hall of Fame and the Elon Sports Hall of Fame. Siler served in the Korean War and was awarded two Purple Hearts. Funeral arrangements were incomplete Wednesday.
"When I was growing up I always heard about different things he'd accomplished," Brown said, "but the thing that stood out to me as a young boy observing – because I always did – was his relationships with former players, former students. It seemed like no matter where I went with him he knew someone or someone came up to him and would talk to him about a story or an event. Just seeing those interactions and those relationships he had with so many people was something I always found very intriguing.