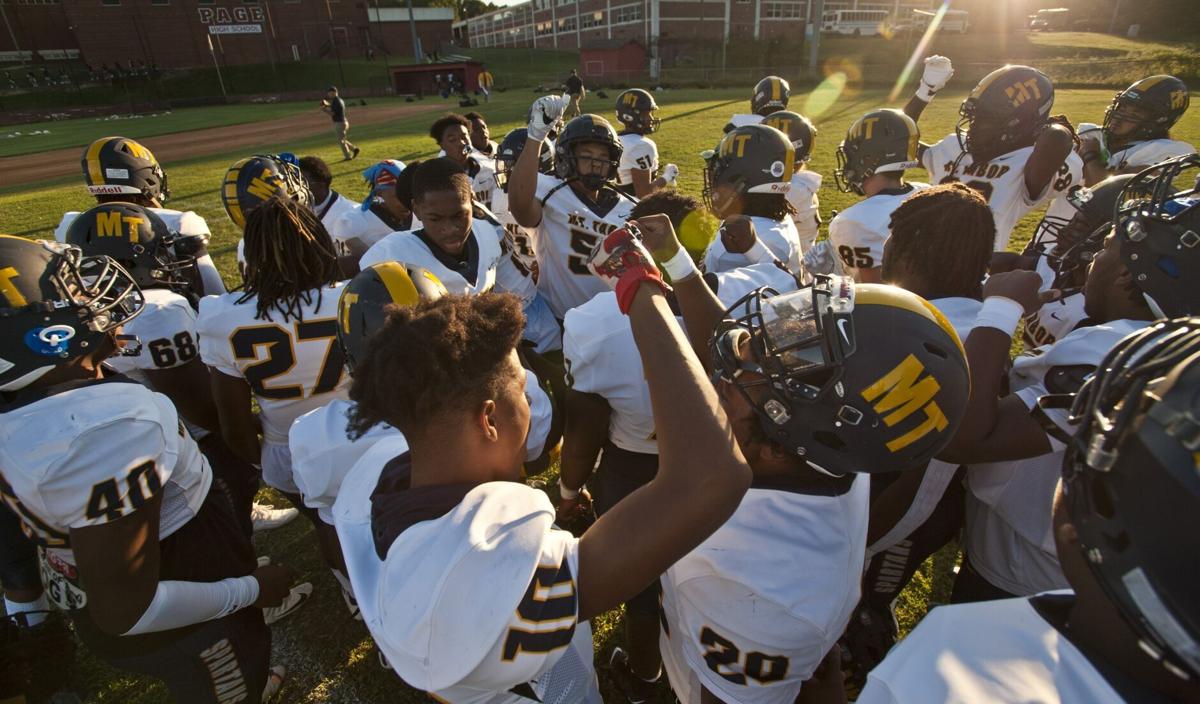 GREENSBORO — Thursday night's football game between Mount Tabor and Page at Marion Kirby Stadium was about more than just football.
It likely helped that the end result, a 48-27 win for the Spartans, brought them one more step forward in the healing process that has been ongoing for the last eight days.
The Mount Tabor community was rocked when 15-year-old William Chavis Raynard Miller Jr. was killed in a shooting on the school's campus Sept. 1.
Abundant acts of support and kindness have poured forth as the school and the community creep back to a sense of normalcy.
"We've had a lot of helping hands that have been at our school to serve our kids and our staff to make them feel more comforted," said Ed Weiss, Mount Tabor's principal. "We've certainly had to process a lot and it's been a difficult window of time working through all the emotions that come with losing one of our students. At the front of everyone's mind is keeping William and his family in our thoughts and prayers."
Weiss praised the response from law enforcement, from the Winston-Salem/Forsyth County Schools administrative office, the school system's CARES team and transportation staff, the extra grief counselors on hand at campus throughout the week and the two churches near campus that held prayer vigils.
Meals have been provided to staff from a Harris Teeter and a pizza restaurant. New Hanover High School, which endured its own school shooting last week as well, is providing lunch at Mount Tabor on Friday.
Page greeted the Mount Tabor faithful with messages of encouragement, including a hand-painted sign hanging on the fence in front of the Pirates' student section that said, "We Stand with the Spartans."
A Spartans logo flashed on the new scoreboard with the caption, "Spartan Strong."
A moment of silence before the game honored the memory of Miller.
"We appreciate all of the support," Weiss said. "There really aren't enough hugs and thank yous to go around. A tremendous amount of care, of healing words and well-wishes that we all need to hear right now. And any sort of normalcy that these kids can have right now is what they need, so it's good that they are on the field tonight. Our volleyball team had a home match tonight and Davie County came to our gym with 'Tabor Strong' T-shirts for our players. Both teams wore them, so we were united in that. And our baseball program had kind of a sandlot game the other night that provided them with a little norm. After the game, Southwest Forsyth Little League fed everyone."
For football head coach Tiesuan Brown, getting the win meant a lot as the team improved to 2-1. But he knew his team needed to be back on the field to get back to their regular routine.
"We weren't able to practice last Wednesday, Thursday or Friday," Brown said. "We had a Zoom meeting on Saturday night to discuss what happened. We talked about for 15-20 minutes. Some of our players were close to it when it happened. We've been talking through a lot of different things since we got back together for practice Monday. We said a little prayer for William and his family tonight and then came out and got back to business. And that's what they needed. I think we all needed it."
Managing the team's emotions during the tumultuous last week was one thing. But Brown has a daughter at Mount Tabor, and he was not at the school when the shooting occurred.
"I woke up that morning feeling a little sick, so I was going to the doctor to get a COVID test just to be sure," Brown said. "And I had just gotten my negative result back when my daughter called me. It was a little after 12 when she called, then my players started calling me. She told me that she was with the assistant principal and that made me feel a little better. I was really down that I couldn't get into school to help out. Sitting there waiting like the rest of the parents was really tough on me, as it was on them. I was calling teachers to make sure everyone was all right. It was just a terrifying time, and I felt helpless. The silly thing was, I almost kept her home that day with me, but she wanted to go to school."
Brown was finally reunited with his daughter at Joel Coliseum around 4.
"When I saw her, I gave her a big hug," Brown said. "It was as emotional as you'd expect."
Laymarr Marshall, the team's offensive coordinator, graduated from Mount Tabor in 1994. His son, Noah, is one of the team's stalwarts this season.
"As soon as I knew what had happened, I texted him and a whole bunch of my family members to let them know I was OK," Noah Marshall said. "We were hearing some much stuff about what happened and what was going on we didn't really know what to think, but we knew something serious was happening. Being back out here was what we needed. Coach Brown talked to us about how the football team were leaders in the school, and we needed to go and show that."
Laymarr Marshall works at Parkland, which also went on lockdown last Wednesday.
"When we went on lockdown at Parkland, all the students got on their cell phones and saw what was going on at Mount Tabor," Marshall said. "That's when I checked my phone and I think I had 56 text messages. Thankfully, I had a text from Noah saying that he was OK and that settled my nerves a little bit. It's really a helpless feeling when you're in that situation. My heart goes out to the families that were affected directly and to everyone that had that traumatic experience in the building at Mount Tabor. The healing is going to be a process. I'm thankful we were able to come out here tonight and provide a positive feeling for this school for just a few hours."