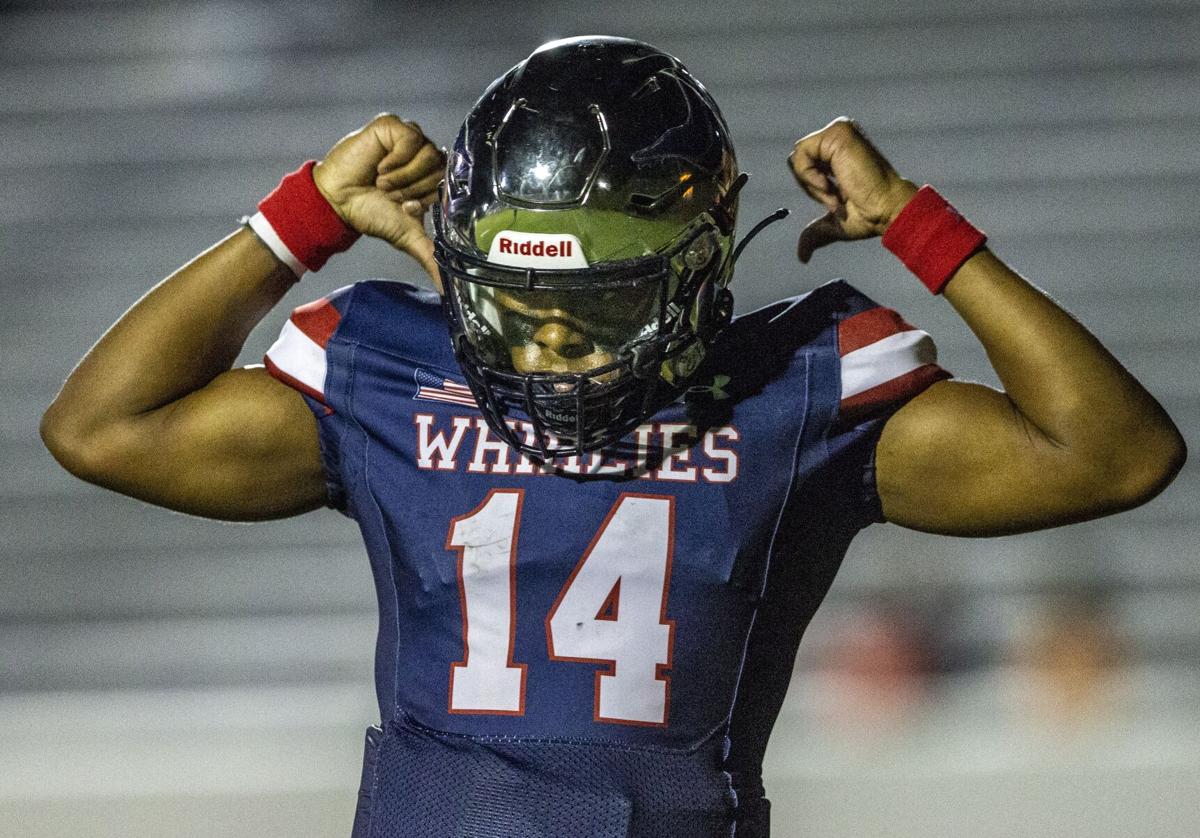 On a night when Grimsley honored the 99 Greensboro Senior High School alumni who lost their lives during World War II, the Whirlies trailed 14-12 after two quarters. It's a pattern the No. 1-ranked team in the HSXtra.com Top 10 poll followed in wins over Reagan (down 12-0 at the half, won 21-19) and Southern Pines Pinecrest (14-14 at the half, won 28-14).
"I wish I knew," Grimsley coach Darryl Brown said when asked why his team hasn't played up to its standards in the first half for the last three games. "It's something we need to try to figure out."
After the Whirlies went up 6-0 on an 8-yard Alonza Barnett touchdown pass to Nolan Albright on their first possession, No. 5-ranked Southeast Guilford controlled the clock and the game until midway through the second quarter.
The Falcons used a punishing ground game and efficient passing by junior quarterback Bryson Serrano to score on back-to-back drives of 99 yards and 95 yards to go up 14-6 with 2:42 to go in the half. But on Grimsley's final possession of the first half, Southeast's Jordan Farmer was ejected for targeting on a catch by Jeiel Melton.
"That was a huge call at that stage in the game, and they did a good job of attacking the guy we subbed in for Jordan," Falcons coach Earl Bates said. "That's good coaching on their part. That was the turning point, and they scored right before the half to make it 14-12 and they got some momentum on us."
The Whirlies drove 80 yards in 2½ minutes, scoring on the last play of the half when Terrell Anderson managed to get a foot down in the end zone on a 28-yard pass from Barnett.
"Terrell is a big-time playmaker, and that one at the end of the half was huge," Brown said as his players celebrated receiving their spring NCHSAA Class 4-A championship rings during a postgame ceremony.
Southeast went up 17-12 on its first possession of the second half as Aidan Bonde booted a 31-yard field goal after a big kickoff return by Cam Williams. But that was it for the Falcons as Grimsley held them to 6 net yards in the final two quarters.
The Whirlies went up 20-17 on a 5-yard TD run by Barnett and the senior quarterback's two-point conversion run. They basically put the game out of reach when Barnett hit Anderson on a slant for a 25-yard touchdown 24 seconds into the fourth quarter.
With Grimsley up two scores, "That D-line pinned their ears back, knew we were down, knew we had to try to throw the ball downfield," Bates said. Senior defensive end Tamorye Thompson had two of his three sacks in the fourth quarter, and the Whirlies had their fourth win despite another sluggish first half.
"It's something we need to try to figure out," Brown said. "We did start with a drive and a touchdown, but we've had some tough first halves. Some of that is because of who we're playing."
He's not wrong about Grimsley's opposition. Reagan knocked off previously unbeaten East Forsyth on Friday night, Pinecrest is 3-1, with the only loss coming to the Whirlies, and Southeast's only other loss was to a strong Dudley team. Bates certainly thinks his Falcons are still going to be a factor in the Metro 4-A race.
"Those guys fought hard the whole game," the coach said of his Southeast players. "We're going to come back and get ready for (unbeaten) Northern Guilford next week. If we keep doing what we're doing, we're going to be OK."
Brown's Whirlies are 4-0, but face another challenge Sept. 24 when they travel to 3-1 Northwest Guilford. He's confident they'll be ready.
"The toughness, the mindset, the belief … it just says a lot about them," the coach said of his Whirlies, who have won their last 14 games. "I'm proud of them for that, and we'll fix the mistakes."
Stars
Southeast Guilford — QB Bryson Serrano 7-of-16 passing, 109 yards; RB Tyshawn Wall 12 rushes, 42 yards; DE/RB Alex McCalop 2 TD runs.
Grimsley — QB Alonza Barnett 11-of-26 passing, 201 yards, 3 TDs, rushing TD, 2-point conversion run; RB Jeiel Melton 17 carries, 64 yards; WR Terrell Anderson 5 catches, 88 yards, 2 TDs; DE Tamorye Thompson 3 sacks.
Records
Southeast Guilford: 0-1 Metro 4-A, 2-2 overall.
Grimsley: 1-0 Metro 4-A, 4-0 overall.
Up next
Southeast Guilford: At Northern Guilford (1-0, 4-0), Sept. 24
Grimsley: At Northwest Guilford (WMY-48), Sept. 24.
Scoring summary
Southeast Guilford 0 14 3 0 — 17 Grimsley 6 6 8 7 — 27 Gr – Nolan Albright 8 pass from Alonza Barnett (kick failed), 1st, 8:36
SE – Alex McCalop 6 run (Aidan Bonde kick), 2nd, 11:09
SE – McCalop 2 run (Bonde kick), 2nd, 2:42
Gr – Terrell Anderson 28 pass from Barnett (pass failed), 2nd, 0:00
SE – FG Bonde 31, 3rd, 6:19
Gr – Barnett 5 run (Barnett run), 3rd, 4:16
Gr – Anderson 25 pass from Barnett (Colin Prago kick), 4th, 4:26
Contact Joe Sirera at 336-373-7034, and follow @JoeSireraSports on Twitter.