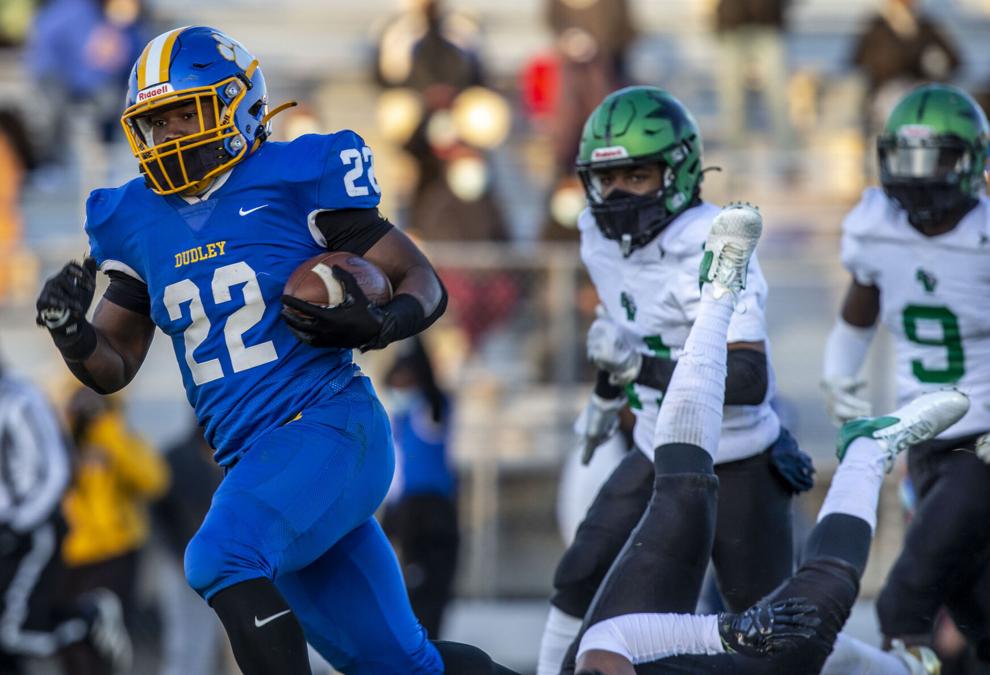 J.A. Tarpley Stadium, Greensboro
Why the Panthers won
Dudley ran for 288 yards and held Southwest Guilford to 31 yards on the ground to stay in the race for first place in the Piedmont Triad 3-A Conference with one week left in the regular season.
Milan Summers had 210 of the Panthers' rushing yards on 23 carries, scored four touchdowns and ran for a pair of two-point conversions. The Dudley senior also reminded us why he was all-state last year on defense with a sack that ended Southwest's final scoring threat.
"He hadn't practiced defense all year," Coach Steven Davis said. "This is the returning conference defensive player, but at his size (5-feet-9, 205 pounds) we're trying to get him more touches to help him get to a good school. He won't go to school as a defensive end, but he will as a running back."
The Panthers also forced three turnovers in the first quarter, with two interceptions and a fumble.
Why the Cowboys lost
Southwest Guilford left potential points on the field in the first half with some dropped passes and tried to play catch-up the rest of the night.
DeAnthony Butchee had the Dudley secondary beat on a slant on Southwest's first possession, but couldn't hang on to Joey McGinnis' pass. "He's gone," Coach Chuck Doak said. "It's a touchdown."
Doak's Cowboys had three turnovers in the first quarter and were penalized 11 times for 103 yards.
"One of the things I noticed tonight was our lack of discipline and structure in certain areas bit us in the rear end," Southwest's coach said. "We committed penalties, we didn't make tackles, we dropped passes that were touchdowns … You can't do that against a team like this."
Stars
Southwest Guilford — QB Joey McGinnis 9-of-28 passing, 187 yards, 2 TDs, 2 INTs; WR DeAnthony Butchee 4 catches, 82 yards, TD.
Dudley — RB Milan Summers 23 carries, 210 yards, 4 TDs, 2 two-point conversions, sack; QB Jahmier Slade 7-of-15 passing, 113 yards, TD, INT; WR Franklin Stockton 3 catches, 86 yards, TD.
Three things we learned
1. Franklin Stockton can be a factor in the passing game for Dudley. The 6-foot-5 senior, better known as an all-conference basketball player, showed off his ball skills with a leaping 25-yard touchdown catch in the back left corner in the second and added a 48-yard catch and run to set up the Panthers' fourth TD. With TE Johncarlos Miller still sidelined because of a shoulder injury, Stockton can take some of the pressure off WR Mekhi Wall.
2. Joey McGinnis has a lot of upside. A straight-A student in an Early College program, the Southwest Guilford junior showed the ability to extend plays with his feet and make plays with his arm. He only completed nine of 28 passes, but his receivers didn't help him much with numerous drops and he still finished with 187 yards and two touchdowns. "I'm looking forward more than anything to seeing him grow through his senior year, when the game really slows down for him and he can see the field for what it really is," Doak said. "I can't wait to see him after we have a summer of 7-on-7 competition."
3. Dudley will need help in the conference title race. Thanks to a 9-6 loss to Mount Tabor in Week 4, the Panthers are a game off the lead with one week to play. Dudley shouldn't have much trouble at home against Western Guilford, but will need some help from Southwest Guilford when the Cowboys travel to Winston-Salem to face Tabor. Only the conference champion receives an automatic berth in the NCHSAA Class 3-A playoffs. The runner-up will have to hope for a wild card. "I tell them to control what we can control. That's it," Davis said. "We can't worry about what the state does. We have to go into next week and win."
What they said
"This was not the physicality of this game; it was the mentality of this game. We're not there yet. (Dudley) is a storied program. You can look up there and see their state championships. We've never experienced that kind of success, and we have to work and build that. It's not one of those things where it's going to happen in a little while. It's an arduous task that we're going to have to work through, and we're going to have to accept some of these losses, not willingly but to learn from them." — Chuck Doak, Southwest Guilford coach
"I tell the team each day — not each week, but each day — get just a little bit better and by the end of the season we can be pretty good." — Steven Davis, Dudley coach
"This is a game we're going to hype on a bit. I want them to remember this feeling. I want them to understand the feeling of helplessness that they have right now and learn to work through that this week and overcome it." — Doak, on preparing to close the season at unbeaten Mount Tabor
Records
Southwest Guilford: 3-1 Piedmont Triad 3-A, 4-2 overall.
Up next
Southwest Guilford: At Mount Tabor, April 9.
Dudley: Western Guilford, April 9.
Southwest Guilford 8 0 7 6 — 21
Du – Milan Summers 49 run (Boateng Woodson kick), 1st, 5:32
SW – Quantez Poche 13 pass from Joey McGinnis (Brandon Hopson pass from McGinnis), 1st, 4:28
Du – Summers 19 run (Summers run), 1st, 1:38
Du – Franklin Stockton 25 pass from Jahmier Slade (run failed), 2nd, 9:21
Du – Michael Shaw 2 run (Summers run), 2nd, 1:15
SW – DeAnthony Butchee 23 pass from McGinnis (Dawson Louya kick), 3rd, 8:13
Du – Summers 22 run (Woodson kick), 3rd, 5:13
SW – Caleb Parker 3 run (kick blocked), 4th, 10:04
Du – Summers 37 run (kick failed), 4th, 7:41
Contact Joe Sirera at 336-373-7034, and follow @JoeSireraSports on Twitter.