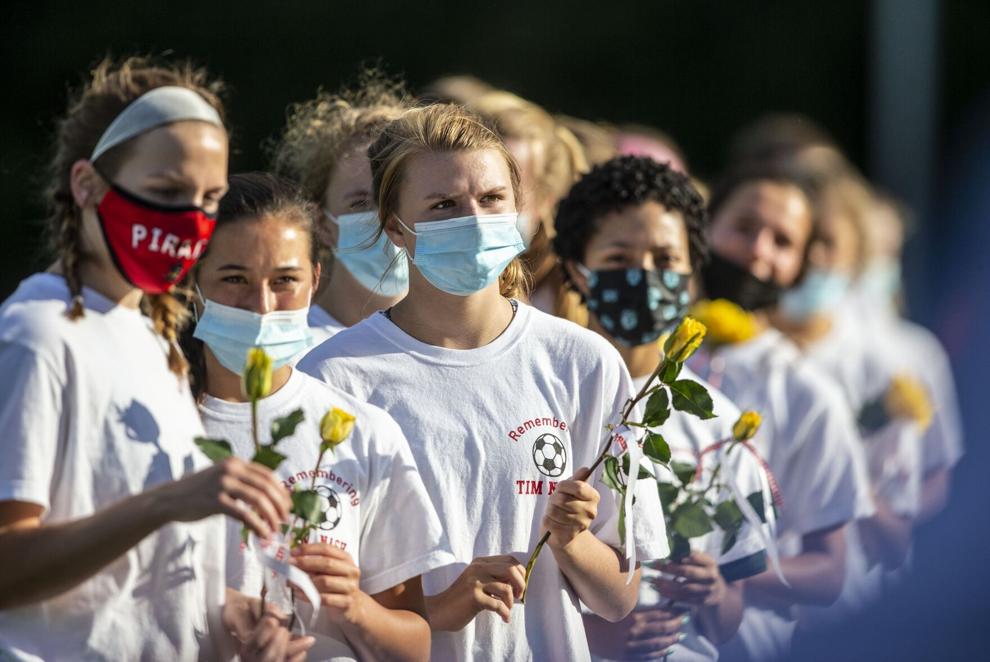 GREENSBORO — The Page girls soccer team didn't get the senior night it wanted, but the Pirates got the senior night they needed.
Less than two weeks after losing beloved coach Tim Nash to a fatal heart attack, Page took on archrival Grimsley on Thursday night in a match that would have been emotional enough as senior night. But the additions to the pregame ceremonies ratcheted everything up a level.
Players from both teams warmed up wearing T-shirts honoring Nash and the way he often described himself at matches: "I'm the one in the hat."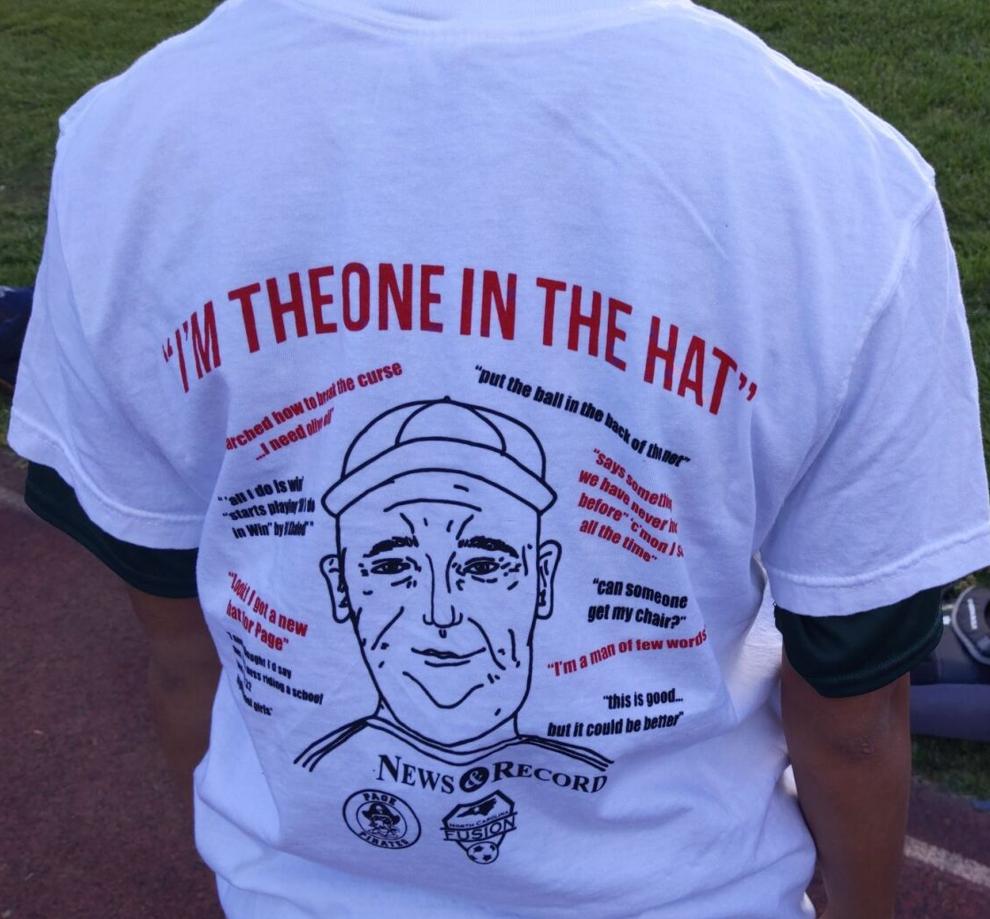 Then, after seniors Caitlyn Fleming, Eva Hecht, Caroline Hunt and Victoria Moser were introduced and escorted onto the field by their families to snap pictures, the players continued to honor Nash.
The Pirates team lined up along its sideline with Nash's wife, Cheri, watching from the track. A folding camp chair that Nash would use during games sat next to the bench, his khaki cap with a script "P" for Page hanging on the chairback. After being introduced, each Pirate placed a yellow rose on Nash's chair, and the seniors each placed a bouquet. The Grimsley players did the same after the introductions, and players on both teams wore ribbons in Page red in their hair.
"For his seniors, the past two years at our banquet he gave them roses and they had little sayings on them about what the rose meant," junior forward Lilly Stephens said. "We wanted to do that at one of our games. I talked to my mom about getting his chair. He always had a chair on the sideline even though we had a bench."
Once the roses were placed on the chair it was game time. Unlike in a 2-0 win at Grimsley earlier in the season, Page took control with a goal by freshman Sienna Coker in the fourth minute and led 4-0 at halftime.
"You can't ask for a better start than what they gave us and what they gave themselves," said Jeff Bateson, the Pirates' boys soccer coach and acting girls coach. "It was fantastic!"
Coker scored again in the fifth minute of the second half to set the tone for the final 40 minutes.
"We thought it was going to be a really emotional time, which it was," Coker said, "but we definitely came out stronger than we'd ever played before."
Bateson couldn't say enough about his team's performance and mentality, but Coker's goals stood out to him.
"I've never liked the senior night from the standpoint that it's so emotional and you never start out right," the coach said. "Just to get that first goal and get it fairly quickly, it took some of the pressure off. The second goal took a lot out of the other team."
As much as it took out of Grimsley, it carried the Pirates to a 6-1 victory that left them at 4-1 in the Metro 4-A Conference and 6-2 overall.
"I was sitting at the game and all I could think of was Tim would've said, 'This is a perfect soccer night,'" said his wife, Cheri. "The weather was perfect. He never said it was a nice night, it was always, 'This is a good soccer night.' "
The Page players signed Tim's chair after the game and will return it to Cheri as a keepsake. She said the Pirates did him proud with how they played and how they've handled themselves, knowing it wasn't easy for them.
"It was a really tough start to the game, with the little memorial and on top of that senior night," said Hunt, a senior captain. "Jeff just told us to come out and play and that's what we did, and it worked out for us."
The senior night win brought some closure to an emotional two weeks for the Pirates. Matt Harder, Page's athletics director, said the way they handled themselves "shows a lot about the group of kids and coaches that we have, the resiliency they have, the fight. To go out there and play for Tim says a lot about our kids."
Bateson said he didn't talk to his players about tactics before the game.
"The only message I had for them was just, 'Figure out your emotions,' " Page's acting coach said. "We talked about it yesterday and Tuesday after the game (a 9-0 win over High Point Central). Just find your emotions … and then find yourself in the game."
The Pirates did just that and honored Nash and their seniors the best way they could have on a special night.
"It was a true testament to what Tim's done with them," Bateson said, "because I said nothing to them and they knew exactly what they needed to do. You could tell how well-prepared he had them to play."