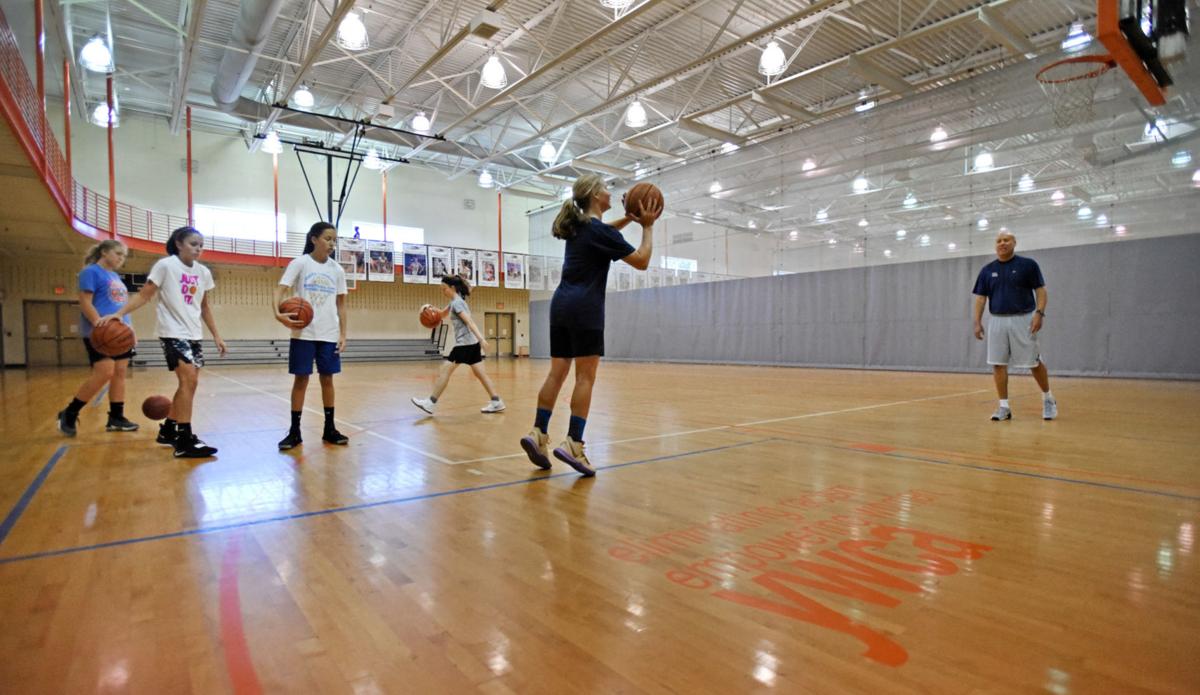 It's Memorial Day weekend, the unofficial and yet traditional beginning of summer.
Here in the Triad, it's normally a season of heat, humidity and rec leagues – three months of fun-first community sports leading up to Labor Day weekend – but also continuation of year-round sports.
But this shapes up as a summer like no other before as our communities cope with the coronavirus pandemic.
Here's a look at how some of our sports are approaching this oddest of summers.
How Triad sports organizations, leagues and teams are navigating the COVID-19 pandemic
Crazy Running
About: Children running track from ages 8-14.
Where: Winston-Salem and Greensboro.
Status: Winston-Salem program plans to open Sunday; Greensboro program wants to host summer workouts starting in late June.
Normal dates: Spring running series was pushed back a week.
Making it safe: Coaches will have smaller groups of children to work with on the track in Winston-Salem. There won't be any large group of children running in a confined area. Also, no equipment, such as cones, batons, javelin or shot put, will be used. Plenty of hand sanitizer will be available.
What they're saying: "There are so many camps that will likely not be held; we're fortunate in track to be outside and we can limit the number of kids in one place. We've pushed our spring series back a week and if we can get to Phase Two then we will start on Sunday. We usually have around 80 to 100 kids but we only have a few signed up as of now." – Robyn McElwee, a certified track coach and the founder of Crazy Running, which is in its 12th year.
First Tee of the Triad
About: A series of golf camps and classes for boys and girls ages 7 to 18, The First Tee uses golf to teach core character values, healthy habits and life skills.
Where: 11 counties including Guilford and Forsyth.
Normal dates: Summer season begins June 1 (online registration open at TheFirstTeeTriad.org) and runs through the start of the school year.
Making it safe: Full schedule of 24 camps has been pared down to "about a dozen" according to Mike Barber, the group's president. First Tee follows CDC and local guidelines including use of hand sanitizer and masks. Golf lends itself to social distancing, and players remain 6 feet apart on course and practice ranges. No touching of flag sticks. In addition, the First Tee has established virtual classes through its website with at-home physical activities and practices.
Effects of the pandemic: The First Tee canceled its spring after-school season to comply with CDC and local community guidelines. It has reduced its staff from 10 to six summer instructors running camps and tournaments.
What they're saying: "We are available to do more summer camps for any organizations at a location near them. We are providing some golf activities for YMCAs in the Triad, for Boys & Girls Clubs in the Triad, and we can certainly do more of those. … Look, we will follow the (safety) guidelines to a tee — no pun intended. All kids should be able to play golf, learn the game and have the opportunity to come to a golf course. Because we see, in the worst of times, an outdoor activity that's much like walking through a park and it's still available to people." — Mike Barber, First Tee of the Triad president and CEO.
Forsyth County Parks and Recreation
Forsyth County Parks and Recreation
About: Nine parks across the county offering outdoors activites from trails to boating.
Making it safe: While the parks remain open for activities such as hiking and picnicking, some facilities within the parks are not open. Those would include playgrounds, rental boats and volleyball and basketball courts. Signage has been placed at various points in the nine parks advising visitors to maintain social distancing and practice safe habits.
Parks run by the county: Tanglewood, Triad Park, Joanie Moser Memorial Park, Horizons Park, G.G. Hill Memorial Park, Kernersville Lake Park, Walkertown Community Park and Union Cross Park.
What they're saying: "Everything's been operating as normal for us all along. We've made adjustments as things have happened and executive orders came down. But the parks are open and have been all along." - Mike Anderson, Director, Forsyth County Parks and Recreation Department.
N.C. Firecrackers
About: A national fast-pitch softball organization with regional programs located in 20 states. The N.C. Firecrackers comprises 17 travel teams — two 16-under teams and a select team based in Forsyth County — including a lone club in South Carolina.
Where: Headquartered in Clemmons.
Status: The N.C. Firecrackers are not practicing. Ben McKinney, the program's regional director, said two teams are playing tournaments in Georgia this weekend. The organization's team based in West Columbia, S.C., has been practicing roughly two weeks.
Normal dates: According to McKinney, high school-age teams beginning at 14-under would normally begin training in early April. The first tournaments, for many of those teams, occurs in late May. Younger clubs, mostly spanning 8-under to 12-under, practice in March and begin games that month or early April. All teams have access to an indoor facility for training in the winter as well.
Making it safe: The N.C. Firecrackers will limit spectators to two per player, and facemasks will be required. Coaches and players are allowed to enter ballparks an hour before first pitch, and no team meetings will be permitted at the facilities. A person designated as a "point of contact" has duties that include sanitizing their team's dugout before each game. No postgame handshakes will occur.
Effects of the pandemic: McKinney said his 16-under select team has scaled back its schedule to include only the largest drivable tournaments within the region. Normally, the schedule included national tournaments in states like Colorado and Illinois.
What they're saying: "When North Carolina shut down, we're probably in my opinion one of the most restrictive states right now in terms of what teams can do. I group us up with New York and California, in that respect, in how restrictive things are. South Carolina, I think they held their first tournament this past weekend. Georgia is holding tournaments. So, our teams haven't been able to practice, so they shouldn't go to these tournaments yet." – Ben McKinney, N.C. Firecrackers regional director.
N.C. Fusion
About: A soccer, lacrosse and field hockey for varying age ranges – soccer from 3 years old to adulthood; lacrosse from 7 years old to high school; and field hockey from 8 to high school for girls.
Where: Throughout the Triad.
Status: Spring soccer canceled, both for competitive and recreational leagues. Providing resources and instructional training videos, as well as a mental health series for competitive soccer athletes through the Fusion's online platforms.
Normal dates: The spring rec season would've started, but it was canceled. Summer season for lacrosse would have nearing its start, but those events have been postponed.
Making it safe: Youth sports organizations in the Triad are trying to align in their return-to-play guidelines. Once the state allows for athletics to resume, N.C. Fusion and many others will determine the best way to come back safely and stay healthy. N.C. Fusion has a task force that comes up with return-to-play guidelines and the clubs' responsibility to keep everything safe for the athletes they serve. For soccer, as an example, the expectation would be at least returning to the field for individual skill work while players worked with their own ball and everyone adhered to social distancing guidelines.
Effects of the pandemic: With no recreation league, 2,000 to 2,500 youth aren't playing this spring. Also, a few competitive teams were getting ready for national events. That include three girls teams that would've attended tournaments that N.C. Fusion was hosting in Greensboro. That's not just a hit to the organization, but also to Greensboro's tourism.
What they're saying: "I would just make a plea that families continue to support the youth sports in the Triad, whoever that is: YMCA, parks and rec, any club. Please support them. I would make that plea, and I think everyone else would as well. " – Scott Wollaston, Executive Director for N.C. Fusion.
Pleasant Garden Parks and Recreation
About: Leagues for youth baseball, soccer and softball and adult softball. The department also sponsors youth travel teams under the PG Elite name.
Status: Spring season postponed.
Normal dates: Spring season was scheduled to begin March 14.
Making it safe: Among the precautions the baseball and softball youth leagues would take if they play during the summer are: only coaches allowed in dugouts, with players not on the field confined to numbered areas outside the dugout fence with socially distant spacing (only exception is the on-deck batter); players must have their own, glove, bat, helmet, etc., and cannot share equipment; umpires sanitize game balls every half-inning; no high-fives or team huddles; players required to leave the field immediately after games; families could attend games, but would not be allowed to sit in the bleachers and must stay directly behind their player and leave when the player leaves.
Effects of the pandemic: If state and local medical guidelines allow, a summer season would begin in June and run through July. Refunds of registration fees will be given to "anyone who is not comfortable" with the protocols that would be in place when play resumes, says Jason Petersen, who directs the program. "We're taxpayer-funded and we want to treat those funds carefully," Petersen says. "If we have to refund the entire league, we've frozen enough line items to balance that out." If there is no summer season, the fall season typically starts the first weekend in September for soccer and the third weekend in September for baseball and softball and runs through early November.
What they're saying: "We had our best year before all this happened, the largest registration. … We've tripled the number of participants in baseball and softball the last three years to over 300 and have been gaining a lot of momentum. … We'll miss the revenue, but mostly we'll just miss the participants because that's what we're about in this town. Our motto is 'Recreation for Everyone.' " – Jason Petersen, Pleasant Garden parks, recreation and facilities director.
Triad Youth Lacrosse Association
About: Recreational and competitive lacrosse league and instruction for players in grades 1 through 8.
Where: Most of Guilford County (Oak Ridge and High Point have separate programs).
Status: Spring competitive season, in conjunction with Piedmont Community Lacrosse Association, tentatively postponed until fall.
Normal dates: Spring season would have run March 7 through May 16.
Making it safe: TYLA, a 501(c)3 non-profit that was heading into its 25th spring season, typically has 150 to 200 families with players registered and participating. The association's annual budget is $50,000 to $60,000. TYLA president Drew Robb says the association hopes to begin a fall season in late September or early October, depending on whether and when restrictions are lifted. If TYLA can't play in the fall, he says, it will plan for a spring 2021 season.
What they're saying: "We have an emergency fund and we're going to be absolutely fine. We're in a good position moving forward. … I think that a lot of this extra time at home has given families time to reflect on the choices they have been making and the way youth sports have been going in general. I believe folks are maybe going to want to do more things locally, maybe play more rec sports, because they're closer to home and you know the places you're going to." – Drew Robb, TYLA president
Twin City Volleyball Academy
About: Twin City Volleyball Academy fields 15 volleyball teams – 10 of those are travel programs, along with two boys teams for players ages 14-under and 16-under. Those players within the academy span 11 counties, including Forsyth, Davidson and Guilford.
Status: Indefinitely postponed.
Normal dates: Several significant travel tournaments included the Big South National Qualifier in Atlanta, scheduled for June 5-7, and the Shamrock Festival in Roanoke, Va., March 14-15, were canceled. The AAU Junior National Volleyball Championships in Orlando, Fla., were postponed until July 14-22. The academy traditionally sends its top teams for ages 16 and 17 to the championships.
Making it safe: Practices are postponed. Trevor Hewitt, the owner and director of Twin City Volleyball Academy, said the club has discussed obtaining an infrared thermometer to measure its players' temperatures. When practices resume, parents will be prohibited from entering the gym — only players and coaches will be permitted. Hewitt said attendance would be taken at practices. If a player displays symptoms of COVID-19, they will be asked to stay home and self-monitor. Cleaning supplies will be used to wipe down volleyballs. Hewitt said the academy would adhere to additional guidelines set by the facility it rents for practices.
Effects of the pandemic: The coronavirus pandemic halted seasons for 12 teams within the academy. The club was set to begin its first season of beach volleyball beginning in April, with sand practices taking place at Davie County High School. Hewitt described the academy as in a "shelter-in-place." He said the COVID-19 outbreak wouldn't shutter the academy, since it rents facilities for practices — lately, the bulk of which occurred at Forsyth Country Day in Lewisville and New Hope Presbyterian Church in Clemmons.
What they're saying: "I'm thankful that the powers that be have taken it seriously. You know, there's a lot of people that have lost much, much more money than we have as a club. It's these tournaments that have postponed or been canceled – some of those people, that's their whole income and that's a huge chunk of money to lose. ... But, if it helps to minimize the spread, minimize any potential deaths, I'll trade that any day than going to a tournament. So, with there being so much more unknowns than knowns right now, I was happy that the volleyball community at-large put the health and safety of its participants over any economic gains that were made." — Trevor Hewitt, owner and director of Twin City Volleyball Academy.
West Central Community Center
About: Youth basketball league for kindergarten through 12th grade.
Status: 5-on-5 August League with tentative registration opening June 10.
Normal dates: Four-week league for third grade through 10th grade.
Making it safe: Wiping down bleachers and cleaning bathrooms and bench areas after every game. Keeping spectators at a minimum in the small gym would also help.
What they're saying: "The reality is basketball might be one of the last things we get back to just because of the closeness of the game in kids guarding one another and all of that. We are hopeful to have our league in August but are just kind of waiting to see how it all plays out. We usually have around 160 kids for our August League, but we'll have to decide next month if we open registration or not." – Cole Grogan, president of the WCCC basketball leagues.
Winston-Salem Stealers
About: An AAU girls basketball program for 8- to-17-year-olds.
Where: In Winston-Salem, featuring players from the Triad and the greater Northwest.
Status: In a holding pattern with competition, but still hosting instructional sessions via Zoom.
Normal dates: Remaining spring season canceled, and summer league competitions have been postponed. The program's DII and DIII college coaches showcase was moved from last weekend to the fall.
Making it safe: The Stealers have put together a small medical advisory team made up of parents in the program with medical backgrounds. They've helped develop guidelines for parents and coaches to follow once practices are allowed again. Some of those include temperature checks for players the moment they arrive at practice, as well as avoiding practice if a player feels the least bit sick. The organization has also polled parents about how to proceed going forward.
Effects of the pandemic: The lack of playing in and/or hosting tournaments have taken away potential revenues. But the lack of travel and costs for those events have helped balance out those losses. Providing online skill work, some of which have featured WNBA players and Stealers alums, continue to provide value to students while providing some financial security for the Stealers.
What they're saying: "The men's side of club basketball and the WBCA (Women's Basketball Coaches Association), which is the women's basketball coaches association, their membership, which is the college coaches, have asked the NCAA to get rid of the summer period, the July period, and the NCAA is now taking that under consideration to potentially do that. So we're kind of on a hold right now. We're just waiting to see what the ruling is, and once the ruling comes in, then as a program, we'll make some decisions on if and when we'll send our teams out." – Brian Robinson, program founder.
Contact Jeff Mills at (336) 373-7024, and follow @JeffMillsNR on Twitter.