Jennifer King, a Rockingham County native with college ties to Greensboro, is expected become the NFL's first Black woman to be named a full-time assistant coach, by the Washington Football Team and Coach Ron Rivera.
King spent the 2020 season with Washington working as a full-time intern with running backs coach Randy Jordan, a former North Carolina football player and a Warren County native.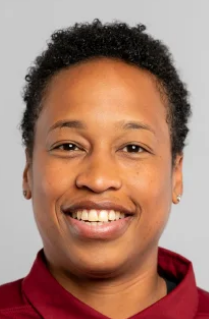 "First of all, she knows the game," Jordan told the Post in December. "It's really helped me in terms of seeing the game in a different view. … When we first started, I leaned on her a lot in terms of the terminology and the different things. Then, the way she's worked with the guys; she's just Coach King to us. Her input throughout the game, there are things I may not see, and she'll point it out to me. If I see something and she doesn't necessarily see that point.
" … Her input is very, very important not only to me, but to the entire staff. She's been doing a heck of a job."
King also was an intern in 2018 and '19 with the Carolina Panthers when Rivera coached the team. She took part in a UNC-Pembroke fundraiser in October and addressed her role in the NFL.
"I didn't really envision doing this, because I didn't see anyone that looked like me doing it," King said, according to The Robesonian sports editor Chris Stiles. "Now that I'm here, I think it's super important for me to be a visual for those kids, not just for girls but for kids in general, to see someone that looks like them in a position that they can achieve. I think it really opens up your mind and your dreams for what you want to achieve."
King and Washington's season ended Jan. 9 with a loss to Tampa Bay in the NFC playoffs. The playoff game was the first with female coaches on each sideline, with the Bucs' staff including assistant defensive line coach Lori Locust and assistant strength and conditioning coach Maral Javadifar, the Associated Press reported.
Bucs coach Bruce Arians said he and Rivera were on a diversity panel once and share similar beliefs. Arians called women in coaching "the wave of the future."
"It's going to tell those young girls that are watching that you can — yes, you can coach in the NFL," Rivera said, according to AP. "This game, it's a tremendous game. It should be open to everybody in terms of opportunities to play, opportunities to coach or opportunities to lead the organization."
King was born in Eden and grew up in Reidsville, graduating from Rockingham County High School in 2002. King was a star player on Coach Woody Wall's basketball team that reached the state championship game, and she earned an invitation to the N.C. Coaches Association's East-West All-Star Game in Greensboro after earning All-Area from the News & Record.
King played softball and basketball at Guilford College, from which she graduated in 2006 with a degree in sport management.
"All those friendships that I've built from Guilford; I still talk to a ton of people I went to school with," King said in a video profile posted by the college in 2018. "Guilford laid the groundwork for me for diversity, which is obviously huge in coaching."
King served as an assistant coach for Randy Tuggle for nine seasons, from 2007 to 2016. The Greensboro women went 176-70 overall, winning four USA South regular-season championships and three USA South tournament championships. The Pride also made four appearances in the NCAA Division III women's basketball tournament, including a trip to the Sweet Sixteen in 2011, with King on Tuggle's bench.