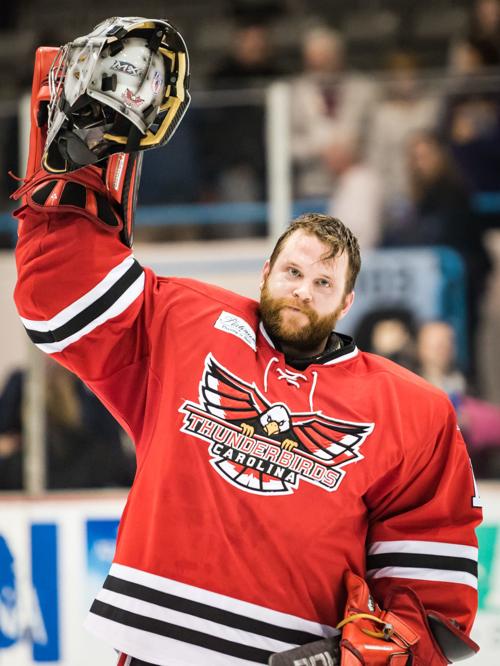 Kelly Curl, who has held plenty of job descriptions over the last three seasons with the Carolina Thunderbirds, now has another title.
Curl has been named the next general manager, replacing Jimmy Milliken, who resigned during the middle of last season.
Curl, a former assistant coach with the Wake Forest hockey club team, has been a backup goalie for the Thunderbirds and radio analyst for games on WTOB.
"I couldn't be more excited to be part of product that's in my back yard," Curl said, "growing up in (the Triad) and coming to the arena to games, I just couldn't be more proud to be involved."
Curl, 33, who was born and raised in McLeansville, becomes the first native-born North Carolinian to be general manager of the three-year-old Thunderbirds.
"The Thunderbirds are very pleased to announce the promotion of Kelly Curl from the ice and press box to the front office as general manager of the Carolina Thunderbirds," said co-owner Cary Ross. "As part of the ownership group I look forward to working with Kelly and watching him grow as our general manager."
Curl played NCAA Division III hockey at Lebanon Valley College in Pennsylvania. He played in high school at The Hill School in Pottstown, Pa.
"Kelly was a great asset of the Thunderbirds as a goalie and did a fantastic job as our color man on our team broadcasts," Ross said in a statement released on the team's website. "We felt that Kelly was ready to take the next step to use his leadership skills and move into our front office."
(336) 727-4081
@johndellWSJ