PGA Tour Champions golfer Fred Funk nearly lost one of his best friends – Reidsville native Mike Goodes, who suffered a heart attacked while playing golf last weekend at Greensboro Country Club.
It was a harrowing week for one of the nicest guys on the Champions Tour, but he is now out of the hospital and back home recovering.
Goodes, 64, who has made more than $6 million in his steady pro career, collapsed while playing golf last weekend at his home course at Greensboro Country Club's Farm Course.
"It's a miracle and I don't know how he made it through but he did," Funk said on Saturday afternoon upon hearing that Goodes was back home with wife, Jeanine, after nearly a week in Moses Cone Hospital.
Walking down the 10th hole at the Carlson Farms course carrying his golf bag, which was his foursome's first hole of the day, Goodes suffered cardiac arrest, according to Goodes' friend Eric Anthony. Luckily another golfer, Dr. Peter Van Trigt, a cardiac and thoracic surgeon who lives in Greensboro, was on the first fairway playing, and he rushed over to help. Anthony said Van Trigt started to take over CPR from one of Goodes' playing partners, Kevin Green.
Paramedics soon arrived and with help from Trigt and were able to stabilize Goodes before transporting him to Moses Cone, according to Anthony.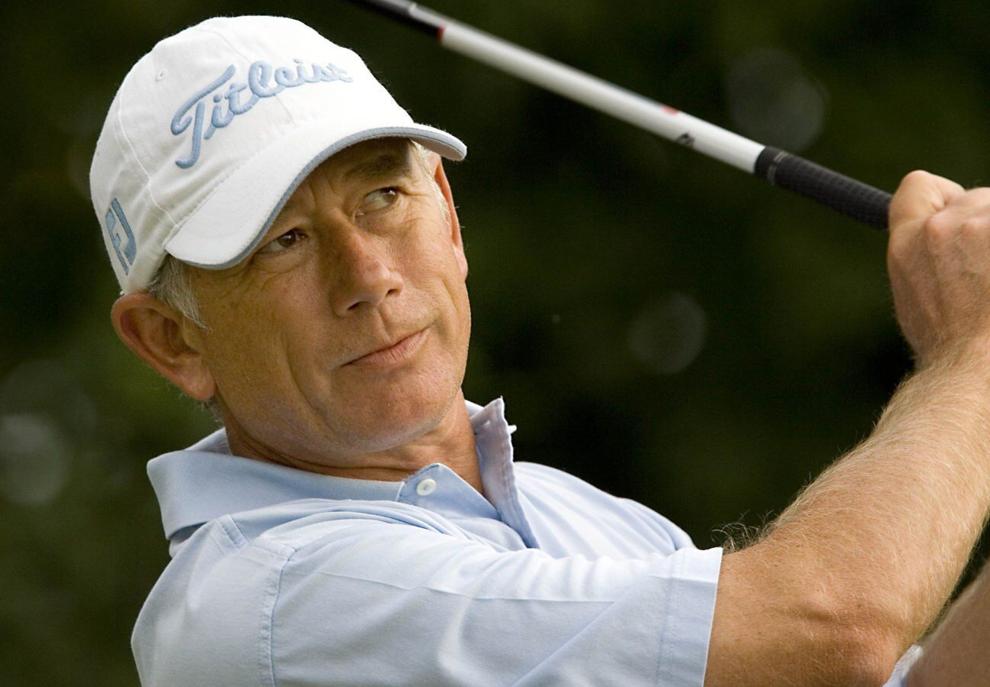 Goodes stayed in the hospital all week and was also given a multitude of tests, according to Anthony.
"Mike is resting at home and doing well," Anthony said on Saturday. "He really appreciates all the prayers and support."
Green, who lives in Greensboro, was one of the first to help with trying to revive Goodes. Green said he was walking slightly ahead of Goodes on the 10th hole when he turned around and saw Goodes on the ground.
"It was our first hole of the day," Green said. "Mike was in the right place because he was surrounded by friends, and to have one of Greensboro's top cardiologists 300 yards away—God put him in the right place."
Green, 65, said there's not a lot to say about what happened other than it can be a warning for others.
"You can never take anything for granted so when we heard that Mike was improving we all were grateful," Green said. "I know the word 'miracle' is thrown around a lot but that's what this is."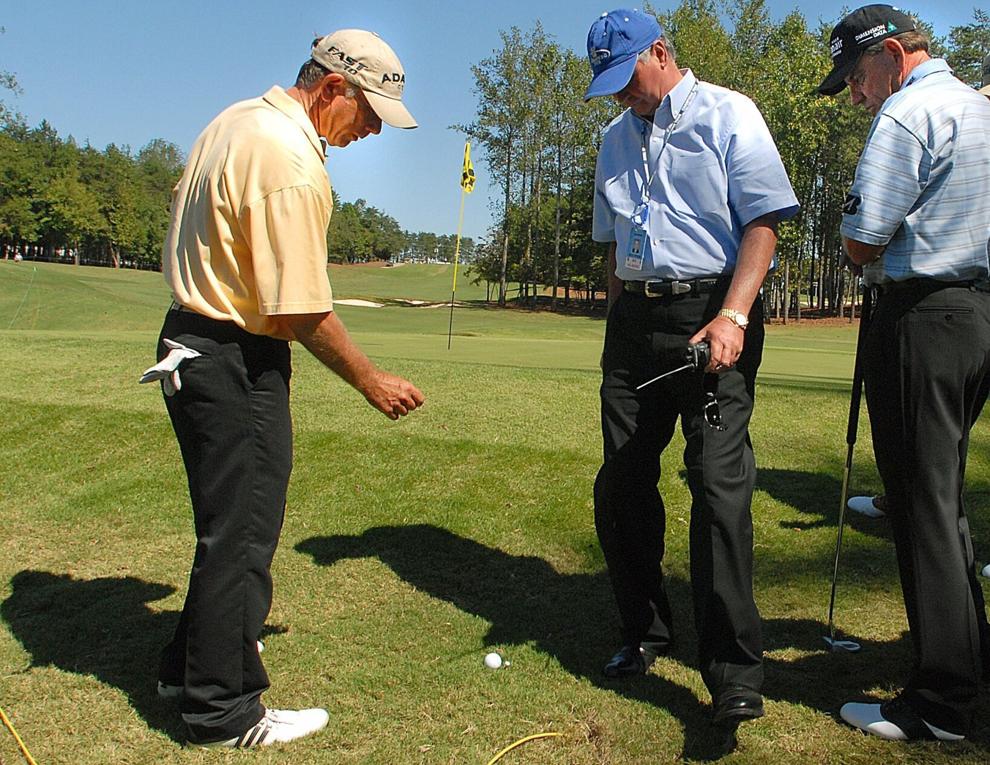 Goodes is a fighter
Anthony has played golf with Goodes for the last 30 years or so but wasn't playing with him last weekend. He was one of the first people that Goodes' wife, Jeanine, called after her husband of more than 20 years had collapsed.
"He's quite the fighter," Anthony said about Goodes. "And there's no way he could have pulled through without all the support of the doctor, and those who were on the scene right away in that 10th fairway."
Anthony said when Goodes was recovering later in the week in the hospital Goodes got emotional because he realized what had happened.
"It sort of hit him that he was gone from this earth, but somehow made it back," Anthony said. "Mike is a private person who doesn't do any of that social media stuff, but it hit him pretty hard knowing that he was almost gone."
Anthony said that Goodes has responded well with a defibrillator in his heart, and because of that he was released from the hospital on Saturday.
Anthony said that for now Mike and his wife would like their privacy while he continues to recover.
When Funk heard about Goodes he flew directly from the PGA Tour Champions Tournament in Des Moines, Iowa to Greensboro last Sunday. Funk stayed with Anthony's family for two days while Goodes was in the hospital.
"I really thought I was coming to say goodbye because it's an ab-solute miracle that he's still with us," Funk said. "He's my soul-mate and one of my best friends so it was a long flight when I heard what had happened."
PGA Tour Champions golfers reach out
Funk and Anthony helped Jeanine through the worst part with Goodes in intensive care for a couple of days. But Goodes slowly recovered and has continued to make progress.
Several PGA Tour Champions golfers have heard about Goodes and continued to be updated thanks to a bible study group text that Funk is a part of.
Jay Haas, who has known Goodes ever since he joined the tour in 2007, says there is not a nicer guy out there than Goodes.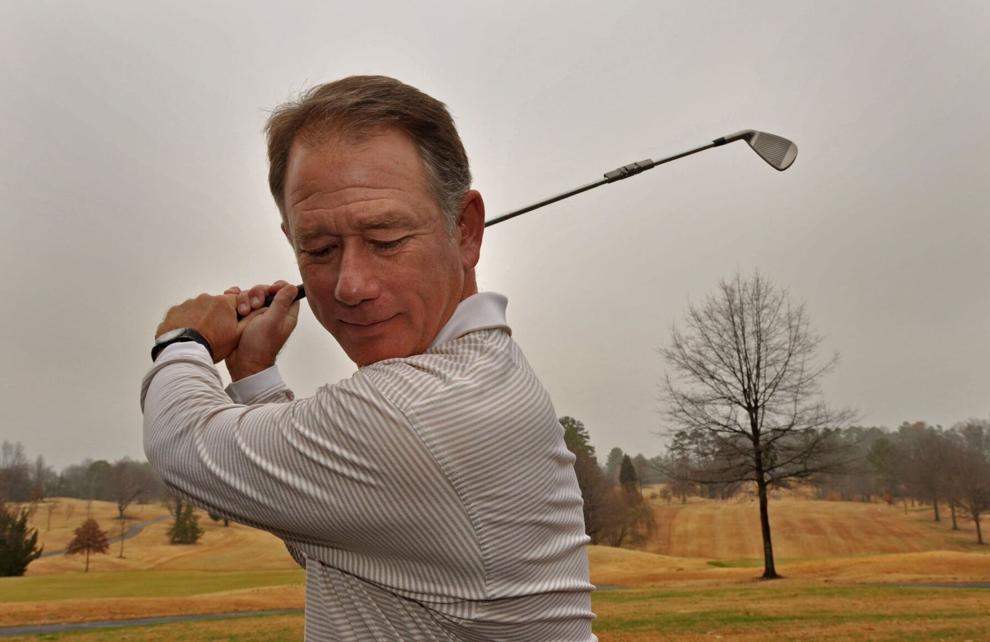 "He's just one of those guys you want to be around because there's not a bad bone in his body," Haas said. "We've all been hoping for the best for Mike and his wife, Jeanine, so this is something that all kind of caught us off guard."
Goodes, who attended North Carolina, is one of the PGA Tour Champions players who wasn't groomed on the PGA Tour. He played amateur golf for several years winning the 1989 and 2006 N.C. State Amateur and in 2006 won the N.C. Mid-Am championship.
When he was approaching his 50th birthday he focused on trying to qualify for the PGA Tour Champions. He successful did that and in 2009 won the Allianz Championship for his lone win on tour.
Billy Andrade, a mainstay on the PGA Tour Champions, says he appreciates what Goodes has done to carve out an outstanding career.
"He really did have to get out here the hard way and once you qualify for our tour and you don't have PGA Tour status you have to earn enough money each year to stay eligible," Andrade said. "Mike's done a great job out here and he's such a good guy. When we all heard what happened we're just grateful that the doctor was nearby to help."
So far this season on tour, Goodes played in three tournaments with his best finish at tie for 60th in the Principal Charity Classic earlier this month.
Funk said if anybody has said a bad word about Goodes they would be lying.
"Mike's a genuine person who isn't going to talk much about himself at all," Funk said. "I've just been honored to know him all these years, so it's a great thing that he's recovering from this. We all are praying for him."
A success story after turning pro
Goodes, who grew up in Reidsville, was one of the top amateur golfers for several years and in his late 40s decided to give pro golf a try. He and his wife own a plastics recycling company.
As a 16-year-old in 1974 Goodes caddied for Tom Kite at the PGA Champion-ship when it was held at Tanglewood Park's Championship Course. And then when he joined the PGA Tour Champions in 2007 he ended up playing along-side Kite in several tournaments.
In 2013 Goodes put on a pro-am at Bryan Park where he helped raise money for the Triad Youth Golf Foundation. He put his name on the event because of what golf has done for him.
"All golfers have a passion for the game, and a lot of great things have happened to me through golf," Goodes told the Greensboro News & Record in October of 2013. "I'm fortunate, and this is a chance to give back something to the game. It's an expensive game, and not everybody comes from the means of being able to afford it."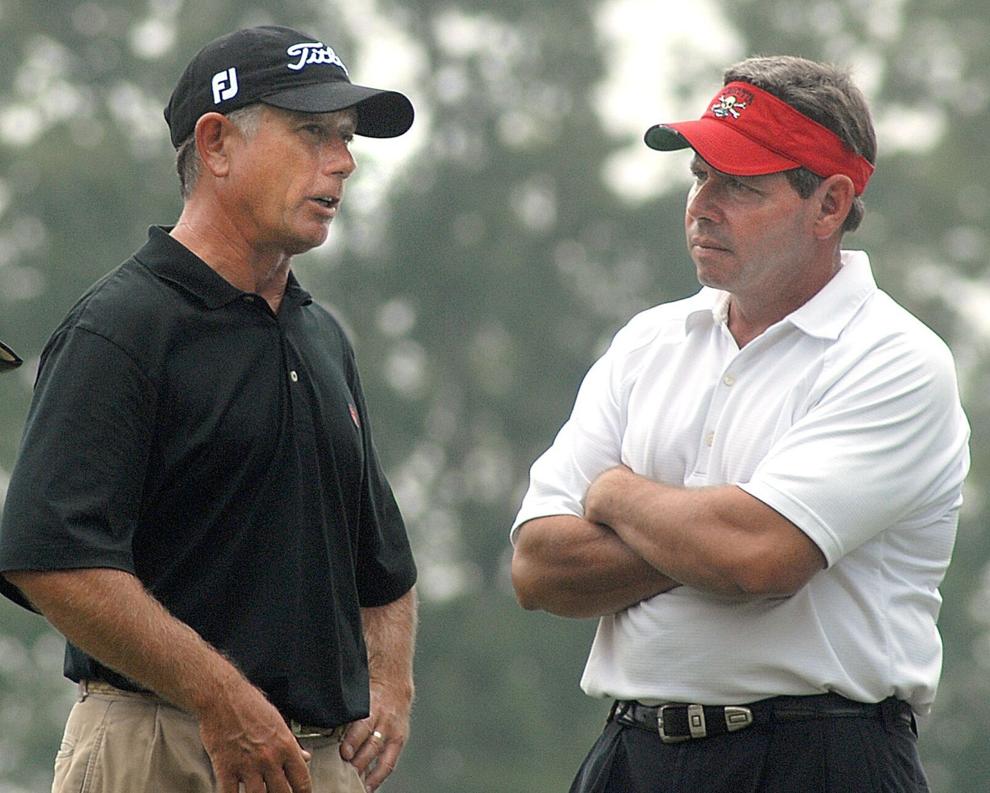 When Goodes was having his best stretch on the Champions Tour a few years ago he said his success comes from hard work.
"Nobody on the Champions Tour are kids," he told the Greensboro News & Record. "I want to stack the odds as much in my favor as I possibly can. I work hard, eat pretty good, exercise. And then you have to hit balls. There's so many facets. It's never ending work, which is great. I don't want it to end. This has been beyond a dream to me."
Goodes is one of the long line of golfers on the PGA Tour Champions who thrived on that tour having never played on the PGA Tour. He has played in 278 PGA Tour Champions tournaments with 112 top 25 finishes and 31 top 10 finishes to go along with his lone victory in 2009.