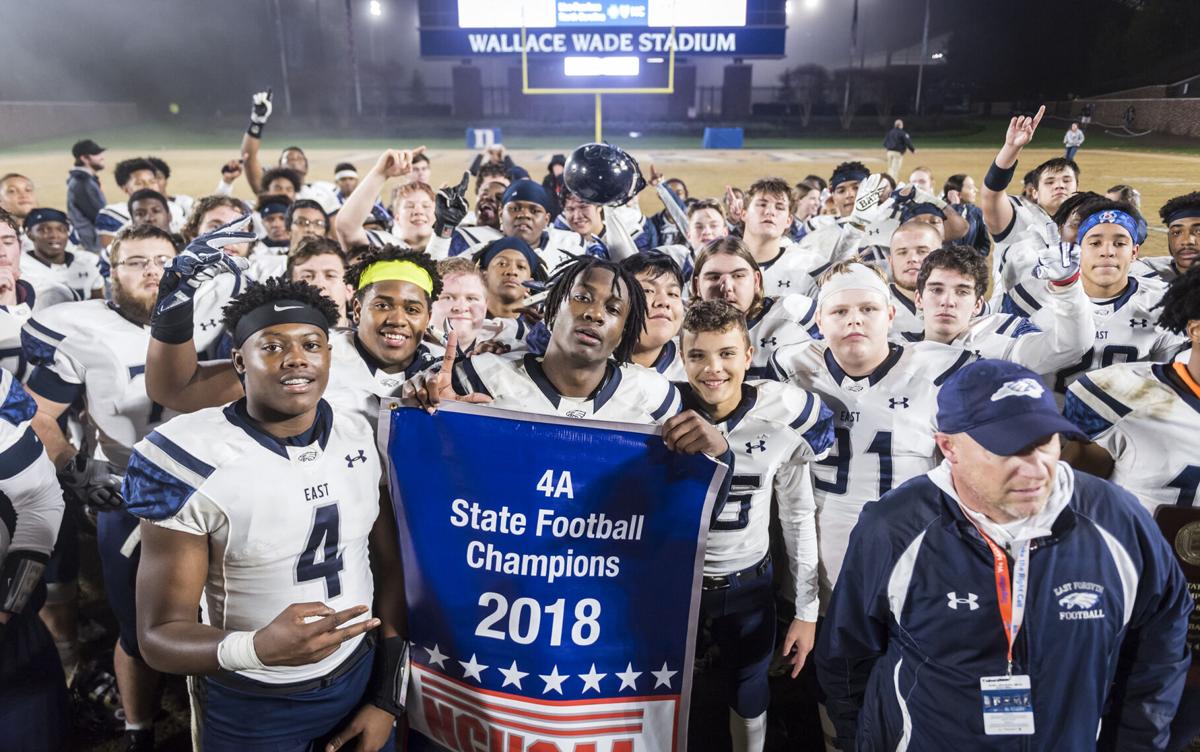 The N.C. High School Athletic Association answered some big questions today by reaffirming its commitment to competition in all sports with the announcement of a revised calendar for the 2020-21 school year.
But the new seasons and dates announced in response to the COVID-19 pandemic raised more questions, particularly surrounding football, which is now scheduled for a seven-game regular season starting Feb. 26, 2021, and concluding April 9, 2021.
The NCHSAA will not allow official practices for any sports before Nov. 4 under its amended calendar, and the last regular-season competition in any sport would be June 11. In a typical year, practices would start Aug. 1 and the last baseball and softball playoff games would be played on the first weekend in June.
"We laid out a much different calendar than what you all are accustomed to," said Que Tucker, the NCHSAA's commissioner. "If you'll remember I said several weeks ago, 'We will play again.' It is with that same spirit that we present this calendar."
The calendar for Guilford County Schools to resume workouts remains up in the air. The district has delayed the start of practices indefinitely and is unlikely to allow students to participate in athletics on campuses while schools are limited to online learning at least for the first nine weeks of the school year, which begins Monday.
The biggest question unanswered today the NCHSAA's video news conference and a subsequent media conference was: What will playoffs look like in 2021?
Tucker responded to a number of questions about postseason play by saying, "We haven't gotten to that point yet." The commissioner said the association's board of directors and an ad-hoc committee will determine how many rounds of playoffs will be held and in what formats, but she said the NCHSAA is committed to having postseason play in each sport.
"I think we all realized we weren't going to play in the fall in the scenario we're in right now," said Doug Robertson, Page's football coach. "I'm just glad we'll be able to play and that we will have playoffs. You need to be able to play for something."
The one NCHSAA-sponsored sport that will not be contested during the 2020-21 school year is indoor track and field, but that season was sacrificed because outdoor track and field will still be held and the sports are essentially the same, Tucker said.
"Equity among sports is very important," the commissioner added. "We want all of our sports to have an opportunity to play. We want to give them an opportunity to play an equal number of games or at least know that each sport is being treated equitably."
Team sports other than football will be limited to 14 regular-season contests. That's not a big issue for sports such as soccer and lacrosse, but it's another blow to baseball and softball teams who were early in their seasons when spring sports were shut down March 13.
Grimsley's baseball team, for example, was able to play only three games last season. For a sport that typically can play as many as 23 regular-season games, that's a potential loss of 29 games over two seasons. That could adversely affect recruiting exposure for players.
Another challenge with the new calendar is the impact weather could have on outdoor sports traditionally played in the fall or spring that have been moved to winter.
"Are we going to have cold-temperature policies as opposed to hot-temperature policies?" asked Matt Harder, Page's athletics director. "Field conditions are going to be tougher in the winter because they don't bounce back the way they do in the late spring and the summer and early fall."
Facilities also will be stressed with more sports overlapping in the amended calendar and teams jockeying for space to practice or play.
"There's going to be multiple teams using the game field (at Northern Guilford) and our practice field doesn't have lights, and it's going to be dark by 5:30," said Nighthawks football coach Erik Westberg, before jokingly adding, "Maybe we'll take out our cellphones and put them on flashlight."
The increased overlap in seasons also could stress athletes who play multiple sports. For example, boys lacrosse has been a spring sport but will now start in January and run at least through middle of football season. The boys basketball regular season will now end one week before the first football games.
"It's going to be a lot of sports going on at the same time," Robertson said. "At our school we have a lot of crossover athletes, and that's the first thing I think about. It's going to force some kids to make some hard decisions."
Some elite athletes who have already made their college choices also will have some hard decisions to make. Grimsley's Lawson Albright, a senior tight end who will attend Northwestern, could graduate in December and enroll in college in January. But Albright says he's sticking around for the spring because it was more important to him to play football for the Whirlies "and finish out with the guys."
"It wasn't that hard a decision," Albright added, "because right now my heart is in high school football."
Javonta Farmer, a senior receiver for Smith, doesn't know where he will be attending college next year, but he believes more coaches will get a chance to see him in the spring. He hopes it also will give him a chance to make campus visits, "But as long as I'm having a senior season and I get to make one more run with my guys," Farmer said, "I'm happy about it all."
---
Athletes, coaches and staff for public high schools have a new calendar for a condensed sports year now scheduled to begin Nov. 4.
The N.C. High School Athletic Association announced new dates this afternoon, including a move of a shortened football season to a winter-spring season.
High school sports has remained suspended since mid-March because of the coronavirus outbreak, which cut short spring sports and a brought a halt to boys and girls basketball championships just a few days before tipoff. The association last week said it would further delay the start of official fall practices beyond its date of Sept. 1. The NCHSAA, in its memo on Aug. 6, stated it hoped to release a revised athletics calendar by Monday — the opening date for the 2020-21 school year across the state. 
That came in response to North Carolina remaining in Phase Two of its reopening plan, including limits on gathering of up to 25 people. That was order was extended by Gov. Roy Cooper, and lasts through Sept. 11, last week as well. 
The NCHSAA's plan was released after a survey of school districts across the state, which inquired whether each system would allow sports under its retrofitted learning plans — a general framework Cooper unveiled July 4. Charlotte-Mecklenburg Schools, the second-largest district in the North Carolina, returned its questionnaire last week noting it would not permit sports under its Plan B guidelines. Guilford County Schools, the third-largest system, did not favor allowing sports if students weren't on campus.
Meanwhile, Winston-Salem/Forsyth County Schools, arguably the largest district to open limited workouts on Aug. 3 for fall sports without equipment, didn't submit a survey. According to Brent Campbell, the district's spokesman, the NCHSAA's direct emails to Superintendent Angela Hairston were blocked and unknowingly halted in an external filter from June to that day. Campbell noted the NCHSAA's survey was closed and the data collected. 
Limited workouts across the a few of the five largest school districts in the state have been in a holding pattern, following the NCHSAA's decision to lift its dead period on sports June 15. Charlotte-Mecklenburg, Wake County, Guilford County and Cumberland County districts have been in an indefinite delay. 
Contact Joe Sirera at 336-373-7034, and follow @JoeSireraNR on Twitter.
Concerned about COVID-19?
Sign up now to get the most recent coronavirus headlines and other important local and national news sent to your email inbox daily.